Investment
A scaleup which is reimagining email plans to double its UK workforce to more than 100 by the end of the year. 
SEDNA, which has raised £24 million in Series B funding, provides communication tools for high-performance teams at leading companies, including UK firms Starling Bank, Glencore and Cheniere. 
The company employs 100 people – 51 of them in the UK – across offices in London, Vancouver and Singapore, although COVID-19 means many are currently working from home.  
"The fastest-growing team is the UK one – we've built a strong leadership team in London," the founders told BusinessCloud. 
"We currently have 100 customers globally, of which roughly half are based in EMEA, and are serviced by our UK HQ. We are aiming to grow our customer count to over 250 and increase revenue 4x by the end of 2022, with a significant focus on the UK.  
"We currently have 51 staff members in the UK and intend to double this number before the end of this year. 
"Due to COVID-19, most of our staff are working remotely. With this new investment we are evaluating the possibility of a new, larger London HQ. But we are planning to continue to hire more within the UK and grow our London office. 
"As we grow SEDNA globally, the UK represents a key location for attracting world class technology operators and executives, across both our product and engineering, and customer-facing teams."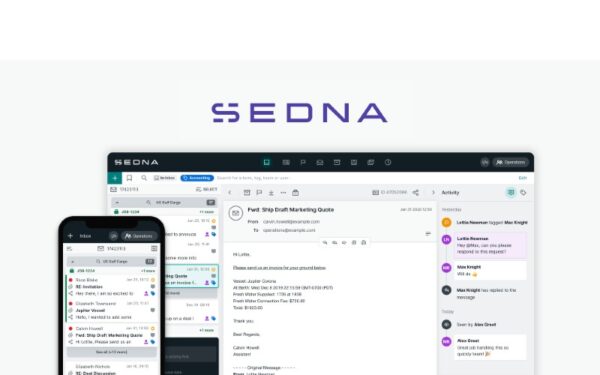 Backed by global venture capital and private equity firm Insight Partners, with the participation of Series A investors Stride.VC, Chalfen Ventures and the SAP.iO fund, the Series B financing enables SEDNA to develop its product, data science, and go-to market functions and work toward its goal of becoming the leading intelligent communication system where global businesses get work done with speed, context, and clarity. 
"Uncoordinated digitisation has made business noisier. Email is broken, chats are a mess, and getting work done is hard," said CEO Bill Dobie. 
"SEDNA's single digital workspace makes business communication flow. Our intelligent and collaborative email stream breaks down silos so our customers work faster.  
"We're excited to work with Insight – a true scale partner that understands how our platform will deliver enormous value to customers in this complex world." 
John Mountain, CIO of Starling Bank, said: "We're excited about implementing SEDNA and getting the power to connect our internal systems to our email. It's particularly exciting to see the potential of automation when it comes to increasing productivity and efficiency within our team — all of which means we can better meet our service commitments to our customers whilst also reducing risk."  
With the investment, SEDNA welcomes Eric Cullerier as VP of Customer Success and Jim Preston as VP of Global Sales, while also growing their board of directors with Rebecca-Liu Doyle and Keith Wallington.  
Wallington brings a wealth of SaaS operating experience having held numerous executive roles at Mimecast, and more recently operating as Chairman of a number of scaleups. Doyle brings her experience of working with top tier SaaS businesses within the Insight portfolio. 
"As part of our new hiring we are proud to have added Lakshmi Baskaran as our VP of Technology and Leigh Steed-Middleton as VP of Product," the founders told BusinessCloud.  
"Together, they're working on delivering and refining a revolutionary, shared system of action that reduces email volume by as much as 95%."