Investment
A virtual venues platform which allows people to work and socialise together has raised £2m in seed funding.
Founded by serial entrepreneurs Rahul Goyal and Karan Baweja, who recently led product teams at Citymapper and TransferWise respectively, Cosmos is a online platform which adopts the style of classic '8-bit' video games.
Its virtual venues combine game mechanics with video chat to bring back interactions when people can't be together physically.
After choosing their personalised avatar, users can meet up with their colleagues or friends inside the browser-based game.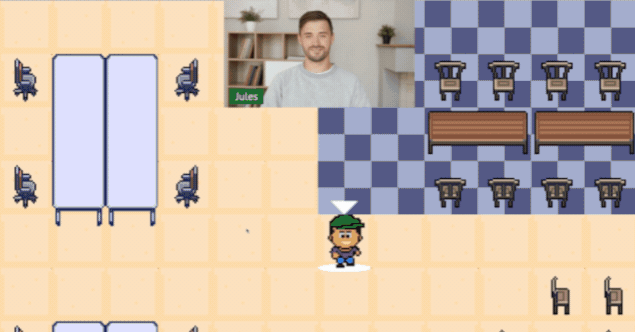 As they move their avatars closer to one another they can video chat among themselves.
Office colleagues can work collaboratively on tools such as whiteboards, Google documents and Figma, and  play virtual board games or gather around a table.
The founders believe the trend of companies going fully remote or hybrid will persist in the long term and working remotely will be similar, if not better than working in an actual office.
Cosmos is currently being used in a private beta by a select group of companies to host their offices and for social events such as Christmas parties.
The Founders met at engineering school and later studied together at London Business School.
The duo then tapped into their entrepreneurial roots and built Spyn, an on-demand dry-cleaning company.
Following a successful exit, they went on to hone their product skills, with Goyal heading up the Ride and Pass teams at Citymapper, while Baweja led the Borderless Account team at TransferWise.
Co-founder Goyal said: "Once the pandemic hit, we both saw productivity surge in our respective teams but at the same time, people were missing the in-office culture. Video conferencing platforms provide a great service when it comes to meetings, but they lack the spontaneity and fun that form the basis of our relationships.
"Cosmos is a way to bring back that human connection that we're lacking when we spend all day online, by providing a virtual world where you can play a game of Pictionary after work with colleagues or gather round a table to celebrate a friend's birthday."
Co-founder Baweja added: "Online platforms have used the concept of 'community' as their mission statement but scrolling through feeds of comments, pictures and recorded videos have only served to make us feel more alone. With Cosmos, we've striven to create something which captures that magical feeling of being together so people can enjoy live experiences online when they can't in-person."