HealthTech
Investment
CMR Surgical has raised £425 million in Series D financing, a world record for a private MedTech company. 
Cambridge-headquartered CMR works with surgeons and hospitals to provide an optimal tool to make robotic keyhole surgery universally accessible and affordable. 
The funds will be used to increase the global commercialisation of Versius, its next-generation surgical robotic system, and further develop its digital ecosystem. 
The round was led by SoftBank Vision Fund 2 and co-led by Ally Bridge Group.  
The financing was supported by other new international investors including RPMI Railpen, Tencent and Chimera, broadening the geographic scope of the shareholder base.  
Existing investors, including LGT and its affiliate impact investing platform Lightrock, Watrium, Cambridge Innovation Capital, PFM Health Sciences and GE Healthcare, also participated in the round. 
"This latest financing equips CMR with significant funds to accelerate our mission of bringing Versius to hospitals worldwide, whilst providing full flexibility to achieve our goals," said CEO Per Vegard Nerseth (above). 
"This major injection of capital that now values us at $3 billion not only reflects the level of interest we have seen in our product, but also the scale of the business, and will enable significant technology developments and global expansion.  
"As the lead investor, SoftBank has a wealth of experience supporting disruptive business models and innovative technologies, and we look forward to leveraging their expertise and extensive ecosystem. I would also like to thank our existing investors for their long-term support." 
Versius' size, portability and versatility have made it very popular with hospitals and surgeons around the world. It has been launched in multiple geographies worldwide including across Europe, Australia, India and the Middle East.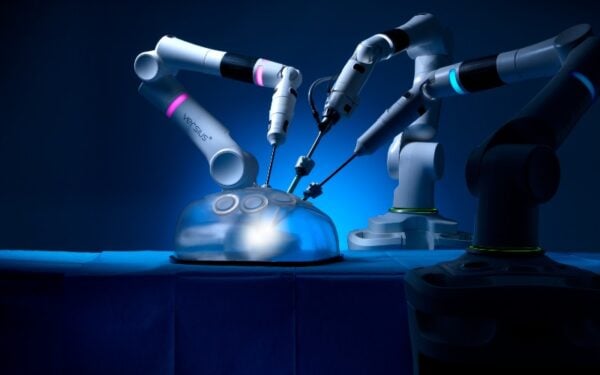 Yanni Pipilis, Managing Partner for SoftBank Investment Advisers, commented: "Demand for minimally invasive robotic surgery is growing rapidly among surgeons and patients yet high costs have historically hindered adoption.  
"CMR Surgical is transforming surgical robotics to convert underpenetrated open & laparoscopic procedures in new international markets where robotic surgeries are less prevalent such as India, the Middle East and Latin America.  
"We look forward to working with CMR in its mission to make robotic keyhole surgery available to everyone." 
Charles Chon, Partner and Head of MedTech, Ally Bridge Group, said: "As life science-dedicated specialists and active investors in surgical robotics, we believe the user-friendliness and cost-effectiveness of the Versius system allows a meaningfully differentiated robotic experience that democratises robotic surgery both procedurally and geographically.  
"We are proud to support CMR as a hallmark of UK innovation and a solution for all surgeons and their patients."