A sustainable laundry service backed by Twitter co-founder Biz Stone has raised £500,000 in crowdfunding in just 15 hours.
Oxwash, based in Oxford, uses space-age technology to clean up the traditional and environmentally costly washing and drycleaning sector. 
After recently raising £2 million in seed expansion investment, it secured £250,000 from five angel investors – including Magnus Rausing (Tetra Pak), Kal Patel (ex-CEO of Best Buy) and Vala Capital – in addition to a quarter of a million from 318 public Crowdcube investors.
The company was founded in 2018 by ex-NASA scientist Dr Kyle Grant and Oxford engineer Tom de Wilson. It uses water-saving ozone technology to sterilize fabrics at lower temperatures, thermal and biodegradable chemical processes to achieve higher than medical-grade disinfection, dissolvable laundry bags, along with electric cargo bikes for hyper local pickups and deliveries.  
CEO Dr Grant said he was "totally blown away by the level of interest."
"Our goal was to build a wide network of shareholders who care about our purpose as much as we do and can be true ambassadors for the brand, which is why we capped the investment level at £5,000 per person," he said.
"To witness £100k pledged in just three hours, and be able to close the round in 15, we're over the moon with the outcome and level of support.
"We know being just another laundry app won't cut it. Developing a model that is hyper local, carbon neutral and tech enabled – that reverses the sector's adverse impact on the planet rather than adding to it is absolutely critical.
"Partnering with the likes of Reckitt, The Oxford Foundry and Founders Factory, as well as being part of the Collective Impact programme with Virgin StartUp have given us access to some of the best minds in business which has undoubtedly been a leg-up for the business. 
The three rules of hypergrowth: Product, scalability and people
"Our team is not only developing chemistry that works better at 20 degrees Centigrade than at 40 or higher, but we have integrated water reclamation and reduction technology into our process so that saves up to 60% of the water consumption versus you washing at home or any other typical commercial washing service.
"There is a growing awareness and appetite for green washing services  –  and we're confident that Oxwash can clean up and deliver substantial returns."
The responsible laundry firm now has more than 8,000 individual customers, alongside clients such as the Marriott Hotel Group, Hurr Collective and the NHS.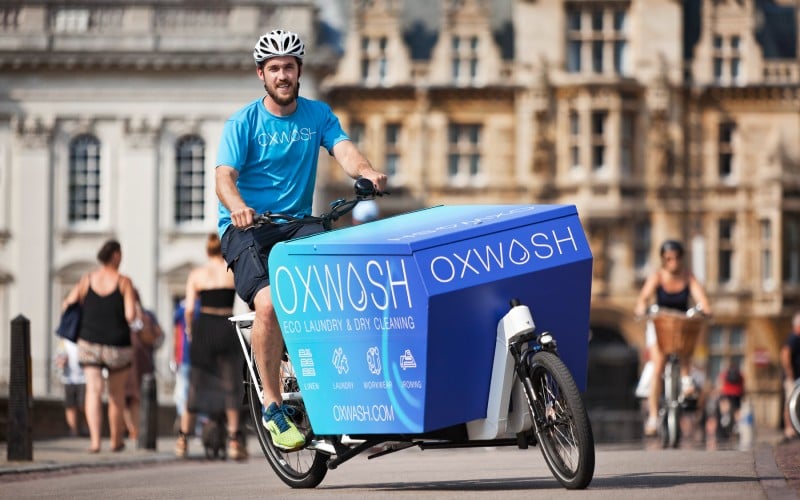 The new funds will be used to expand the service geographically by adding more 100% electric vans to the fleet, as well as continuing to engineer best-in-class software and technology that will facilitate Oxwash to reach its net-zero goals, and further enhance fulfilment processes linked to the growing circular fashion economy.
In April 2021, Reckitt announced a new strategic partnership between its heritage clothes care brand Vanish and the space-age laundry service. 
The 'Oxwash, powered by Vanish' partnership means Oxwash uses the new Vanish sustainable formula – Vanish 0% – in its cutting edge washing facilities, also known as lagoons, to help give old clothes a new lease of life, preventing tonnes of clothes from ending up in landfill. When asked about how Oxwash is collaborating with one of the world's biggest hygiene and health brands, Charlotte Schofield, venture partnership manager at Reckitt, said: "Together, we are helping Oxwash scale their solution to reach more consumers, and reduce the impact that laundry has on our environment." 
Paul Forster, founder of Indeed.com, also invested. "Oxwash is one of the most exciting businesses I've come across. I love the focus on sustainability, and it's a scalable model so I'm expecting it to grow into a really big business," he said.