HealthTech
A Manchester procurement intelligence firm is leveraging artificial intelligence to help suppliers increase their share of over £36 billion in promised UK healthcare spend.
Founded by Manchester-born businessman Ron Burges, BiP Solutions has grown from humble beginnings in a Portakabin to a multi-million-pound firm. 
The second-generation family business, founded in 1984, now employs 160 staff across the UK including corporate offices at Digital Park, MediaCityUK and Glasgow's Pacific Quay.  
What started life as a journal of local government tenders, which the Flixton man painstakingly cut out of his local paper, has grown into a tech-led procurement powerhouse.
With a client base of hundreds of UK public sector organisations BiP Solutions works with the likes of the Crown Commercial Service, Ministry of Defence, NHS, Scottish and Welsh Governments and numerous local authorities. 
Now the business, which is headed up by his son Simon Burges, is making a foray into artificial intelligence with the launch of Health Contracts International (HCI).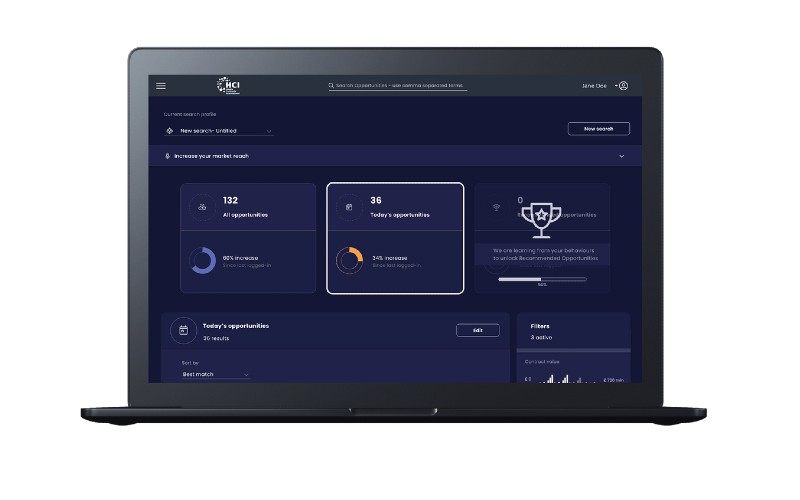 As a next generation business intelligence platform, HCI helps suppliers increase their share of more than £36bn in promised UK healthcare spend. 
Developed by procurement, research, and technology experts at BiP Solutions, HCI allows suppliers to stay one step ahead of their competition in the complex and fast-growing healthcare market. 
The platform uses a ground-breaking AI to increase search relevance, boosting the visibility of current and future tender opportunities across the entire healthcare sector. 
And it is being hailed as an 'indispensable tool' for ambitious healthcare suppliers with a growth mindset. 
"HCI is a hugely exciting product for us, especially when NHS spending is increasing dramatically; both in response to the Covid-19 pandemic and the long-term commitment to invest more in healthcare, as outlined in the Government's recent Spending Review," said Simon Burges.
"By surfacing more opportunities than ever before, we believe HCI will enable this investment to be accessed by a far wider supply base, providing buyers with a greater choice of innovative and high-value products and services.
"It is a proud moment to see all our development work come to fruition and the business grow to what it is today; connecting suppliers with the health sector at such a critical time in its history."
Chris Barre, product owner at BiP Solutions, added: "HCI uses advanced machine learning and artificial intelligence to tailor healthcare tender opportunities results to our customers specific needs. 
"Ultimately this saves them time, money and resources as they are able to engage earlier in the procurement process and future proof their opportunity pipeline."
AI