One of the most popular hobbies among college students is sports. While some prefer competitive sports, others enjoy doing physical exercises on their own without engaging in a team. If you belong to the last group of people, you may enjoy jogging or working out in a gym, which provides you a great opportunity to monetize your hobby.
One of the ways to earn extra money for students is by working as a personal trainer. According to some data, the UK fitness industry is now worth over £4.7 billion, so it is certainly a perfect time to start a career as a personal trainer. To begin with, one needs to gain professional skills and get a certification. This article aims to explain how college students can do it in the UK.
But first, let's consider a common obstacle you may face on your way to becoming a personal trainer. Typically, college students have a busy schedule with loads of homework to complete within tight deadlines. It takes almost all of their free time, so there are fewer opportunities for extra study and work. To handle numerous assignments, students seek writing help in the UK so they can delegate some tasks to professionals. Luckily, there is a great writing service that can provide students with high-quality essays, research papers, and assignments and that is easy to buy personal statement any time you want. You can use it even if you are looking for a college personal statement writing service UK at best price because its writers can complete any type of writing tasks for you. So, whether you need personal statement help, proofreading, or assistance with a thesis, you can rely on this UK service and be sure that they manage to do what you want from them. Such alternatives give you a chance to devote your free time to activities you really enjoy and want to do.
When it comes to choosing a training program for certification, the confusing thing is that many providers have great advertising campaigns and skilled sales teams, so they can easily persuade you to buy their program. However, they may not be appropriate for a trainer's certification and lack of quality. So before picking up a course, you should find out if it's recognized by quality bodies, for instance, CIMSPA or REPs.
CIMSPA and REPs
The qualification of your training program must be recognized by CIMSPA or the Chartered Institute for the Management of Sport & Physical Activity. This organization represents the "gold standard" for quality in the health and fitness industry so it is essential to safeguard your future credibility as a PT by choosing an appropriate course.
Sometimes, providers may illegitimately claim to be CIMSPA approved so you shouldn't rely solely on a provider's claims but double-check the information. Recently, CIMSPA has started to inspect course providers in order to ensure their quality standards. Now they regularly publish "post-inspection" articles to showcase positive inspection experiences.
Once you've made sure that your program is CIMSPA approved, you may check if it is a member of REPs or "The Register of Exercise Professional" which is a register of instructors where you can check their credibility.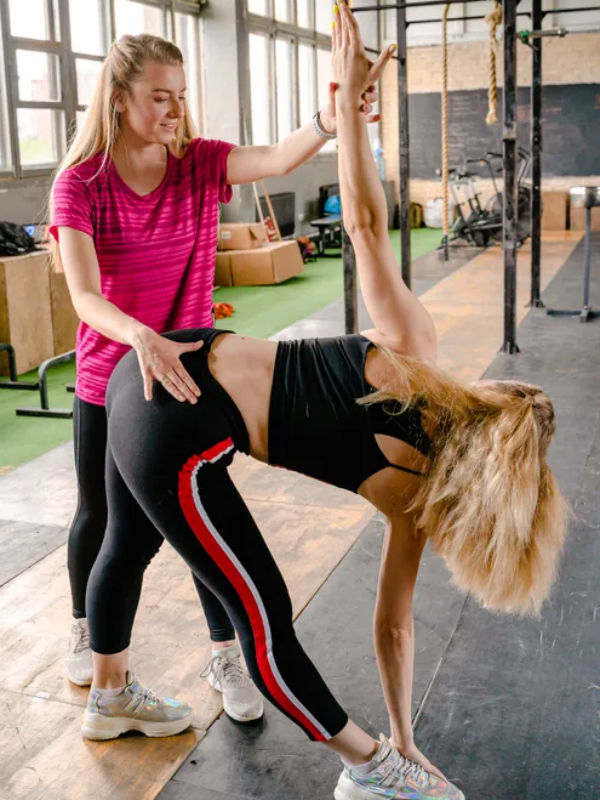 Choosing the best course
After you've finished all the essential checks regarding CIMSPA and REPs compliance, you can look at some more details about the Personal Trainer course.
First, you can find information on what other students think of a course provider. One of the easiest ways to do this is by checking reviews at TrustPilot. Good Training Providers may even openly invite their students to leave reviews there. On the contrary, if a company isn't confident in what their customers may say, it won't be active in engaging with a review site.
After that, you should consider the following aspects of the course to choose the one that fits you best.
Format
Today, there are many different types of courses, some offer the studying on site and require regular attendance whereas others offer a blended approach of online and gym learning. The percentage of online learning vs attendance may vary and it doesn't mean that there is any difference in quality. Probably, if you are new to fitness, you may need more attendance.
Content
All the providers that are officially recognized by CIMSPA must deliver a set syllabus, so their content is going to be pretty much the same. What differs however is the way the course is delivered and what resources are used. Luckily, you can access a demo of some reputable learning sources to check if they are suitable for you.
Location
Although most of your studies can be online, you should still consider the location of your learning center because you will need to travel there for workshops and assessments. But you shouldn't base your choice purely on location, it's much more important to find the program that suits you. So extra time for traveling could pay dividends if you feel that the chosen course satisfies your needs.
Price
There is a huge variation in prices depending on the provider you choose. You shouldn't think that just because a course is more expensive it's better. You should try to get the best value for money from the course you want. Note that usually programs with more attendance have higher rates, whilst blended courses are typically more cost-effective. Also, make sure that the price you pay includes workshops, assessments, and so on.
As you see, getting a PT certification is all about what suits you as an individual. There are plenty of options available for students on the market, so select the one you find the best for yourself!
Author's Bio
Elisabeth Skinner is an academic writer and a big fan of sports. She does sports on a daily basis as it allows her to be more efficient at work and get better results. She believes that no matter what job one does, everybody should make exercises a part of everyday routines.