Northern Ireland's most innovative tech firm PlotBox was inspired by an Irish priest – but matured on the West Coast of the United States. 
The Ballymena 'death care' company is run by husband-and-wife team Sean and Leona McAllister. It also has offices in Boston, Austin and San Francisco; 85 per cent of its business is international. 
Its origins are very much in the Emerald Isle. "Sean had his own surveying business and his parish priest asked him to survey the little graveyard outside the church," explains Neil Sherrin, VP Business Development for North America at the firm. "He also stuck a drone up in the air and just took an aerial photograph.  
"The result of his work was just astonishing for the priest. He wrote off to the bishop and the bishop was so impressed he wrote off to the other bishops in Ireland. All of a sudden there was a flood of inquiries for this product – and there was no product!" 
The team run the Discovereverafter.com website, which is a public record search tool for people who have passed away. However for 'Everafter' to be successful, it needed to develop PlotBox "to get the records in the first place".  
Sean and Leona travelled throughout the UK and US speaking to cemeterians and realised there was a massive gap in the market for a cemetery management application – one that would be crowned the winner of BusinessCloud's Northern Ireland Tech 50 ranking for 2020. 
SEE THE FULL NORTHERN IRELAND TECH 50 RANKING HERE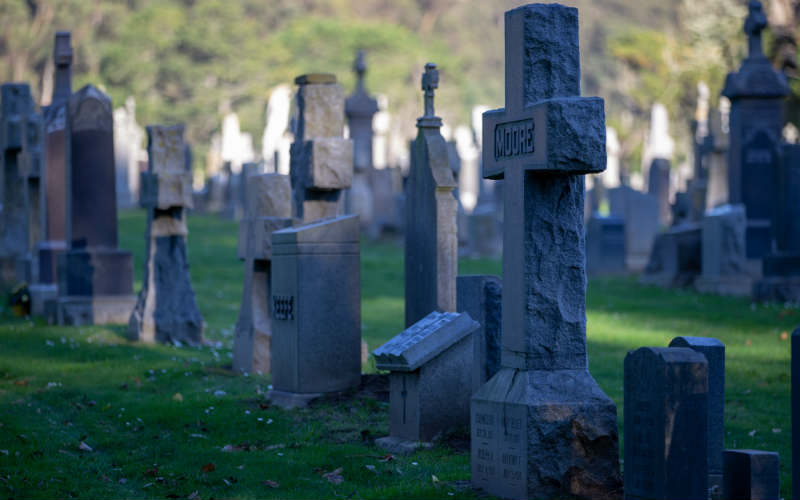 Sherrin – who is currently based in Northern Ireland due to COVID-19 but set to move to Boston – says this is a sector which has been largely untouched by technology. "Traditionally cemeteries have got multiple systems and they are often very antiquated. They've got paper maps, which might be hand drawn – they might not even be survey-grade maps done by a surveyor.  
"They might have an Excel database of records and another system for managing work orders and tasks for their grounds crews. Some of them are literally using DOS systems or typewriters for generating paper contracts. 
"They've got all of this manual information that relates to the same [buried or cremated] person in different places. The potential for making mistakes, and either double selling a plot or burying somebody in the wrong location – which happens quite frequently – is huge. 
"Sometimes they'll start digging the grave and realise actually, there's somebody already in there!" 
PlotBox streamlines all of this – but more importantly brings all these operations into one place. 
"We clean up their data and identify problem records for them so that they can trust their data in a way that they've never been able to do before," says Sherrin.  
"So many cemeteries have hundreds of years' worth of graves and records in them – people have been dying for millennia. It's helping cemeteries clean up the errors from the past. 
"It reduces risk of lawsuits and helps them to grow quicker and generate revenue opportunities."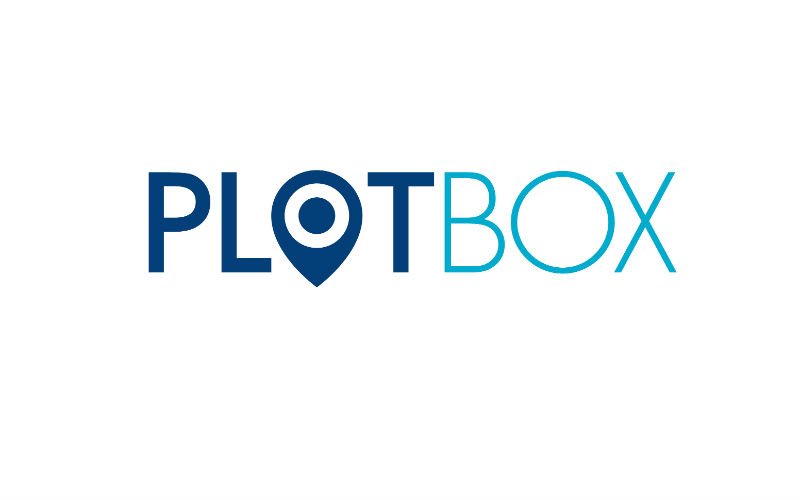 After winning a place on the prestigious 500 Startups programme in San Francisco, the founders relocated to the US for several months and started building a customer base on the West Coast. 
"The first contract was one of our biggest customers today, the Archdiocese of San Francisco. They developed the product with them hand-in-hand," says Sherrin. 
"It did a huge amount in taking that embryonic idea into something more tangible and marketable. That was a massive boost to have the support of such a great network of people." 
The American market is larger, Sherrin says, but also presents a greater revenue opportunity due to differences in how death is approached. 
"Pre-planning – where you buy your plot and make all your funeral arrangements ahead of time – is very common in America," he explains. "You can do it here, but it's less prevalent.  
"One of our customers in Los Angeles has a sales team of over 200 English- and Spanish-speaking people who walk the streets and sell plots in home – and do very well from it.  
"Of course, they need software running on an iPad which allows them to show their inventory; 360-degree views of the location; to generate the contract; then take the payment. We developed the technology to allow them to do that." 
Edinburgh VC Par Equity and London-based Ironbridge Capital Partners invested £2m into PlotBox last year. It is now looking to expand in all its active markets: the US, UK and Australia and New Zealand. 
It is also looking to expand its offering to allow cemeteries to generate revenue from activities such as flower delivery.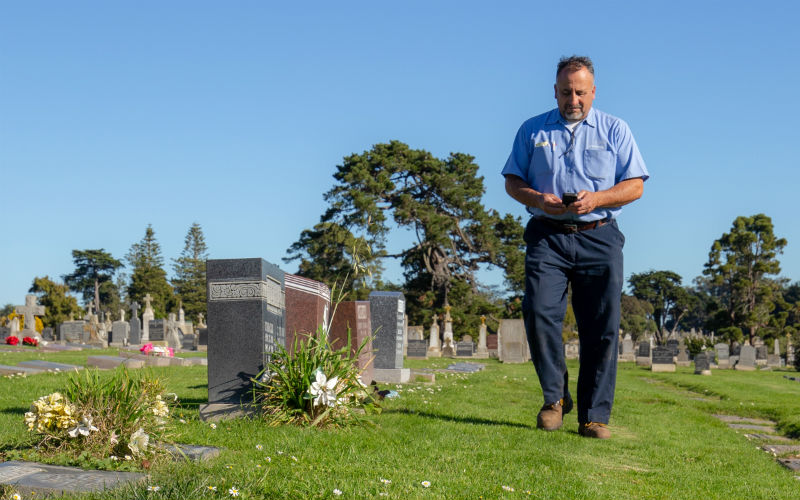 "Interflora might go to the reception desk and hand over a bunch of flowers. The cemetery has made no revenue from the flowers and may have a site which is potentially hundreds of acres in size. If they don't have a system like Plotbox, they have to go to the archives to find out where this person is buried. 
"Using a mobile phone they should be able to deliver the flowers right to the graveside, take a photo of the flowers and send it back to the to the buyer, wherever they may be in the world. And generate a return from it. 
"The vision is to become a death care platform that connects all aspects of the death care market." 
Sherrin says COVID-19 has validated the need for a remote-enabled cemetery management application. However it has also caused some potential customers to put a pause on moving across. 
"All of a sudden they are dealing with a spike in burials and cremations and they can't entertain the thought of a wholesale change right now," he admits. "So that's affected us a little bit these last three or four months. 
"But some customers have taken it as an opportunity to accelerate the pace of their projects."