A high profile panel of business leaders in the North has called on companies not to put creating profits and shareholder value ahead of their staff, customers, communities and the environment.
That was the view of some of the biggest names from the world of tech, manufacturing and the wider business community who took part in the latest BusinessCloud roundtable.
The discussion – entitled 'Why doing the right thing in business is good for business' – heard how investing in staff and customers and being nicer had boosted productivity and created a happier workforce.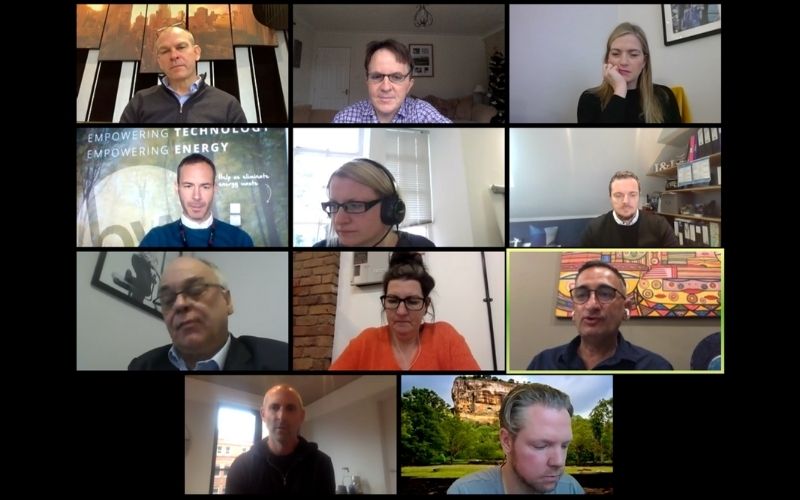 Ian Finch, CEO, Mando
Mando is a Liverpool-based digital agency and has worked hard to protect staff welfare during the pandemic. All line managers have had mental health awareness training and the company sends monthly 'treats' to everyone in the business.
CEO Ian Finch realised he had to do something when research revealed the prevalence of mental illness in the digital sector.
"Within digital we have a higher percentage of employees who suffer with mental health issues than the average and the average is on the rise all the time," he said.
Mr Finch said investing in staff was paying dividends. "We are nipping things in the bud earlier when people have problems," he said. "We're having more transparent conversations. We get them on track quicker."
He said employee satisfaction, customer retention and profitability had all increased.
Safa Alkateb, CEO, Autocab
Cheshire-based Autocab was established in 1991 and now supplies over 50 per cent of the UK taxi market with its online booking and dispatch platform and white-labelled passenger apps. Uber announced it was acquiring Autocab earlier his year but it will remain independent.
The company appointed Lucy Sunner to support staff while working remotely and CEO Safa Alkateb said the difference has been transformational..
He said: "During Covid we made a pledge to our customers that we won't make any money while they're having difficulties out there. As you can imagine during Covid people don't travel so taxi companies saw their revenues go through the floor. We devoted £1m to our customers and gave them back half the fees that they pay us. It got our customers to love us when they were hurting the most."
Frazer Durris, CEO, Businesswise Solutions
Lancashire-based Businesswise Solutions has set itself a target of being net zero by 2025 and wants to get 80 per cent of its staff driving electric vehicles. The energy procurement expert has also become a patron of the Blackburn Youth Zone.
CEO Frazer Durris said: "Doing the right thing by your staff and your customers clearly pays dividends in other areas. The business feels better for it. People are more committed. Financially, in the long run, it tends to make sense in terms of what you get back."
Andrew Graham, CEO, Graham & Brown
Andrew Graham MBE, is the CEO of Blackburn-based wallpaper manufacturer Graham & Brown and the founder of Blackburn Youth Zone, which offers more than 20 bespoke activities to young people for just 50p a visit.
He said: "We're 75 years old as a company next year and we now employ over 500 people worldwide. There are three stakeholders in any business. The employees, your colleagues. There's our customers and there's the shareholders. Those stakeholders are all equal.
"Blackburn Youth Zone has been brilliant for our business because it gives us a focus for our community giving back. We believe fundamentally in trust, openness and collaboration."
Donald Moore, chairman, Rowlinson Knitwear
Stockport-based Rowlinson Knitwear is a £16m turnover supplier of school wear and corporate wear. It became employee-owned in 2015 and became a certified B Corp in 2020.
Chairman Donald Moore said the company switched its focus from creating shareholder wealth about 12 years ago and has never been happier or more successful.
"We said 'from now on we're going to put our people and our customers before profit and shareholders come last," he said. "It transformed our company and we started to be really successful. Happy people mean happy customers."
Kate Norton, Group HR director Praetura Ventures
Manchester-based Praetura Ventures has the tagline 'more than money' and is changing the perception of VCs.
They're committed to protecting the health of their staff and give all staff members a two-week 'digital detox' when access to work emails and systems is switched off.
Group HR director Kate Norton said: "The VC industry has a reputation about it just being about the cash and we wanted to change that. It's about people and culture and doing the right thing. Doing the right thing trumps everything else.
"We started the digital detox this year it means for two weeks everyone has their emails and access to Teams turned off and they go on holiday."
Adam Higgins, co-founder, Capital & Centric
The Manchester-based developer recently appeared in the hit BBC TV documentary Manctopia and prides itself on being different.
Rather than sell developments to financial institutions and pension funds they sell direct to occupiers. Capital & Centric has helped raise hundreds of thousands of pounds to tackle homelessness and are committed to the conservation of old buildings.
Co-founder Adam Higgins said selling to the end user rather than financial institutions had resulted in them picking up more work. "We've realised that maybe you have to take a longer-term view on profits and it's about doing the right thing for the people who buy off you and not the right thing for the investors," he said.
Sara Lawton, director, Rise Construction Framework
Rise Construction Framework operates by advertising across Europe for consultants and contractors to apply for work of the framework.
They've set up a 'café', which is effectively a careers hub for young people who may have been in the care system or prison system and need help getting into the jobs market.
Director Sara Lawton said: "We reinvest profits into community projects and initiatives to tackle deprivation and make communities safer and stronger."
Scott Hadden, director and chief experience officer, Mark Bratt Travel
North West-based Mark Bratt Travel is an ethical travel firm. When Covid struck and customers were waiting for refunds from operators they took out a bounce back loan so clients could be refunded immediately.
Director and chief experience officer Scott Hadden explained: "The reason people use us is that their money is safe and protected. We felt the right thing to do was honour our obligations."
Mel Harper, marketing manager, Comply Direct
Skipton-based Comply Direct is an expert approved environmental compliance scheme and employs 29 people. They run a fully inclusive health and well-being programme as well as offering flexible working.
Marketing manager Mel Harper said: "Since 2017 we've had a health and wellbeing programme called 'A Better You' and it proves that the more we invest into our staff and look after them it gives us the results we want. Productivity has increased and staff sickness levels are below 1 per cent."