Manufacturing
Manufacturers are now able to precision machine components much more quickly and efficiently, thanks to a new software solution from CloudNC.
CAM Assist automates strategy creation in computer-aided manufacturing packages, greatly accelerating CAM programming time.  
CAM Assist – currently available as a plug-in within Autodesk's Fusion 360 software platform – uses advanced computer science techniques to generate professional machining strategies for 3-axis parts in seconds, which could take CNC machine programmers hours or even days to manually create. 
As a result, the amount of time it takes to program a CNC machine to make a component – a bottleneck in many factories, due to a global skills shortage – is reduced by up to 80%, according to CloudNC, compared to the previous manual programming process.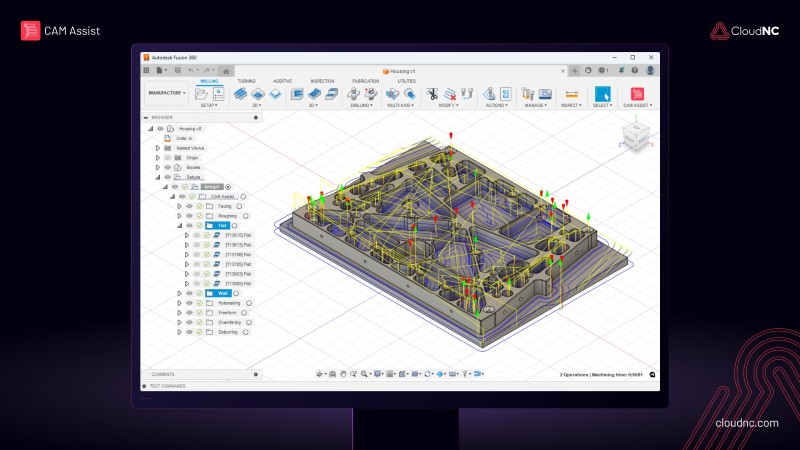 That gain enables manufacturers using CAM Assist to raise productivity and shorten lead times. In addition, the software frees up time for experienced programmers, while also allowing junior employees to program more complex parts and be productive faster, helping fill the manufacturing sector's widening skills gap. 
CloudNC featured in sixth position on our FactoryTech 50 ranking this year.
Theo Saville, founder of CloudNC, said: "CAM Assist is the biggest paradigm shift for the precision manufacturing sector in decades. By making CAM programmers faster, CAM Assist enables manufacturers to increase machine uptime, slash lead times, improve process stability, and upskill staff to become expert machinists more quickly. 
"These advances will re-energise precision manufacturing companies struggling with rising costs, ageing workforces and competition from globalisation – shortening supply chains and keeping the costs of everything down for us all." 
Previously, depending on complexity, it could take a CAM programmer between an hour to several days to determine the best strategy to CNC machine a new component. This includes selecting the correct tools, toolpaths, and techniques – determining between hundreds of thousands of potential variables and approaches. 
Instead, CAM Assist uses advanced computational optimisation and AI inference techniques to rapidly determine a professional strategy and toolset needed to manufacture a part, along with the most appropriate cutting speeds and feeds from the user's library.
As a result, a Fusion 360 user can today upload a 3D model of a 3-axis component and the software determines the best milling tools needed from those available, and how they will be used. In seconds, CAM Assist drafts the code required to instruct a CNC machine how to make it, within the user's existing CAM platform. 
FactoryTech 50 – UK's most innovative manufacturing technology creators
CloudNC has conducted side-by-side trials of CAM Assist with senior CAM programmers. According to the results, CAM Assist users can reduce programming times by up to 80% in comparison to manual programming methods, saving time for more senior programmers by completing tasks associated with program set-up and toolpath creation.
New users can also use CAM Assist to start to learn how to use software platforms like Fusion 360 far faster, producing components on the day of first use. 
Andy Soos, managing director at Bedford CNC, who had early access to CAM Assist, said: "I now use CAM Assist every day with Fusion 360, and it's opened up many new opportunities for my business and made life a lot easier with regards to programming –  which means we've been able to speed up delivery times to our customers even further."
While the software today performs best with 3-axis components, multi-axis and freeform capability will be accessible to beta customers shortly. 
Saville added: "The UK is missing out on £21 million a day in lost output because of the manufacturing skills gap, as we do not have the skilled labour to make the components we need. 
"CAM Assist is the solution to that problem – it frees up time for senior programmers, and helps unskilled workers get up to speed far faster. If you're a workshop owner, it's what you've been looking for: it allows someone who's never previously used Fusion 360 before to start making components on the day of first use, all within an existing CAM package."
CAM Assist is available today for CAM and CAD programmers using Autodesk Fusion 36 at this link.