Retail
Deirdre McGettrick was a rising star in London's investment banking scene. 
As vice president of HSBC's leverage and acquisition finance team, she oversaw £20 billion-plus acquisition facilities for FTSE 100 players and ran a portfolio of clients across the UK and the Netherlands. 
Yet after eight years of hard work building up her career in advisory finance, she looked back to her childhood in Ireland and was inspired to leave it all behind. 
"I was in a job where I was earning more money than I could ever have anticipated," she tells BusinessCloud. "Growing up in a small village on the west coast of Ireland, I never I never thought I would get to there. 
"To walk away from that was massively scary… you're walking away from your pension and a very comfortable lifestyle where you can pretty much do what you want. 
"I knew that if I left banking it would be next to impossible to get back in."  
In 2018 she took the plunge as an entrepreneur, alongside husband Raymond Wright, after identifying the need for a 'Rightmove for furniture'. 
"I knew I'd always be kicking myself if I didn't give it a try," she adds. "I am so passionate about furniture and interior design that it doesn't even feel like work at times.  
"I couldn't even imagine going back into that corporate constraint… but it was really hard to leave." 
As a child, McGettrick lived in a house attached to the family shop, which sold everything from farmers' wellies to school uniforms and curtains. "I'd go out in the evening time to fit the curtains and blinds my dad had sold to the local community," she reminisces. 
"I just love looking at people's houses, seeing how they had designed them. I remember one lady had a wardrobe which, when you opened the middle two doors, went into a secret en–suite. That was absolutely gobsmacking – something like you'd see on the TV! 
"So that love of interiors was sort of always there." 
After moving to London and buying a flat, she realised it was difficult to source the kind of niche designs and products she had come across online, in newspapers and physical spaces such as hotels and restaurants. 
"You typically go on Google and it shows you John Lewis and IKEA," she explains. "Where were all these amazing products I saw? 
"I asked Ray: why isn't there an aggregator? Why isn't there the equivalent of Rightmove, which we used to find our home?  
"Nobody goes out to buy the cheapest three-bed semi-detached house – they go out to buy the one they fall in love with. You might end up purchasing the home that's £50,000 more expensive, but it's got a south-facing garden, or it's done the loft conversion. 
"It doesn't matter whether it's being sold by Foxtons or a one–man band. Furniture's the same… John Lewis might have a blue velvet sofa, if that's what I'm looking for, but if it's not the right one, I'm not going to purchase it. 
"A lot of people I've spoken to suffer from 'decision paralysis'… they're still looking for the perfect coffee table or whatever two years in."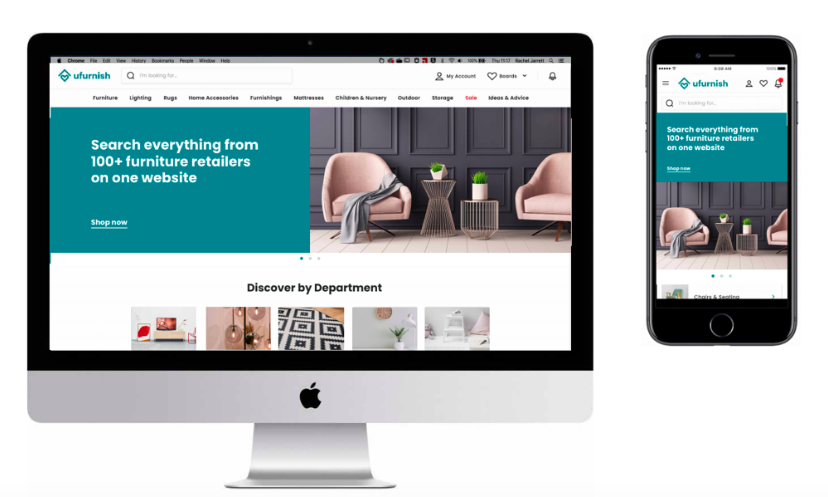 ufurnish.com, rebranded this year from Kuldea, is a search and discovery website for home furniture and furnishings. It lists products from major retailers such as Wayfair, John Lewis, SCS and Dunelm; independents such as Barker and Stonehouse and Cox and Cox; plus small individual niche businesses. In all, there are 100+ retailers featured with plans to add another 50. 
McGettrick cites Claire Gaudion, a rug maker from Guernsey. "All of her rugs are inspired from growing up on the island: the sea, the beach, the sky. They're fabulous," she says.  
"Some of her products are 100% made from recycled plastic bottles – and you can't tell the difference! It's just amazing what some of these businesses are doing." 
A two-sided marketplace, ufurnish.com doesn't sell the furniture directly. Instead, it directs the customer to the retailer's website and takes a commission. 
This helps the retailers cultivate direct relationships with customers and is in direct contrast to the experience on the likes of Amazon. 
"If you don't know your customers, how do you run a business? It was really important for us to sit in the middle and help both sides. I'm not taking their customer... I just want to connect them with more people." 
Users are able to favourite products, create home furnishing design boards and receive notifications for sales alerts and retailer promotions. 
While acknowledging that furniture has been a "laggard" amid retail's general transition to online,  McGettrick says people now realise it is possible to buy these products remotely, especially in light of the 2020 COVID-19 lockdowns. 
Winner of the New Entrepreneur of the Year 2020 at the Lloyds National Business Awards, she has welcomed big-name players to the company recently as the workforce has reached 16 – based in London and Portugal – following £1.8m investment this year. At the start of 2020, the two founders were the only employees. 
Chief marketing officer Toni Wood is a former marketing and commercial chief at leading furniture retailer DFS while chief technical officer David Marshall is former CTO at restaurant booking platform Bookatable and chief technical architect at Lastminute.com. 
"We haven't met most of the team as we hired them during lockdown," she acknowledges. "I had a three–month review with one of the ladies, and we were like 'oh, it's weird we haven't met in person because it feels like I know you'…  
"Then she asked me: 'How tall are you? I've literally no idea how tall you are!'"