Appointments
FinTech
A co-founder of Monzo has joined the board of cashless tipping firm TiPJAR. 
Gary Dolman, who stepped down from the leading digital bank in 2019, has joined the fellow London FinTech as an advisor. 
TiPJAR co-founder James Brown, chairman Alex Moore and CEO Ben Thomas are the other figures on the start-up's board. 
Dolman is a former PwC qualified chartered accountant and played a key role in establishing Monzo's full banking licence, growing its customer base to its current number of five million and achieving a market valuation of £1.2 billion.  
Prior to his time with Monzo, Dolman was CFO and COO for ABN AMRO Global Transaction Banking, a business with a turnover of more than €5bn handling payments across 40 countries. 
'It's where the action is': FinTech scene tempts cybersecurity unicorn to UK
"When I met James, Alex and Ben and heard their story, their mission and passion for solving the problem of tipping for millions of tipped workers, I was impressed and knew this was a project I could add value to as they scale their product around the world," he said. 
Brown added: "Gary joining our team will help us navigate the FinTech world and reach our potential.  
"Our ambition for TiPJAR is that we become the world's leading cashless tipping solution, as each year an estimated £70 billion-plus tips are given globally to individual workers and teams.  
"TiPJAR aims to provide technology focused on the millions of workers, performers and entertainers, helping them transition in the cashless future." 
TiPJAR was founded to change the way tips and gratuities are handled in pubs, bars, restaurants and hotels and to do away with complex and costly tronc systems.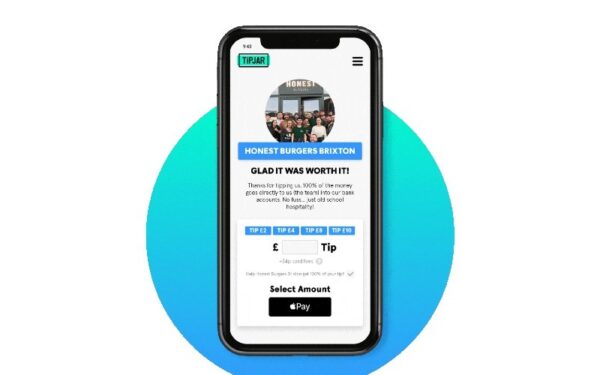 Through the TiPJAR platform, any tip paid by a customer 'digitally' – by card or smartphone – is equivalent to cash and is wholly owned by the staff themselves, completely by-passing the business and, therefore, the need to operate a tronc.  
Earlier this month, the platform was cleared by HMRC, which makes TiPJAR the only system of its kind in the UK through which staff can collect and pool 'digital', or cashless, tips.  
Money given in tips can be available to the teams in as quickly as 20 minutes after finishing a shift. 
A growing number of operators have already made the switch to TiPJAR, including BrewDog, Honest Burgers, Mission Mars, Punch, Qoot Co, Rose Pubs and Yard Sale Pizza.  
It is also being adopted in other industries where guests typically like to have the option to tip, such as hairdressing, beauty salons, mini-cabs, online gamers and health and fitness.