A pair of quick–thinking entrepreneurs who feared COVID-19 would drain the life from their mobile charging business switched focus in just SIX days – and are now set to clean up. 
Hugo Tilmouth, 24, and Charlie Baron, 26, expected 2020 to be a big year for ChargedUp – but the coronavirus lockdown almost brought the firm to its knees and led to the furloughing of some staff. 
The astute young tech founders redesigned their mobile charging docks into hand sanitiser stations and in less than a week landed their first lucrative contract with transport giant TfL, providing a vital lifeline for their business and 45 staff. 
Incredibly, the nimble start–up born in the midst of the pandemic turned over £1m in its first month. 
Tilmouth and Baron launched ChargedUp, a network of 2,500 charging points across 50 European cities, in 2017. It took inspiration from bike sharing and allowed users to rent a mobile charging pack from one destination and return it at a different location if needed. 
In less than three months, sister company CleanedUp has already secured major contracts with Costa, Crossrail, DHL and Hello Fresh.  
Returning its five furloughed employees, the start-up has already created 12 new jobs. 
The London-based founders now plan to go a step further and approach the government to return the furlough money they received. 
"I have to give Charlie all the credit for the CleanedUp idea," said Tilmouth. "We were set to roll out 150 mobile charging stations across UK airports, train stations and shopping centres the week lockdown hit, completely halting us in our tracks. 
"Immediately, we were like: how on earth do we keep the company afloat? 
"We spent the entire night going through models and situations, taking the really austere view – what happens if there is no chance of revenue for ChargedUp until 2021? 
"We then asked ourselves, what do we have in our skillset and how do we still support our supply network of shopping centres, pubs and transport hubs to help them operate safely in future? 
"Somewhat serendipitously, the mobile stations sat dormant had been designed specifically for high traffic locations – which spurred Charlie into thinking they could be refined into large capacity affordable hand sanitising bays with minimal investment.
"While I was number crunching, Charlie had not only seeded the idea with an existing client, but road tested it with a supermarket chain and almost overnight we firmed up there was appetite. 
"All in all, we had the idea on a Thursday, a working prototype by Monday. By the following Wednesday the factory was ready to start production. In that same time, Charlie had already sold 150." 
Undeterred by a drought in hand sanitiser at the height of the pandemic, the resourceful pair sought out other small businesses pivoting their firms at the height of the pandemic. 
Supporting other fledgling firms, CleanedUp sourced from independent gin distilleries who converted to hand sanitiser production to support COVID-19 effort. 
In just three months CleanedUp has sold over 7,000 UK manufactured hand sanitising units to what Hugo Tilmouth and Charlie Baron describe as "dream clients".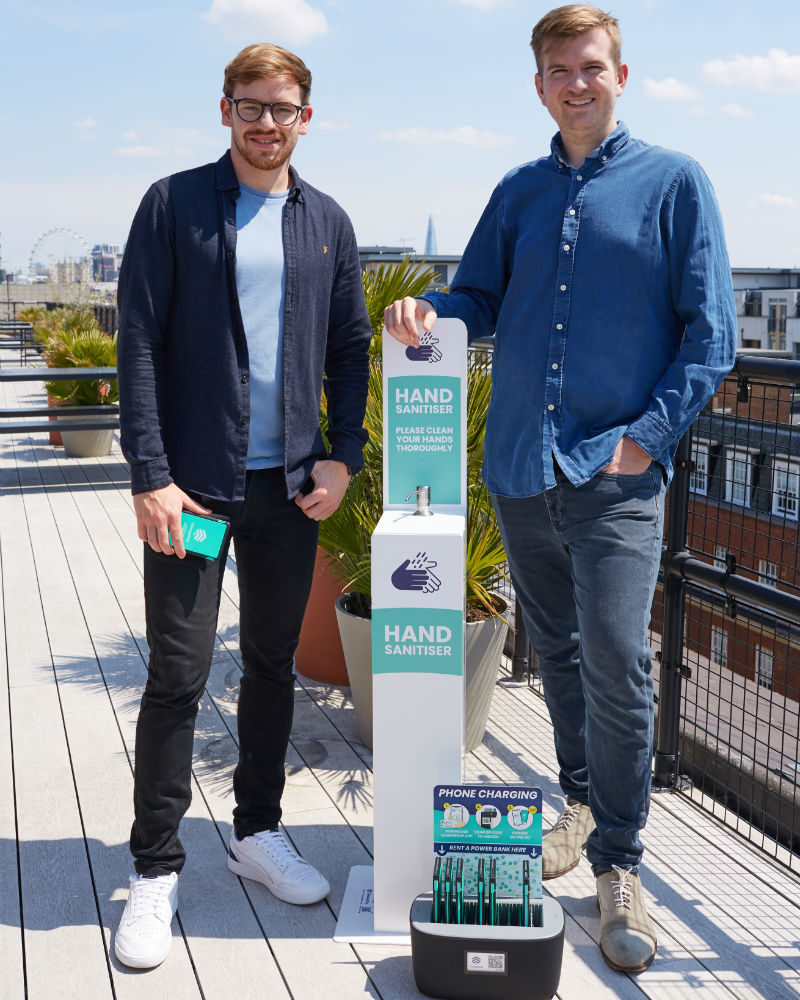 The start–up is now part of a trade recovery fund initiative helping the UK's pubs and restaurants welcome customers back safely, providing access to hand sanitiser and hygiene kits free of charge to trade.  
Baron said: "Hospitality businesses are the linchpin in bringing people together to socialise and celebrate – something we have all sorely missed during the pandemic. 
"So many outlets have been impacted by this crisis and badly need help to open their doors again. 
"Pubs and bars are the heartbeat of every community – sustaining hundreds of millions of jobs, often the first foot on the employment ladder for young people. 
"When ChargedUp was faced with COVID-related headwinds, we figured we had nothing to lose.  
"We threw ourselves completely into CleanedUp and somehow we've not just survived but thrived. Which is why, with this clean bill of health we feel it's right to return the government furlough assistance."