Investment
LegalTech
In the world of investment, the Excel spreadsheet is king.
And when you get down to the real early-stage landscape of angel investors and family offices, it is likely even more old-school than that.
"When we're speaking to investors [about our platform], best case they're using an Excel spreadsheet; worst case, it exists somewhere in an email – and they don't know where it is!" Roei Samuel explains to BusinessCloud.
"We want to bring structure and data to the earliest stage."
Samuel, a half-Hungarian half-Scottish entrepreneur, exited RealSport – a fan-oriented sports media and content creation platform with millions of monthly active users – to Gfinity PLC in March 2018.
Aged just 30, he has invested in around 15 startups himself over the last four years. His Connectd platform, headquartered in London, helps startups, investors and advisors make and manage meaningful connections. 
Connectd impact
Launched in February 2020, it has brought together more than 1,000 startups and over 1,000 investors and business advisors fostering more than 20,000 connections in over 10 countries.
"I'm familiar with all the issues that founders have: raising capital, connecting with the right people, finding recruiters who aren't going to waste your time, who are the right lawyers," he says.
"When I was sitting on the other side of the table as an investor – a grownup in the ecosystem – it struck me how equally chaotic and organised and messy it was! There is an idea that investors all know what's going on and have a great view on everything [but it's not the case].
"I thought it was an interesting opportunity to try and create an infrastructure to provide utility, transparency and visibility to everyone in the early stage.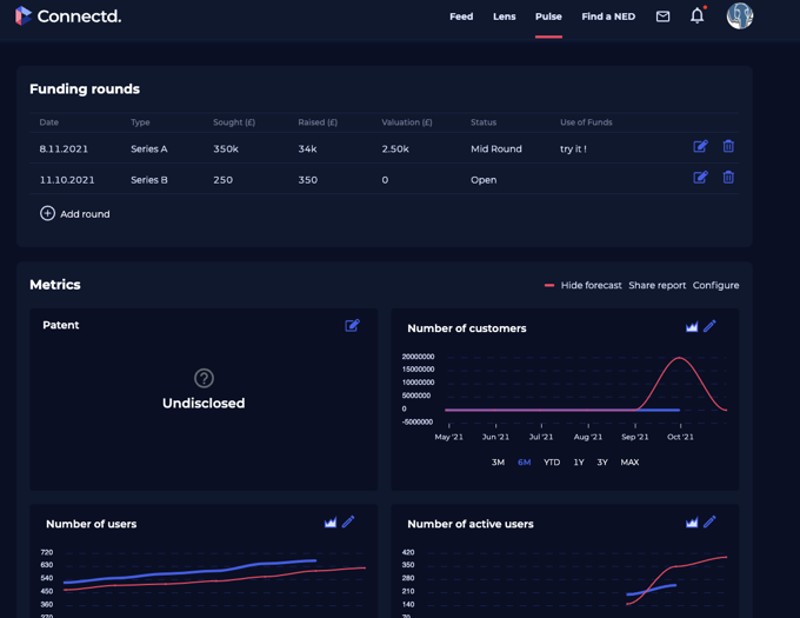 "In this kind of marketplace, the transactional complexity is so high that even if it is the perfect match, there are so many things that can go wrong in the process: 'it's not the right time for me, we have something else in our portfolio…'"
Connectd, which is free for investors, operates through a subscription-based model and has grown on average 16% every month since its launch. In the space of just over a year, its team has grown to 40 personnel working across the UK, India, Sweden and Poland.
Illiquid and messy
Founders benefit from a reporting suite which they can use to drive insights about their business, deliver those to their internal teams and keep their existing investors in the loop. They can also build a short window or concession stand for potential new investors. 
On the investor side, Connectd has developed a portfolio management system named ConnectdPortfolio. "It's an ultra consumable dashboard, like something you'd have for a crypto wallet or public shares. We wanted to build something for the early stage because we know this part of the world is very illiquid – but that doesn't mean it needs to have awful information around it as well. 
"They're getting aggregated insights across their portfolio in the way you would have with these other asset classes. And for the advisors, building them a similar suite for managing their appointments, managing their time, managing the different ways they're connecting with the businesses."
On getting started in 2020, he says: "Having made quite a few investments myself, I had a really strong network of angel investors to go to say, 'look, I'm building something for us. Does this work for you? Let's get it in your hands'. Where the investors go, the startups follow.
"We're mainly looking at this for angel investors and family offices in the early stage. But we do have associates from the likes of Augmentum, Atomico, Eight Roads, and even later stage – Fidelity, for example, use the portfolio management element – so we have associates and partners from these VCs using it. 
"By the back end of this year, we'll have the institutional login built in for more professional investors."
ConnectdLegal, a tool designed to help both founders and investors establish their essential legal documentation without incurring expensive fees, has recently been added to the offering.
Co-built with Contractbook – a Series B LegalTech backed by Google Ventures – this includes SEIS/EIS registration, advisory agreements for NEDs and board advisors, NDAs and employment contracts. 
'Amazon Prime' model
"It's the Amazon Prime model of 'load in as much as you can so no one ever leaves'! Give them everything they might possibly want. And then you can have a really long lifetime value," said Samuel.
Connected also offers a managed service for fundraising, charging 3-5% commission on completed deals. "The biggest transaction where we've been involved from a managed service perspective was £2.9 million, which makes good funds for us on a 5% commission – but we are primarily focused on building our sticky software," says Samuel.
The company recently secured a further £1.2m in seed funding to expand into the European market with a new office in Sweden. 
"Although we've only ever launched or done any targeted marketing in the UK, we've actually got paying customers in about 18 countries," says Samuel. "Our second biggest community is Stockholm. 
"We can be really data-led with our expansion plans, seeing all these micro-hubs popping up – communities that we want to service better and build better onboarding flows for with a local presence."