EnviroTech
A Californian company mapping the spread of COVID-19 around the world is planning to double revenue in the UK despite already having a 3,000-strong customer base. 
Esri works with Transport for London, Vodafone and the Metropolitan Police and its geographic information systems, location intelligence and mapping software is also used by 75% of Fortune 500 companies, the majority of national governments globally and more than 7,000 universities worldwide. 
Organisations typically use Esri's technology to help them more effectively use space and mitigate risk. For example, it identified 13.5 million square feet of unused space in a single London borough, thus helping to determine the best locations to build new housing.   
Most recently, however, the company has played a prominent role in the fight against COVID. Its technology powers John Hopkins University's global COVID-19 dashboard; meanwhile, in the UK alone, its disaster response programme has donated more than £8 million worth of software to more than 150 organisations to support their response to the pandemic. 
"When the pandemic hit, John Hopkins University used Esri's geospatial cloud technology to produce a dashboard monitoring the spread of coronavirus across the world. The dashboard initially contained figures on the number of cases and deaths, but now even contains data on the vaccine rollout," Stuart Bonthrone, Chief Executive of Esri UK, told BusinessCloud.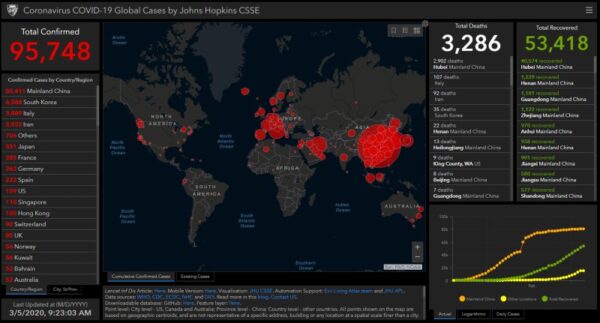 "The dashboard was built by a PhD student, and at its peak was accessed more than 8,000 times a second. Just a decade ago, this wouldn't have been possible – and its testament to how far technology has come."  
Esri's primary product, ArcGIS, allows people to create maps that can represent thousands of relationships between hundreds of data layers.  
For example, it can be used to collect and manage drone imagery and remotely sensed data, build 3D visualisations and even digitally transform field operations. 
"COVID-19 changed policing in the City of London overnight," explains Bonthrone. "The force used Esri's geospatial technology to develop ArcGIS Dashboards, creating an interactive map displaying the latest data available on footfall in the City of London and highlighting which business premises are open or closed.  
"These dashboards contain up-to-date data from as many of the 23,890 businesses based in the City of London as possible, including, notably, the 280 large businesses that collectively provide 50% of jobs in the City.  
"Police officers from Project Servator on the beat within the City of London use the Esri ArcGIS Survey123 app on their mobile devices to record observations about people's movements in busy areas, and this up-to-the-minute data is then automatically visible on the dashboards.  
"Senior police officers can then use the dashboard to better monitor changes and vulnerabilities and make well-informed policing decisions." 
Esri has been mapping the world for more than 50 years, thanks to its emphasis on innovation. The company dedicates a third of its annual revenue to R&D.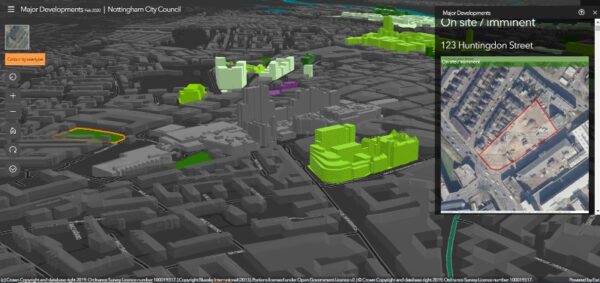 The company has three offices in the UK – in Aylesbury, Edinburgh and Cambridge – and employs more than 300 people here, while it also runs an extensive graduate programme. 
"Over the last seven years, our revenue has doubled in the UK – and our goal is to double that figure again in the next decade," said Bonthrone. 
"There's a number of factors driving our growth in the UK, and many businesses are only just beginning to realise the huge potential offered to them by geospatial technology. 
"The shift to the cloud has been enormous for Esri, as it's democratised access to GIS – and allowed our customers to inexpensively create and share maps, apps and geospatial data. 
"Another reason driving our growth is the changing expectations of business. Environmental and Social Governance is now a major factor for boardrooms up and down the country. Shareholders, employees and customers are rightly demanding that companies operate in more sustainable and ethical ways.  
"To do this, companies need systems in place that can help them monitor and manage their impact on the planet. Esri has been mapping the world for more than 50 years, and we've collated the largest library of geographic data – which is an invaluable resource for companies looking to understand and improve how their operations affect the world around them."
COVID-19