Retail
Iconic wallpaper manufacturer Graham & Brown has turned to Big Data to reduce its carbon footprint. 
The Lancashire-based firm, which is 75 years old in 2021, has an annual turnover of £80m and spends around £2m a year on energy. 
The manufacturer has partnered with Nelson-based energy broker Businesswise Solutions and uses real-time data to monitor the energy consumption of all its machines.  
By deploying Businesswise Solutions' precise technology they'll be able to work out how much energy is required to manufacture a single roll of wallpaper. 
As part of an energy audit chief executive Andrew Graham MBE said Graham & Brown would be cutting their carbon footprint by 30% by 2022 by  switching their electricity to a renewable supplier.  
Graham said: "Even for a big manufacturer like us we were unable to truly understand our energy cost until we joined forces with Businesswise Solutions.  
"When it came to buying paper, ink and machinery we were all over it but buying energy was a bit of a dark art. 
"What Businesswise Solutions has done is open up the market and make it transparent and educate the customer. Everything is data-driven.  
"By April 2022 all the electricity that we buy into Graham & Brown will be from a renewable source. It's a massive win for our carbon footprint. 
"We now use technology to monitor the energy usage on all our machines and we can work out which of our production lines are the most efficient. 
"We'll be able to itemise it down to how much energy it takes to make each roll of wallpaper and we'll use that data to become more efficient and drive down our carbon footprint further."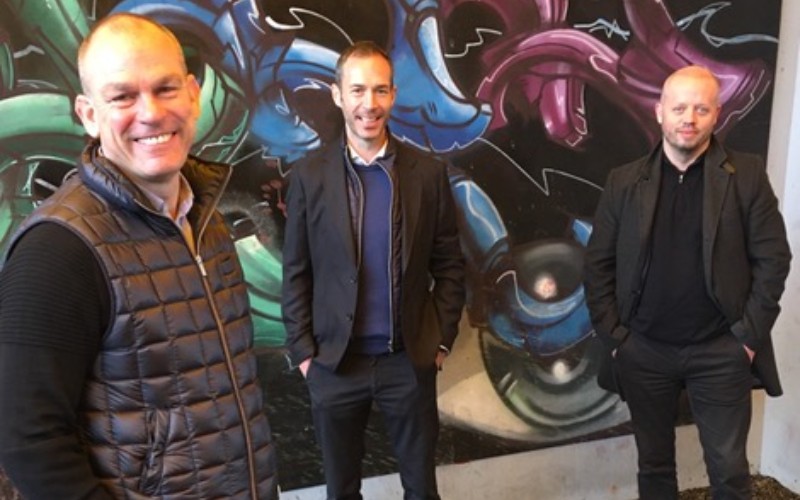 (l-r) Andrew Graham MBE; Businesswise Solutions co-founders Frazer Durris and Dean Cockett
From April 2022 the company will be switching its electricity from a 'brown' energy source to renewable wind power.  
Graham, who has worked for Graham & Brown for 28 years, said data has transformed the manufacturing industry. 
"28 years ago it was all about gut instinct," he said. "Now our management team operate on data and I think most good businesses do the same. That data revolution has really accelerated in the last 10 years. 
"Big manufacturing is so data-driven these days. Our ops team are looking at their performance on a daily basis. It's enlightening. It will save us money." 
Dean Cockett, co-founder and director of Businesswise Solutions, said: "We're delighted to have partnered with Graham & Brown. We've put in a series of controls to simplify the way they buy and use their energy. 
"Currently they purchase energy from a brown source. That could be a coal-fired power station for example. From 2022 we're purchasing 100% renewable energy. All the electricity they use on site will be wind-powered and that will significantly reduce their carbon footprint." 
Harold Graham and Henry Brown founded Graham & Brown in 1946 and they now have divisions across Europe and in North America.