MediaTech
A new social media app has launched which empowers people to create their own app within the platform. 
Classified. is a native app that enables users to create, consume, inspire and earn all within one platform. It has 12 categories to choose from, containing a range of interests and communities such as fitness, hair & beauty, music, sport and mental wellbeing.   
The user model of the app has been created with the creator-subscriber relationship front of mind, whereby creators can set a monthly subscription fee, at a minimum of £2.50 per month, in order for consumers to subscribe to their feed and access their posts exclusively.   
Creators can post numerous content types all within their own app on the platform. From static images posted on a wall like feature, videos up to 20 minutes long, polls and surveys, to an 'event' feature that allows creators to link to external platforms such as Zoom for live classes or tutorials.  
Classified. says this eliminates the need to post multiple content types on various social media platforms, saving time and resource for creators.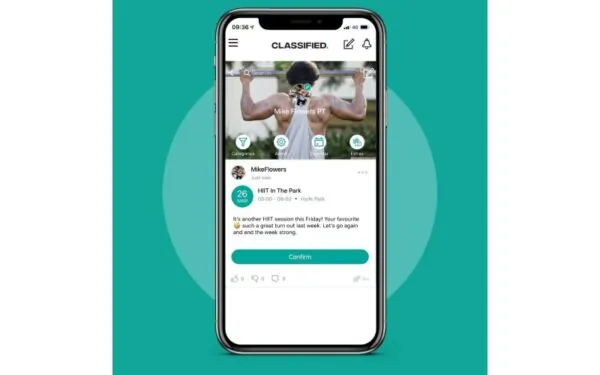 It also provides the option to engage with subscribers one on one in a chat feature as well as providing exclusive content such as mentoring sessions or tailored tutorials.   
Based in Manchester, the app is the creation of friends Ryan Evans, who has extensive experience in television production, and Lee Hampson, a celebrity personal trainer.  
They claim the app has £1 million worth of functionality built in to ensure a quality user experience, appealing to younger generations.  
"Even in the ideation phase within the app development we knew we wanted our safety features to go above and beyond in comparison to other social media platforms," said Evans. 
"For instance, the app has an extensive list of keywords whereby if they happen to be used, the post will automatically be void.  
"We've also ensured every user on the app is traceable and accountable by supplying details that have to be verified before platform use and have spoken to Greater Manchester Police extensively regarding cyber safety."  
Hampson added: "When I started out in my career, I would have absolutely jumped at the chance to share my skills online to multiple people at once or individually in exchange for a fee.  
"It allows for flexibility within your business model all whilst having the power of connecting you with like-minded individuals.  
"I know first-hand how difficult it can be to create a consistent revenue stream via the likes of Instagram and YouTube. Classified. is here to change that."   
Classified. is available to download from the App Store and Google Play.