The owner of a law firm has co-founded a new FinTech firm Manchester with his marketing chief. 
CEO Pawel Oltuszyk, 33, and CMO Edyta Sliwinska, 37, say they decided to develop intelligent account Frost after witnessing the issues caused by traditional banks for clients of Optimal Solicitors. 
They have signed up more than 1,300 people to a waitlist for Frost, which claims to allow people to open an account in minutes from a smartphone.  
Frost performs all the usual functions of an account, allowing people to pay in their salary, set up direct debits, send money to contacts, and make online and in-store purchases with a debit card. 
What sets it apart from traditional accounts is its smart engine, which aims to help people take control of their spending, get the best deal on foreign exchange and slash energy bills. 
Oltuszyk, who founded Optimal back in 2008, is not a lawyer himself and has a computing background having studied computer science at the University of Central Lancashire. 
"I love technology and using it in improving efficiencies in the business. FinTech became my hobby, and I was learning a lot about the tech which underpins major players," he tells BusinessCloud.  
"Both me and co-founder have also witnessed a lot of difficulties with incumbent banks, which caused various issues to our clients.  
"We decided that we can build something new and make it do things on behalf of its customers."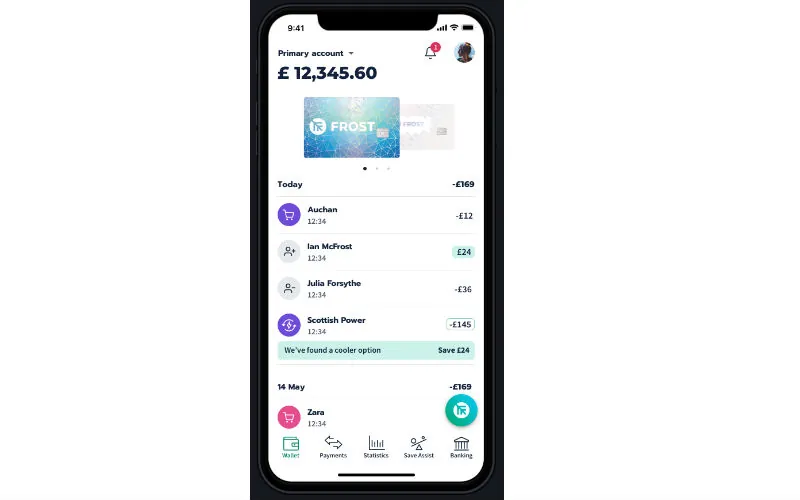 Frost, which employs 20 people including consultants, is aiming to gain its FCA licence. Self-funded to date, the company will look to raise pre-seed fundraising later this year – when Oltuszyk says "we are closer to live MVP". 
Initially only be available to users who sign up to the waitlist, the plan is then for a full launch in Q1 2021, with international expansion following. 
The CEO says it will differ from Snoop – an FCA-approved app which connects to a customer's bank account and suggests money-saving tips – because it is a full digital account. 
"Snoop is just an add-on app which sits on top of your existing account and feeds on data through open banking. We made a conscious decision that we don't want to create another add-on app," he said.  
"We want to create an intelligent account alternative and encourage our users to use Frost as their everyday account. There are apps for everything financial, but who wants to have 10 different apps that sit on top of their account and feed on data? That also creates a risk as you share your data with many different companies.  
"We want to have everything in one place, so you don't have to download many different apps. We also believe that our energy comparison and switching feature will be one of the best on the market as it will be done with the least input from the user." 
Research from MYJAR.com shows the average person spends £200 a month on purchases they'll later regret, while MoneySavingExpert says people could slash their energy bills by £350 a year or more by switching suppliers. 
A joint study by Travel Money Club and the University of Wolverhampton also found we collectively lose £1 billion a year to unfair exchange rates and hidden charges. 
COVID-19 had both a positive and negative effect on the development of Frost. 
"On a positive one, it motivated us to work very hard and launch as soon as possible," explained Oltuszyk. "With the lockdown fully mobile solutions where you can do everything from your app are very useful, and we were aware of it.  
"On negative one there is a lot of uncertainty about the economic situation. Frost is self-funded, and we are trying to spend money as wisely as possible during these uncertain times."