HealthTech
Entrepreneur Cecilia Harvey believes a stretchable sensory artificial skin technology could be crucial in getting employees back to work and students back in school in a Covid-19 world.
The American-born businesswoman has lived in London for the last 12 years and is the CEO and co-founder of sensor technology firm Hyve Dynamics.
Hyve Dynamics was launched in 2019 with the aim of generating and analysing data across a number of sectors.
At the heart of the business is a stretchable sensory artificial skin that can be used to harvest and transmit real-world parameters such as pressure, temperature and strain data from different surfaces.
Harvey believes it can be applied to measure everything from the air pressure across the wing of a plane, strain data from the front flap of an F1 car, or biometrics that suggest how healthy or happy human beings are.
Now she thinks it could be crucial in tackling the 'fear factor' created by Covid-19.
"I absolutely believe our technology can remove the fear factor of going back to work, schools and businesses," she said. "There is a fear about going back into the workplace that organisations will need to address in order to restore confidence among staff and clients. Another reality is the financial impact of not addressing the fear factor. Some companies will survive, some companies won't survive."
Harvey believes Hyve's sensor-based armbands provide both visible reassurance and real-time data to alert them about a potential issue in regards to vital abnormalities.
She explained: "Our sensor technology health monitoring armbands will be a key tool for companies, schools and various companies to address the Covid-19 recovery.
"As we tentatively enter the recovery phase of this global pandemic, sensor technology is a strategic enabler to help get employees back to work, students back in school, and consumers back to stores. Health and safety is the utmost priority in this process.
"Our technology makes it much easier to identify key biometric markers which can indicate the early stages of Covid-19, as well as other fevers and illnesses. These include: body temperature, pulse rate, blood oxygen levels, ECG data including heart rate variance and skin PH.
"The key to our approach here is a holistic one – a single data point, such as a heart rate spike, may be anomalous, but if it is also marked by a continuously rising temperature, the odds of an infection or other issue become much higher. This data can be monitored and analysed remotely, and also implemented as part of a contract tracing solution.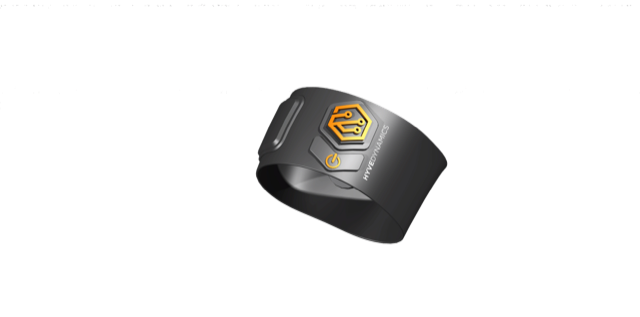 "These types of sensors are proving critical to both the testing and the treatment process. Through wireless delivery and remote monitoring capabilities, the ability to proactively alert and monitor in near real-time conditions when individuals start to exhibit symptoms will be critical for containing Covid-19 or any other severe, contagious pandemics.
"This type of proactive, real-time acquisition of critical health data is absolutely vital to save lives and contain future pandemics: events which our globalised economy is ever-more vulnerable to, and which both stimulate mass panic and can utterly overwhelm emergency services.
"In addition to armbands we are also embedding our patented sensor technology into Personal Protective Equipment (PPE) such as face shields. Also due to the flexibility of our sensor 'skin' technology we can even embed it into clothing."
Harvey said the potential for Hyve's artificial skin technology is limitless.
"Imagine the possibility of giving to a car, boat, or even an airplane the capacity to feel the fluid and interactive forces around them," she said. "While such information can be obtained currently by restrictive methods and simulations we are aiming to use nature's approach and give this 'feeling' approach to many applications. This can be accomplished virtually in real-time.
"Thanks to the nature of the technology it currently has a density which scales to over 6,400 sensory pixels per meter squared – a higher order of magnitude than equivalent technologies – with the customisable sensitivity to detect a fruit fly standing on an individual pixel on the skin.
"The value of the skin is that it can harvest sensory and aerodynamic data with unparalleled accuracy and resolution. It can allow us to understand, observe and analyse – in almost real-time – what happens to the surface of a wing when a plane is flying at 40,000 feet through a storm, or how to dramatically tailor the loads on a Formula One car at 230 mph in real racing conditions to gain that decisive extra fraction of a second in speed."
Harvey became a tech entrepreneur after a successful career in the financial sector.
Born and raised in New York she said: "If you would have told me that I would have a career in technology I would have told you that you were absolutely crazy."
While attending Wellesley College she was inspired to pursue a career in investment banking after a school trip to several Wall Street firms. During her third year at Wellesley, she secured a summer internship at Lehman Brothers and was hired to return for a full-time position after graduation.
"Over my career I have held various roles in large organisations that have helped to prepare me for leading a tech start-up and understand how to run technology as a business," she said. "Being the COO for markets and securities services technology at Citigroup, which was a tech organisation of over 8,400 people globally, over 1,000 systems across over 50 sites, is an example of previous roles that helped me to understand how to run technology as a business.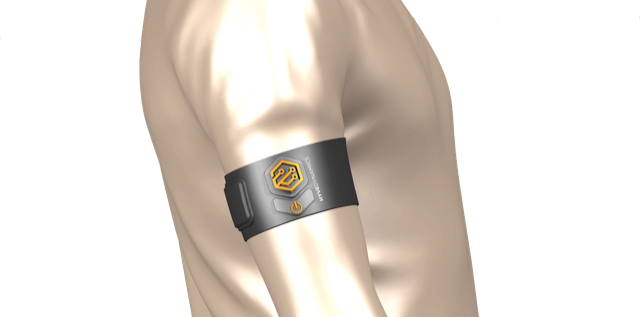 "Eventually I worked directly with tech start-ups and scale-ups. My combination of large corporate and tech start-up experience prepared me to be the CEO of a technology company. So my journey was very unique and that experience was priceless."
Harvey said Hyve's customer profile has changed as a result of Covid-19.
"Previously, the majority of interest came from the automotive and aerospace industry to leverage the skin technology as a lower cost alternative to using wind tunnels and computer simulation," she said.
"After the pandemic, there has been a surge in corporates seeking to use our sensor armbands for medical remote monitoring. As a result there has been an increase of interest from service companies that visit clients homes, school districts, athletic teams, theme parks, restaurants, warehouses and factories."
Hyve employs 12 people and Harvey said the technology could work globally.
"We imagine a world 'Powered by Hyve' where our sensors are the foundation for all sensor-based solutions across any industry," she said. "In the short to medium term we plan on expanding in Europe and the US while continuing to focus on biometrics and medical monitoring."