Transport
MedTech
The timely delivery of medical products can be a matter of life and death.
The increasing impact of strikes, traffic congestion in urban areas and unpredictable weather can disrupt the efficiency of this medical supply chain. It's therefore high time that the industry embraces technology such as drones, says Alex Landowski.
The former medical courier was so frustrated by the lack of innovation in the space that he quit his hard-won role of operations controller to found Medical Logistics.
"There is no congestion, potholes or heavy infrastructures in the sky," he tells BusinessCloud. "With technologies like unmanned aerial vehicles, we can add to our existing fleets of logistic transfers to provide faster, more sustainable and cheaper solutions."
Medical Logistics, described as London's only 24/7 medical courier, offers a wide variety of medical services including mobile clinical services, sample collection, screening and clinical consultations, blood tests, COVID tests, IV drips, vaccines, employee screenings and health checks. It also transports time-critical deliveries from blood transfusions, blood samples, tissues, swabs, medication and X-rays. Turnover grew to £8 million during COVID.
Drone trial
The startup recently completed a landmark medical drone flight corridor trial with Skyfarer, expert in aerial logistics, which ran for three months and connected 32km of airspace between the University Hospital Coventry and Warwickshire Trust's hospitals in Coventry and Rugby.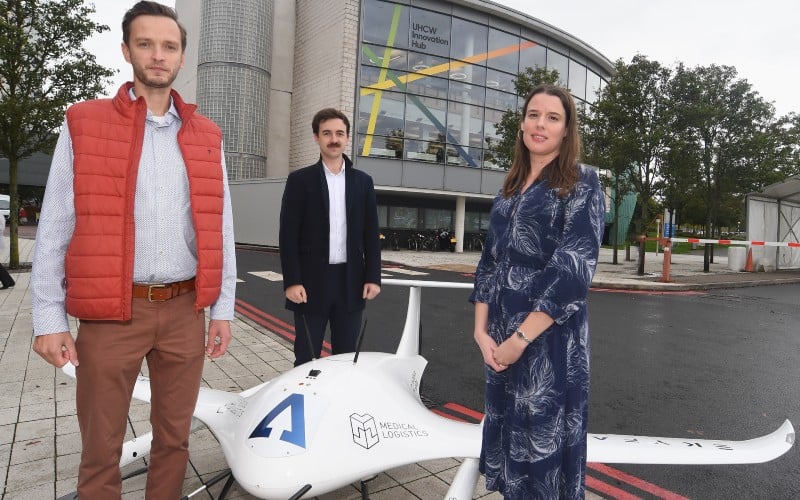 "Our successful delivery of medical cargo to an NHS hospital showcases the potential of drones to alleviate pressure on the medical industry," he says. "These unmanned aerial vehicles not only have environmental benefits but also can help save lives too by delivering live-saving packages. 
"Unforeseeable events such as strikes, or adverse weather conditions can severely impact transportation and cause delays in the delivery of urgent medical supplies. Drones eliminate these barriers especially for time critical items."
A total of more than 1,889km was flown with 130 flights taking place safely at 30 Hours BVLOS (beyond visual line of sight). The drones flew at 400 feet above ground level, daytime and night-time, through 12m/s wind gusts. 
"The overall general time-saving based on the specific routes was 40%," says Landowski. "Additionally, we saw excellent results in terms of sustainability as drones create a 99.8% decrease in CO2 emissions compared to diesel vans – and even when compared to electric vans there is a 90.5% decrease in CO2 emissions." 
The company recently opened Medical Laboratories, a fully equipped testing facility which removes reliance upon third party providers. "This allows us to offer the best transparency and trackability: we will refer for a blood test; draw the blood; deliver to the lab; test it; and follow up with a GP consultation. All as one provider."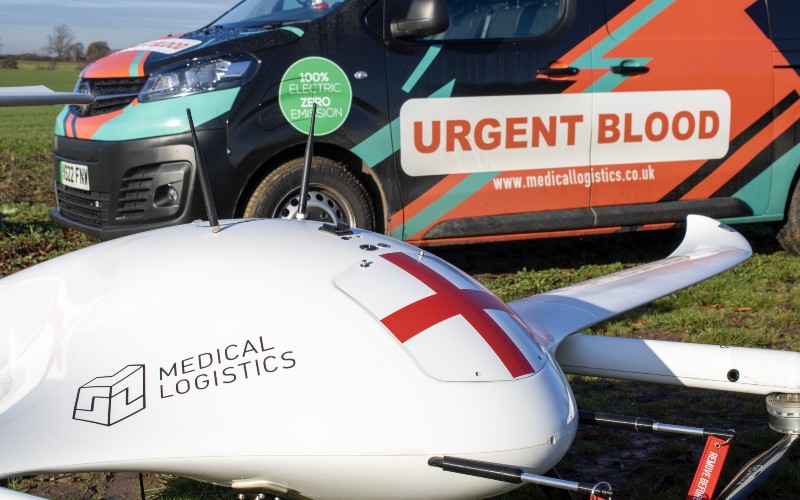 He adds: "In the next few years, we'd like to improve our medical services and dominate the medical courier space in London and the M25 area. 
"In the future, we aim to work with drones to help save time and in turn lives and lower our environmental impact. We are planning to eventually deliver organs and be the leading medical drone transport provider in the UK."
How fast & furious bike courier built multi-million-pound business