HealthTech
Investment
Vatic, a UK HealthTech startup, has raised £4.6 million for painless COVID-19 testing. 
Founded in 2019, Vatic is on a mission to deliver a new model of healthcare driven by 'bringing the lab to the patient' and generating data in the home – helping to spot acute diseases earlier and proactively monitor their progression with greater accuracy.  
The company has developed groundbreaking at-home testing technology which identifies infectious viruses by mimicking the surface of a human cell – redesigning how lateral flow tests are built and massively enhancing their accuracy. 
Its KnowNow testing kit is already being used across the UK to identify infectious cases of COVID-19. The company will use its new investment to scale globally and accelerate the deployment of its technology on a wide range of other acute diseases where frequent testing forms an essential part of the clinical response. 
Vatic's app technology currently enables users to create a health status and scan into venues. In the next phase of development, it will be possible to share at-home test results with GPs instantly, and enables the creation of health baselines for critical biomarkers that doctors can monitor over time.  
Vatic's patented chemistry enables the creation of tests that can detect biomarkers that cannot be detected with traditional lateral flow techniques, making it possible to encourage ongoing testing for diverse health conditions and significantly expand the possibilities for proactive digital healthcare provision.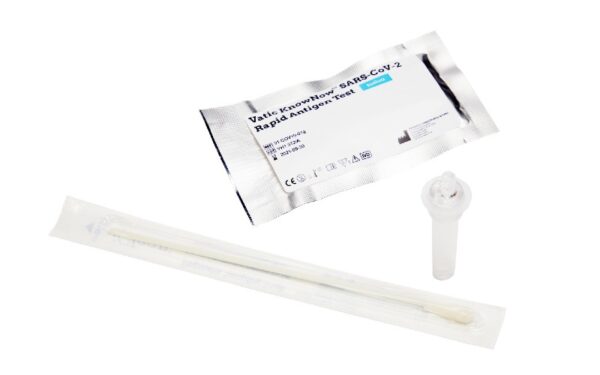 Vatic has been working with some of the world's leading occupational health teams at top consumer retail, transport and hospitality brands to pilot its technology in real-world environments. 
The test provides results in under 15 minutes, requires only a simple saliva swab, and can identify people who are actually infectious at that time, meaning it has a very high accuracy rate even in low prevalence environments – unlike existing antigen testing solutions which can have a false positive rate of 1 in 200. 
The technology searches for the 'spike' on the virus as a measure of infectivity. Significantly, the detection methodology underpinning the test is immune to potential mutations of the virus. 
Alex Sheppard, co-founder and CEO of Vatic, explained: "One reason for the recent decline in the uptake of rapid Covid-19 tests is the sampling technique – it's currently very uncomfortable and difficult for people to use.  
"We need to take the pain out of mass testing if we're to return to normal to minimise the disruption caused by future COVID-19 outbreaks, whether in offices, schools or hospitality venues.  
"That's why we've built supportive bio security technology that sits alongside the test, allowing users to generate their own unique QR codes to facilitate safe venue entry." 
Sheppard met his co-founder Mona Omir in Oxford at the Queen's College bar on the first day of technology accelerator programme Entrepreneur First in September 2019. After discovering a common interest in HealthTech solutions, they first raised funds for Vatic from top tier London investors and grant support from the University of Oxford and Innovate UK. 
The two scientists then set about collaborating on predictive testing and tracking for the key 'biomarkers' which indicate acute disease incidence. However, when the global pandemic hit in 2020, the team saw an urgent need for on-the-spot predictive screening for COVID-19. 
Omir explained: "Importantly, the KnowNow test is only the first iteration of Vatic's technology. Our innovation has been designed to identify other infectious viruses by mimicking the surface of a human cell – no other testing technology is capable of this. Following the success of the Covid-19 test we're excited to deploy the technology into other areas of at-home testing." 
Sheppard continued: "The pandemic has accelerated the digital health landscape as well as transforming the healthcare literacy of the population.  
"Our awareness of our own health status has never been higher, yet despite all of our digital tools, getting the data inputs out of our bodies remains challenging.  
"In our view the greatest challenge in healthcare right now is equity of access and getting important health information straight away. Relying on hospital visits to perform tests and track disease progression leads to delays and missed opportunities.  
"With our technology, we've created a new and robust way of bringing the lab to the patient – empowering people to get on-the-spot information in cases where immediacy really matters." 
To support its rapid roll-out across key markets including the UK, US, Latin America and Africa, Vatic has trebled the size of its team in the past few months with key hires in Manufacturing, Operations, Commercial, Product and Compliance. 
Vatic's latest round of funding was led by LocalGlobe and Hoxton Ventures with participation from Entrepreneur First. The company has also been supported by the Oxford Foundry and Innovate UK. 
Julia Hawkins, partner at LocalGlobe, said: "Vatic's technology is the future of testing. It's fantastic to hear how many top UK organisations are taking the initiative and putting employee testing at the forefront of their business recovery plan. This new round of investment will be key in ensuring the successful roll-out of KnowNow tests across the UK and internationally and getting economies moving again with minimal interruptions." 
Rob Kniaz, partner at Hoxton Ventures, said: "A saliva-only swab is a true breakthrough in the world of uncomfortable and tricky rapid testing and the speed that the Vatic team have got it to market is very impressive. Excitingly for the business, this test is just the start of their journey – the opportunities to innovate in the at-home testing market are endless."