Greater Manchester Mayor Andy Burnham joined growing talent management consultancy Grayce in opening two collaboration hubs in Manchester and London.
The £2m+ collaborative workspaces are in addition to £2m invested in building its training development programmes to equip young people with the skills they need in a digital-first era.
Mayor Burnham said: "It's great to see partnerships of this kind coming to the region. We want to ensure that everyone in Greater Manchester, whatever their age, location or situation, can benefit from the opportunities digital brings, including equipping our young people with the skills they need and supporting those wanting to future proof their employability. Investment of this kind will do just that.
"I'm also pleased to see the importance of digital inclusion recognised through these important partnerships, we have to make a big commitment to combat digital exclusion, the consequences of not doing so are severe – with our people at risk of further social isolation, lack of equal opportunities and not being able to access support."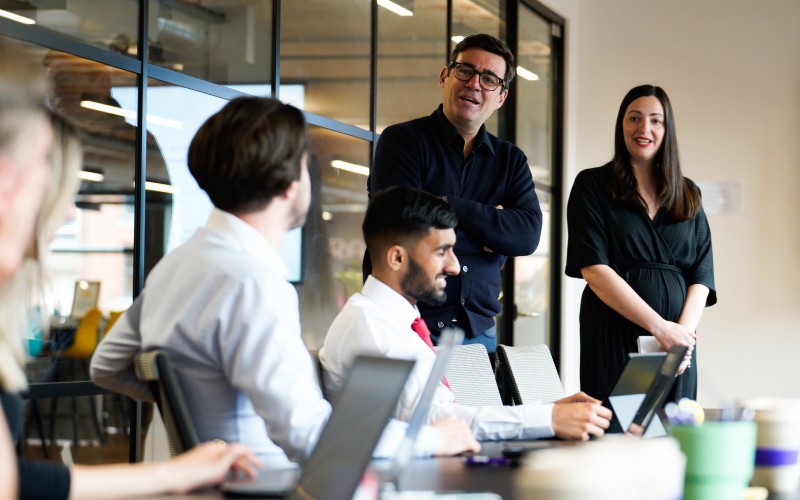 Geoff Smith, CEO of Grayce commented:"We are hiring more graduates than ever before and are committed to giving as many talented young people as we can the best possible start to their career. Our partnerships take this one step further and together, we will be able to provide more opportunities for people from all different backgrounds wanting to learn new digital skills.
"With the world of work constantly changing, we understand the importance of offering flexible and remote working. However, we also recognise that many young professionals and new graduates are craving in-person interactions and the chance to learn collaboratively together, some of whom have never set foot in an office or met their colleagues face-to-face before.
"That's why we're investing millions in our new collaborative workspaces, where we'll be giving our Analysts the chance to learn through their peers and colleagues, bounce ideas off each other readily and build long-lasting and meaningful working relationships."
The opening of the collaboration hubs comes amid a period of rapid growth for Grayce.
Its intake of analysts has increased by 95 per cent in the last 12 months alone, and another 450 graduates will be hired this year.
To date, the consultancy has helped start the careers of over 2000 graduates and is now servicing 65 per cent more clients than it was in 2016 as the demand for skilled professionals in change, data and tech continues to rise.
This has seen Grayce's turnover increase from £10m in 2019/20 to £30m in 2021/22.
Furthermore, the last three years have seen Grayce increase its employed staff from 249 to 637. The FT1000 Europe's Fastest Growing Companies 2022 recognised Grayce as the 8th fastest growing management consultancy in the UK