MediaTech
A 'hyperlocal' social media app has launched in its first city in England.
Jodel, which connects people to their local community, is now live in York.
A profileless app which aims to remove the toxic aspects of social media, it allows students to reach out to peers for advice and enjoy entertaining content from people in their local area.
The app has been used by students to ask candid questions and stories about their university experience and share insights on the local area. Popular conversations on the app include university advice, where to go out on student nights out, part-time jobs, as well as mental health and relationship problems. 
There has been an increase in spiking incidents in York recently. Because of the profileless feature, the app has allowed its users to share their stories and users are sharing tips on how to stay safe when out in the city drinking.
Since mid-October, when the app launched in York, it has seen over a thousand students using the app, an increase in users by 70% each week. In addition there have been over 3,000 posts, generated by student users in York, discussing issues close to their heart.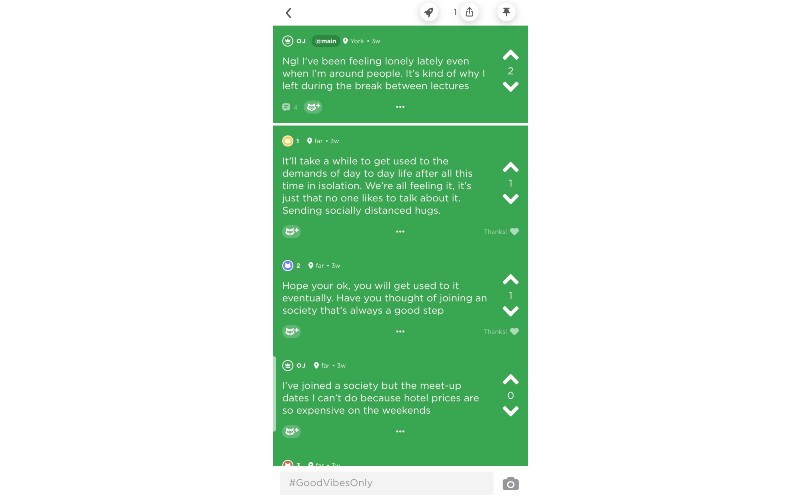 The app has helped to not only raise awareness of the spiking incidents, but support the recent #BigNightIn strike, encouraging other students to discuss how bars in York can make going out safer for students in the city.
"We are happy to see the app being used to raise awareness on some of the most important issues that young people face, such as mental health, loneliness and of course to raise awareness and give tips on how to stay safe when out at bars and clubs in the city centre," said Lara Budge, UK expansion manager at Jodel. 
"The profileless feature of Jodel allows students to share their stories without judgement or fear of being targeted after sharing their experiences. We are glad to see Jodel helping students to keep one another safe and support one another and it being used as a force for good in York and elsewhere in the UK." 
Jodel raised €6 million earlier this year and launched in Scotland in September.
Following the launch in York, there are plans to roll the app out to the rest of the UK, focusing on large university cities like Sheffield, Nottingham, Liverpool, Manchester and London.