Investment
MediaTech
A London company which claims to have built the world's largest AI video platform has raised £9 million Series A funding. 
Synthesia, backed by leading angels and VC funds, is focused on reducing the friction of video creation and making it possible for anyone to create professional-looking videos in minutes, directly from their browser.  
The financing round was led by Matt Turck from FirstMark Capital with participation from all existing investors, including LDV Capital, MMC Ventures, Seedcamp, Mark Cuban, Taavet Hinrikus, Martin Varsavsky and TinyVC.  
The round is the largest investment to date in the synthetic AI video space. It also adds two new angels to the cap table: Christian Bach (CEO, Netlify) and Michael Buckley (VP Communications, Twilio).  
The firm was founded in 2017 by technology entrepreneurs Victor Riparbelli and Steffen Tjerrild, and world-renowned professors of computer vision Matthias Niessner and Lourdes Agapito.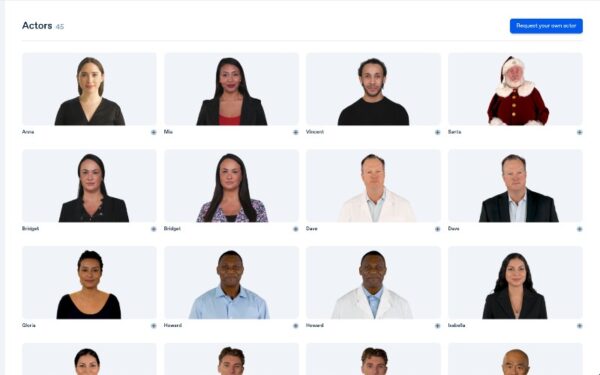 "We've still only scratched the surface of the video economy," said Riparbelli. "In 10 years we believe most of our digital experiences will be powered by video in some way or form.  
"But to truly realise the video-first internet we need a more scalable and accessible way to make video. 
"Today, video production is costly, complex and unscalable. It requires studios, actors, cameras and post-production. It's an incredibly long and multidisciplinary process, rooted in physical space and sensors." 
Would you spend £100k on making a documentary about yourself?
Four years ago the founders of Synthesia set out to solve this. "We're building an application layer that turns code into video, allowing for video content to be programmed with computers rather than recorded with cameras and microphones," explained Riparbelli. 
"Once video production is abstracted away as code, it has all the benefits of software: infinite scale, close to zero marginal costs and it can be made accessible to everyone. 
"This is now quickly becoming a reality. We launched our SaaS product, Synthesia STUDIO, just six months ago. It's still in beta and is the world's first and largest platform for creating AI video.  
"Our text-to-video technology allows businesses to produce professional looking videos in minutes instead of days. We have essentially reduced the entire video production process to a single API call or a few clicks in our web app." 
Synthesia will use the new funding to invest heavily in product and IP development, starting with its personalised video API.  
"We have been overwhelmed by the response in the last six months since our beta launch: we now have thousands of users and our customers range from small agencies to Fortune 500 companies," said Riparbelli.  
"They use Synthesia STUDIO primarily for internal training and corporate communications. But now we are seeing more and more companies starting to use it for external communications, incorporating personalised video into every step of the customer journey through our personalised video API." 
While Synthesia has been in existence for the last four years, and already worked with some of the world's top celebrities like David Beckham, Lionel Messi and Snoop Dogg, CEO Riparbelli says they are still early in their journey. 
"We're building a foundational technology for the next iteration of the internet. CSS enabled beautiful layouts and graphics. Javascript gave us interactive websites. 
"Smartphones made everything accessible at all times and equipped us with sensors to capture the world around us. Machine learning analyses and personalises our digital experiences at scale. 
"Synthetic, programmable media will be weaved into the fabric of every digital experience in the future – from the personalised news we'll be watching, to our interactive AI teachers and eventually to the Hollywood blockbuster made by your favourite YouTuber from his or her bedroom. 
"This is the future that excites us and that's what we're building towards. And in this perspective, we're still incredibly early on our journey."