It's fair to say that tech entrepreneur and scientist Dr Elina Berglund has been part of the most ground-breaking discoveries in recent decades.
The ex-particle physicist was working at CERN (European Organisation for Nuclear Research) during the discovery of the Higgs boson – 'God particle' – for which its lead researchers won a Nobel Prize.
Its discovery came decades after it was first theorised, confirmation of a crucial building block in the understanding of particle physics. In practice, the research involved firing particles together at almost light-speed and analysing the results.
To the average person, even a loose association to such a discovery would provide a lifetime's worth of professional glory. But Berglund's ambition continued closer to home.
After she and husband Raoul Scherwitzl made plans to start a family, she began researching hormone-free alternatives to contraception to 'give her body a break'.
And it was here that the scientist noticed another gap in collective scientific understanding – that of women's reproductive health.
She found studies which showed a correlation between fertility and body temperature, and began a study of her own with her body as the test subject.
Mapping and analysing this data would require some of the skills she had applied to her research in ground-breaking physics.
"With my knowledge from particle physics – a lot of base analysis, statistics and math – I could create an algorithm which makes this method fail-safe and easy-to-use," Berglund recounted to BusinessCloud of her breakthrough.
Her husband, an aspiring entrepreneur also with a history in particle physics, suggested that the resulting algorithm might be best served as an app.
The pair co-founded Natural Cycles in 2013 to do just that, and have now shared this technique with its 1.5 million registered users across 162 countries.
The app relies on a user taking their temperature from the mouth at the start of every day, and combines this with existing data on sperm survival, temperature fluctuations and variations in cycle length. The firm's algorithm then identifies if the user is fertile or not.
A 'red day' signifies that the user is fertile, and a 'green day' signifies that the user is not – and therefore does not need to use protection, she explains.
"The algorithm learns from each data-point how their temperature curve and cycle works. That's why users get more 'red days' in the first cycles, and more and more 'green days' as they input more data."
In short, "the temperature increases when a woman ovulates, and that's what we can detect".
Berglund said the firm is the only app of its kind to receive certification in Europe and the US, and its own studies have proven it between 93% and 98% effective. In comparison, it found condoms were 87% – 98% effective, and the pill 93% to over 99% effective.
The data collected by its users also forms a valuable set for study at macro level. The firm has published seven clinical studies in peer-reviews journals and has "many more coming".
But since it was first announced, the app-based method of contraception has received both praise and scepticism, which is understandable in what Berglund recognises is a very sensitive area.
An investigation by Sweden's Medical Products Agency in 2018 was prompted by users who had reported falling pregnant. It resulted in the firm clarifying the risk of unwanted pregnancies in its instructions, but found unwanted pregnancies were in line with the firm's success rate claims.
"We ran into more scepticism than we expected, and it is because we're innovating in the women's health and contraception space," Berglund said, addressing criticism more broadly.
As a scientist, she said it was clear to her that the rate of unintended pregnancy was reduced.
Education around the efficacy of existing contraception was "quite low", she said, and people generally don't know how effective specific contraception methods are.
"Most women who use Natural Cycles have used a less effective or similarly effective method before. But for the individual woman with an unexpected pregnancy, that's not how she would see it," she said.
"They often assume that the pill or condom is 100% effective, which is not true."
Berglund wants more innovation and more investments in female-specific technology, or 'FemTech', but said that innovation is beginning to catch up.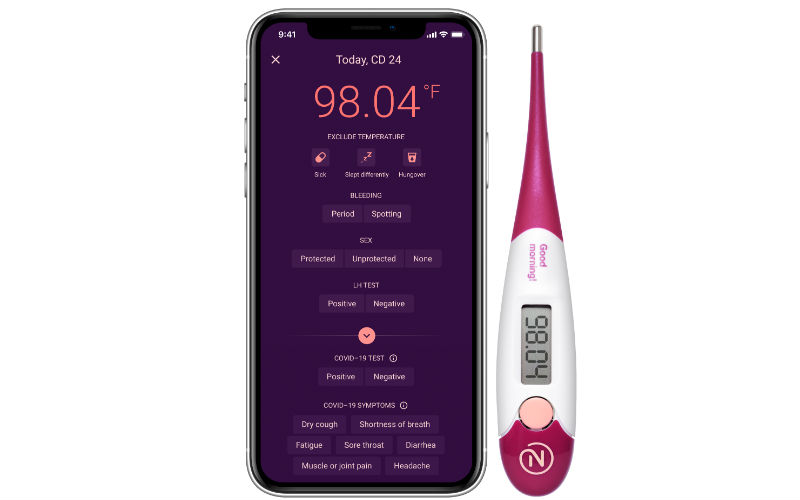 Natural Cycle's app and thermometer
The growth of Natural Cycles signals some of the headway gained in the subsector.
The firm is now 60-strong, with its biggest office in Stockholm, a second office in New York and a location in Geneva which houses data analysis and research for the algorithm. It also has an employee in Germany and London.
With the international viewpoint of a company working across countries, Berglund said New York and Stockholm were great cities for start-ups and tech, but Sweden stuck out for FemTech.
"Women are a little bit further ahead when it comes to equality," she said.
The distributed workforce had also made weathering the storm of coronavirus easier, she said, and given it time to look inward for ways to help with the pandemic.
She said the app, with its wealth of health data, was in a "perfect position" to create a symptom tracker, which it released in March.
Its users, already taking their temperature, could be tracked for potential COVID-19 related fever – and this data which could be shared with a healthcare professional.
That data could also be used en-masse, to help in tracking the potential spread.
The app is also being used to track a negative or positive COVID-19 test. The firm's research team may then be able to study the data in anonymised form to better understand the spread and the effects of the virus in different parts of the world.
The trackers, which are optional and must be enabled by users, will join existing functionality.
The optional Natural Cycles trackers allow users to track their own symptoms in real-time and share them with their healthcare provider.
They will also be able to track a negative or positive COVID-19 test. Natural Cycles' research team may then be able to study the data in anonymised form to better understand the spread and the effects of the virus in different parts of the world.
In March the company also donated hundreds of thermometers and subscriptions to healthcare workers on the frontline of the coronavirus efforts for monitoring purposes.
Berglund said that as founders with a background in research, analysing this data was part of the company's DNA. Future plans include the study and potential tracking of menopause.
Berglund said that the company hopes to provide more insights into women's health in their personal lives "such that every woman can get insights into what's going on in her body".