Investment
A platform has launched which claims to make any app social.
Cord, based in London, was launched last year by former employees at Facebook to develop an API – which it says is a single line of JavaScript – for real-time team collaboration within any application.
Featuring co-browsing, live video, annotations, integrations with task managers and screen recordings, it removes the need for team members to leave the app to converse on a platform such as Slack.
It also allows them to include these social features inside the products they develop.
Now the company has raised £13 million funding from Index Ventures and featuring NFX, Stride, plus angel investors Elad Gil, Jeff Morris Jr., Charlie Songhurst, Guy Podjarny and Matt Robinson.
"I started Cord last year after leading a product team at Facebook, advising founders and CPOs of $1bn+ startups and mentoring newer startups with Techstars," said CEO Nimrod Priell.
"I witnessed firsthand the stark contrast between Facebook's suite of connected internal tools and the disjointed nature of B2B SaaS tools newer startups rely on."
The startup's other co-founder, CTO Jackson Gabbard, was an early engineer at Facebook.
"I knew we couldn't change this space alone [so] we looked for the best designers, engineers, and product craftspeople to start working on transforming web products into collaborative, multiplayer experiences," added Priell. 
"We're proud to have gone from not having a single line of code in May 2020 to signing partnership deals with nine-figure companies just over a year later."
Following a beta testing phase, the first of these partnerships to be revealed is with Typeform, a platform for designing online forms.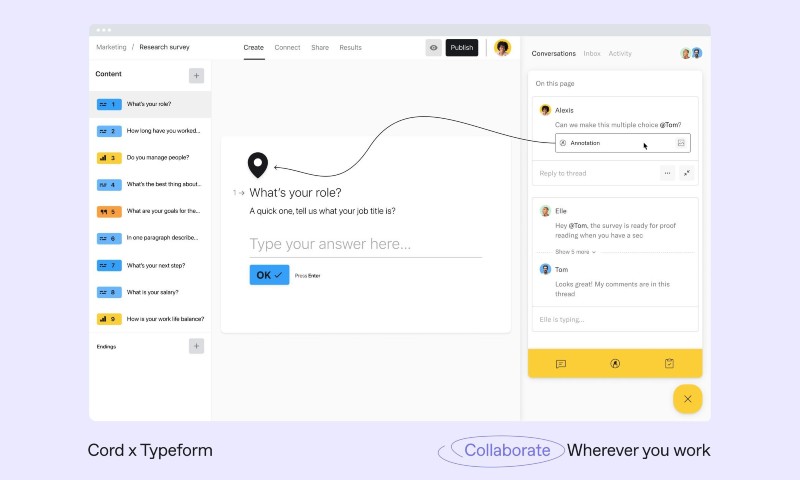 Cord was rolled out to more than 120,000 Typeform users in a few weeks.
"Most web products will become a multiplayer experience in the coming years," added Priell.
"We already see it happening: Figma reached four million users in four years and decimated Adobe, Invision and Sketch to become the dominant prototyping design app — in major part thanks to its built-in collaboration.
"If Figma is the 'Google Docs of design,' we empower every product to become the Google Docs of their respective industries."