Investment
FinTech
A Hull-based business has launched GuardianCard, a virtual card designed to protect the most vulnerable people in society. 
Founded by friends and former colleagues Nick Thompson and Aidan McAllister after personal experience saw them both care for older relatives' finances, GuardianCard aims to provide a solution to financial abuse in the older generation, whilst acting as a safety net for their day-to-day finances. 
Described as a safe and secure banking solution for relatives who want to assist in managing the finances of older or vulnerable family members – without removing their independence – the founders say GuardianCard has all the functionality of a debit card, but also allows the card holder to issue a virtual card to a relative or carer so they can shop or pay bills on their behalf with total control and transparency. 
App technology also allows the cardholder and a trusted relative to receive real-time transaction reports to help spot any suspicious activity.  
A recent report by Age UK found that approximately 130,000 people over 65 who live in the UK have suffered financial abuse, with 70 per cent of financial abuse perpetrated by family members. 
The personal finance platform is also a suitable service for those seeking power of attorney.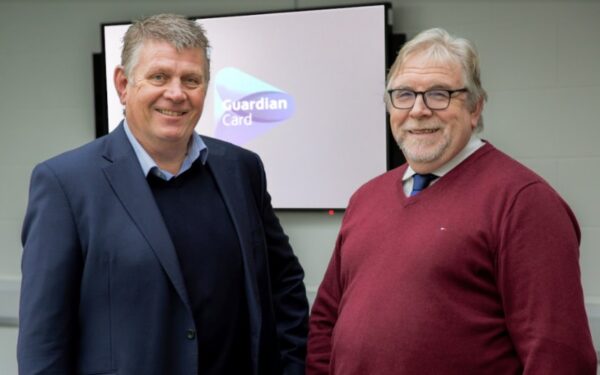 Following significant investment to bring GuardianCard to market, the duo has ambitious plans to grow to 100,000 members over the next five years.  
McAllister, who spent much of his working life providing tech solutions to the care industries, including The Phone Co-Op said: "We know that supporting and caring for an older loved one can be stressful and tiring and there is always the temptation to stick one's head in the sand and avoid some big realities.  
"Our vision for GuardianCard is to offer a solution to be part of that caring role and provide people with older and vulnerable loved ones a much higher degree of financial security. 
"COVID-19 has created a real problem in this industry, in that it has become even more difficult to keep older relatives safe and secure from dodgy scams and fraudulent activity." 
It is estimated that around 5.4 million people in England provide care for friends or relatives in an unpaid capacity and the number of sandwich carers – those who take care of young children at the same time as elderly relatives – is on the increase, with 2.4m believed to be present in the United Kingdom. 
Thompson, who worked alongside McAllister at The Phone Co-Op as CEO, added: "Conversations around finances can be awkward and sometimes avoided altogether. GuardianCard is the perfect way to open up these conversations, allowing older people to retain their independence while providing a safety net to ensure that they are less vulnerable to theft or financial loss." 
As well as ambitious plans for growth, the company has pledged to donate five per cent of its annual profits to its internal Golden Years Community Project – a platform dedicated to supporting the older generation, as well as giving each staff member three days off a year to volunteer with their chosen charity.