Investment
Given the well-publicised problems faced by women working in technology, it may surprise you to learn that they are able to raise their first £1m funding faster than men. 
However that's where the good news ends, according to research released by Tide. 
The FinTech examined Tech Nation data around more than 1,000 UK university alumni who went on to found a tech company. 
Between 2000 and 2019, it took entrepreneurs an average of 4.8 years after graduation to launch a tech company, and 2.8 years for their companies to raise their first £1m or more in a single funding round. 
On average, women took about the same amount of time to launch their start-up after graduation, but they were faster at raising funds than their male counterparts. 

WomeninTech's Sarah Wood says a career as a tech entrepreneur can be appealing to women. 
"It's unsurprising that more and more women are turning to entrepreneurship considering that the reality still stands that women are by large still the primary caregivers in their homes, so the flexibility that comes with entrepreneurship is attractive to women," she explains.  
"Also, having more control over your career and the speed of which you can progress is understandably more attractive to a lot of women who may not feel like working for a tech company would open doors to the same level of progression."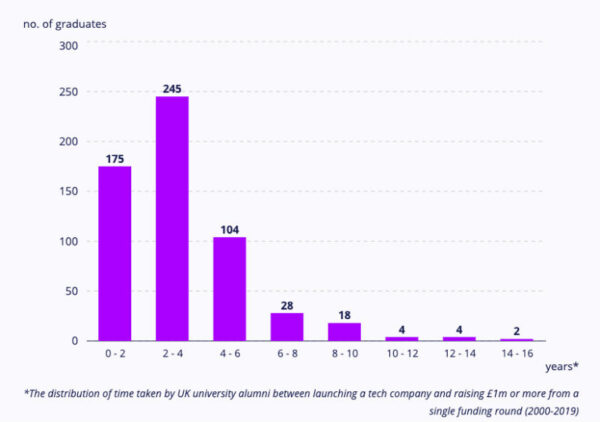 A shockingly low 17% of the tech sector workforce is female. "The gap [can be seen] at the beginning of careers, with only 7% of Computer Science Grads being female," says Wood.  
"The gap also widens later on with motherhood. From our experience it seems there isn't so much a shortage of women wanting to work in tech, it's more of a case of companies retaining women in tech.  
"Unfortunately many women get close to senior and leadership positions in the sector then find they are negatively impacted by the 'motherhood penalty'.  
"A trend we found was women either not returning to their work full-time after having a baby or going back into more junior positions that pay less, meaning the gender pay gap is then widened further.  
"A working solution to the motherhood penalty could be the normalisation of shared parental leave." 
Despite raising their first million faster than men on average, Wood says access to investment is a challenge overall. 
"We've discovered [at WomeninTech] that when it comes to achieving capital following a pitch for a start-up, men are four times more likely than women to succeed.  
"There are many factors that could explain why this is, but the most likely reason is unconscious bias, which presents as a real obstacle for women in tech to this day. 
"It's a complex problem and there's no one solution that will narrow the gender gap. However, the most important factors that we believe will actively narrow the gap are the visibility of more female role models for future generations of tech women, encouraging girls to study STEM subjects at school, employers adopting measures such as more flexible working opportunities and better parental support to retain women in tech in the long run.  
"Breaking down gender stereotyping in the sector by telling the stories of the women already proving that tech can be as much of a gender diverse world as it is a man's world is also important.  
"Ultimately narrowing the gap will rely on a combination of education, empowerment, and more companies breaking the mould and leading the way.  
"Tech companies coming together to make gender diversity in the sector a priority will also be crucial."