Investment
A start-up aiming to 'modernise the spreadsheet' and move people away from the likes of Microsoft Excel has raised £15 million in further funding. 
London-based Causal was founded in 2019 by Taimur Abdaal and Lukas Koebis with the vision of replacing Excel as the de-facto way to work with numbers on a computer. 
Having raised £3m in a seed round last year, it grew its customer base by 30% month-on-month in 2021.
The round was led by Coatue and Accel and included high-profile angel investors including Yelp CEO Jeremy Stoppelman, FTX CEO Sam Bankman-Fried, Notion COO Akshay Kothari and Brex CRO Sam Blond.
Existing investors include AngelList co-founder Naval Ravikant and Adobe CPO Scott Belsky.
The company plans to grow from 12 employees to 50 globally by the end of 2022.
Causal says its spreadsheet formulas read like plain English e.g. "Profit = Revenue – Costs". It says it typically takes 100x fewer formulas in Causal to build exactly the same model in Excel. 
Once team members have set up their model and connected their data through integrations with the likes of Stripe, QuickBooks and Salesforce, charts and reports can be generated in one click.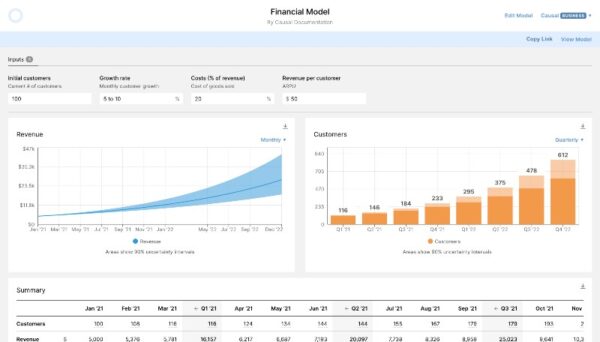 When users are done, Causal lets them share their model in an interactive dashboard where teams can collaborate in order to better understand the models themselves.  
"Despite being used every day across the globe, spreadsheets haven't fundamentally evolved over the past 40 years," said Taimur Abdaal, co-founder.
"Spreadsheet models are hard to build and maintain, disconnected from the rest of a company's tech stack, and actively hinder collaboration across teams. We're building a next-generation tool to solve these problems."
David Cahn, partner at Coatue, added: "Companies face big problems when it comes to relying on spreadsheets siloed in the finance team. We think Casual has a novel product that's going to make number-crunching fast, collaborative, and accessible."