EnviroTech
Investment
A sustainable laundry service backed by Twitter co-founder Biz Stone has raised £2 million in seed expansion investment. 
Oxwash, based in Oxford, uses space-age technology to clean up the traditional and environmentally costly washing and drycleaning sector. 
The company was founded in 2018 by ex-NASA scientist Dr Kyle Grant and Oxford engineer Tom de Wilson. It uses water-saving ozone technology to sterilize fabrics at lower temperatures, thermal and biodegradable chemical processes to achieve higher than medical-grade disinfection, dissolvable laundry bags, along with electric cargo bikes for hyper local pickups and deliveries.  
"Our world is in unknown territory and people are turning to tech for options to improve their lives," said Stone.  
"Oxwash is using revolutionary technology that can be utilised to prevent viral transmission on textiles during this period and give people reassurance about their safety and those of their loved ones."  
Investors in the round include former Pinterest and Beyond Meat backers Future Positive;  Clean Ventures, the Conduit-Ascension EIS Impact Fund; Holly Branson, Chief Purpose & Vision Officer at Virgin Group; Sam Branson, filmmaker, musician and philanthropist; Pentland Group (Berghaus and Speedo), Leon Lewis (River Island) and founder of Indeed.com, Paul Forster. 
As part of the funding round, Oxwash took part in Collective Impact, a five-week investment readiness programme, delivered by Crowdcube and Virgin StartUp, the not-for-profit entrepreneurial arm of the Virgin Group, designed specifically for purpose-led businesses.  
This covered the essentials of getting investment ready, including legal expertise and marketing support. 
The on-demand service that has re-engineered the cleaning process from the ground up by introducing technology typically used in space and hospital sterilisation, has experienced rapid growth (15% MoM) since the start of the pandemic. 
Its service is driving towards net zero carbon emissions, significantly reducing the environmental impact of existing laundry processes. All its couriers are fully employed and, like the rest of the team, paid in excess of the national living wage.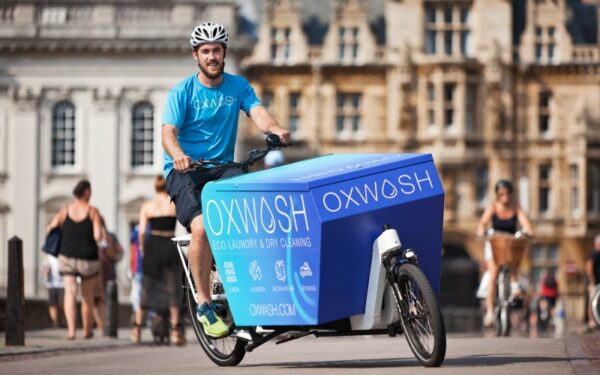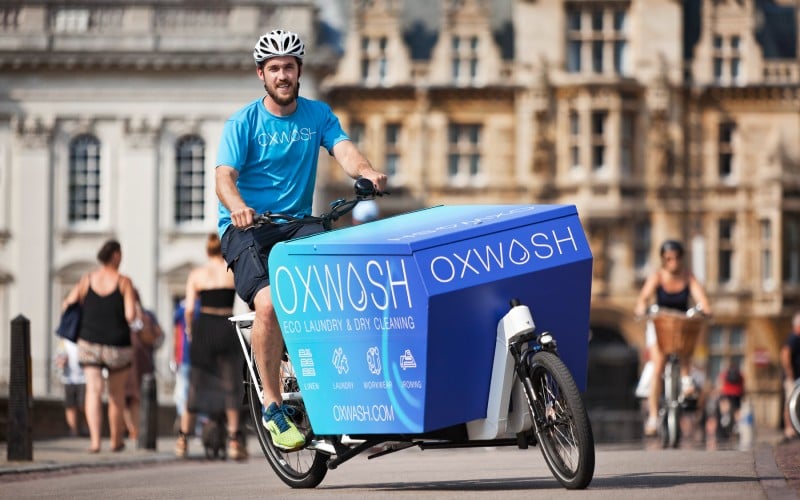 The responsible laundry firm now has more than 8,000 individual customers, alongside clients such as the Marriott Hotel Group, Hurr Collective and the NHS. 
The new capital will be used to expand the team and invest in proprietary technology that will power the business's logistics and cutting-edge washing facilities, known as lagoons, to further improve services both for consumers and the environment. 
Through investing in resources and expertise, Dr Grant is confident that this will accelerate plans for national expansion. 
Holly Branson said: "When I met Kyle and Tom, the founders of Oxwash, I knew immediately they were the type of purposeful leaders I love to work with; their passion, drive and enthusiasm for sustainable laundry was infectious.  
"Through the Collective Impact programme I get to meet the most inspiring founders and am constantly blown away by their innovative, creative and commercial approach to sustainable business.  
"Oxwash will turn the traditional laundry sector on its head, proving yet again that purposeful business is great business."  
Global laundry usage also releases a seismic 14,000 tons of microfibers into the oceans each year – meaning a third of all plastic found in the ocean are microfibers from clothes.  
Oxwash's proprietary microfiber filtration technology removes more than 95 percent of fibres shed during washing, preventing plastic pollution from reaching waterways and drinking water. 
Killing bacteria through a three stage approach: ozone disinfection, chemical sterilisation and thermal decontamination, the eco-friendly firm's laundry processes reduce 99.99999% of infections – 100 times better than the NHS standard.  
With no-contact delivery and scientifically proven high level of disinfection, Oxwash was chosen to sterilize items used during the Oxford-AstraZeneca vaccine trial, as well as supporting the NHS front line.  
In April 2021, Reckitt announced a new strategic partnership between its heritage clothes care brand Vanish and Oxwash. 
The 'Oxwash, powered by Vanish' partnership means Oxwash uses the new Vanish sustainable formula – Vanish 0% – in its cutting edge washing facilities, also known as lagoons, to help give old clothes a new lease of life, preventing tonnes of clothes from ending up in landfill.  
Launched in 2018, while Dr Grant was completing his Synthetic Biology PhD at the University of Oxford, Oxwash was born out of his frustration with the perpetually broken washing machines on campus.  
Armed with a Deliveroo backpack spray-painted blue, he began collecting and washing clothes for fellow students. Things quickly snowballed – and as interest grew, it developed into the growing on-demand laundry business.  
Dr Grant said: "We knew being just another laundry app wouldn't cut it. Developing a model that was hyper local, carbon neutral and tech enabled – that reversed the sector's adverse impact on the planet rather than adding to it was fundamental. 
"Partnering with the likes of Reckitt and Founders Factory have given us access to some of the best minds in business which has undoubtedly been a leg-up for the business.  
"Our team is not only developing chemistry that works at 20˚C better than at 40˚C or higher, but we are also integrating water reclamation and reduction technology into our process so that we can save up to 60% of the water consumption versus you washing at home or any other typical commercial washing. 
"There is a growing awareness and appetite for green cleaning products  –  and we're confident that Oxwash can clean up and deliver substantial returns."