MedTech
Investment
A key member of the design team behind Apple's flagship products is now tackling diabetes.
Daniele De Iuliis retired from the Silicon Valley giant in 2019 after 27 years. Eighteen months on, he joined Occuity as design director.
Based in Reading and founded by CEO Dr Dan Daly and CTO Dr Robin Taylor, the MedTech startup is developing devices that aim to detect the early signs of chronic health conditions by scanning the human eye.
The first target for its patented contactless optical technology is diabetes, a condition that affects more than 400 million people around the world.
"It's funny but I thought back to a friend of my daughter who, when she was much younger, would have to prick herself before dinner to test her blood sugar," De Iuliis explains in an interview with our sister publication TechBlast.
"It felt really barbaric and unfair that, in the 21st Century, a child should have to do this.
"Fast forward a couple of decades, and here was an opportunity to do something about it. That was really the catalyst for me to join."
Occuity's first device, the PM1 Pachymeter (pictured below), is aimed at the optometry market and measures corneal thickness with micrometre-level precision by shining a low powered beam of light into the eye and analysing the return signals. It provides users – identified as being at risk of glaucoma – with diagnostic information on eye health and other markers to support disease screening and monitoring.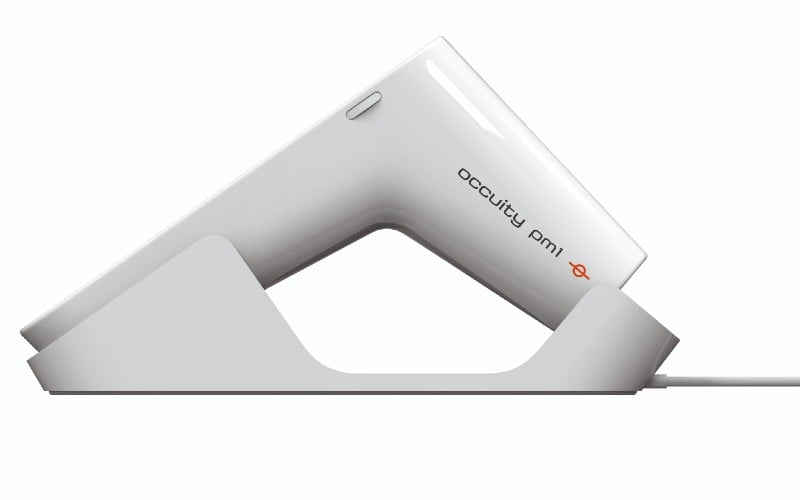 The device is due to begin clinical testing and expected to be approved for use in the EU by early 2022.
The company then plans to launch a pre-diabetes screening device in 2024 to allow mass testing for the emerging signs of Type 2 diabetes at pharmacies and opticians, and the following year it intends to introduce a personal optical glucose monitor enabling people with diabetes to monitor their blood sugar levels without drawing blood.
After diabetes, the platform is intended to be used for the early detection of Alzheimer's disease. The demand for these products was reflected in a recent crowdfunding campaign which attracted £2.8 million in funding from 877 investors, a full £1m more than the initial target.
De Iuliis was at the coalface as co-founder Steve Jobs returned to take Apple from the brink of collapse to the worldwide phenomenon we know today.
Read the full story behind Jobs's management style – including his daily interactions with De Iuliis – and Occuity's inspiring technology on TechBlast.
Attention to detail: How Steve Jobs pulled Apple back from brink