Leading VC says entrepreneurs today are "much more mature and resilient in comparison with those in 2001"
A leading investor says COVID-19's impact on the investment landscape will be less than that seen following the bursting of the dot-com bubble in 2000.
Jean-Marc Patouillaud is Managing Partner at Partech, a global investment platform for tech and digital companies led by ex-entrepreneurs and operators of the industry spread across offices in San Francisco, Paris, Berlin and Dakar.
In a new online 'Ecosystem' series, led by start-up advisor and mentor Tzvete Doncheva, top VCS from around the world compared the current crisis to previous economic downturns.
"Looking back to 2000, it was like the world after a nuclear bombing," said Patouillaud.
"All VCs shut down investments for almost three years (from 2000 to 2002), the valuations were degraded by 80%.
"The reaction of the entrepreneurs is much more resilient and mature now in comparison to the 2001 entrepreneurs."
Heinrich Gröller, a partner at Speedinvest, an early-stage venture capital fund with more than €400m to invest in visionary tech startups across Europe, says investment will not grind to a halt.
"The top-notch founders will still get their funding. It will however be much more difficult for second-tier founders who would have got funded two months ago, when there was a total hype."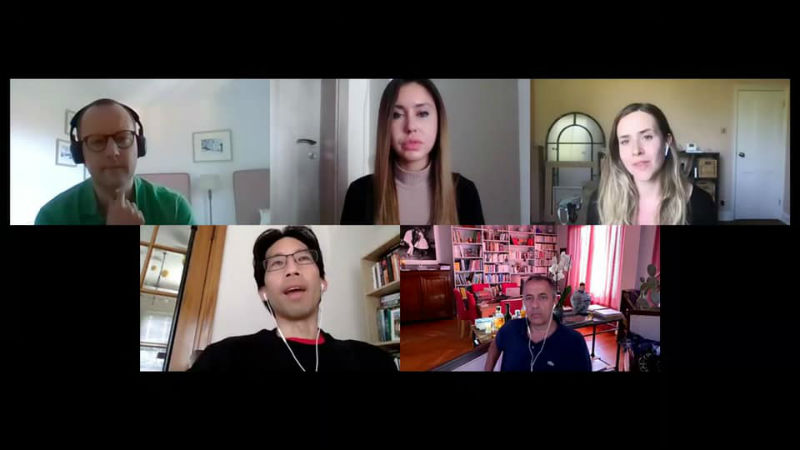 New research from Plexal and Beauhurst analysed UK investment activity since lockdown began. It found a year-on-year rise in deal value of 34% to £663m as a result of investors providing additional capital to ensure the survival of companies during the economic disruption.
There was, however, a 39 per cent drop in the number of deals, which investment experts say is a more accurate barometer of investor confidence.
"The impact of the crisis on our pace is not on whether we freeze the process or continue as it was," added Patouillaud of the global picture.
"We take into consideration the additional amount of dry powder of the fund to be allocated to existing portfolio companies to weather the storm as the 'COVID Virus reserves' to determine the euros left for new investments."
Marvin Liao, an angel investor and a former partner at 500 Startups, a global seed venture capital firm and startup accelerator based in Silicon Valley, said: "This feels way more similar to 2001-02 than it does to 2008-09, when the numbers in deal flow were still very continuous.
"Everyone is busy triaging their portfolio. I think there will be a lot of slowdown and a lot less deals to be done in Q2 and Q3 2020.
"A lot of the VC firms in Silicon Valley are not instrumented for remote work, even when it comes to partner meetings – there is a big adjustment period. Even though a lot of deals are announced right now, almost all of them were done in the last three to six months."
On behaviour shifts, Megan Reynolds, an investor at Crane VC, a $90M fund focused on European Enterprise Software and Deep-Tech investments pre-Series A, says spend on mission critical software such as cybersecurity, automation and IT infrastructure will likely be resilient, if not increased.
"The main behaviour shift we're hearing from our enterprise CXO network is that they're freezing and cutting budgets for any software contracts seen as 'nice to have'.
"While countries across the globe have introduced new public funding schemes, the support may not reach entrepreneurs in time. Investors stress bureaucracy, a lack of clear eligibility criteria and slow response time in allocating resources as areas of possible concern."
On the UK's Future Fund, she said: "It's a great first step but until we know more about the UK's Future Fund and the exact eligibility of companies, we are not factoring it into our plans."
Liao said: "A lot of the programmes were not very well-thought through because they were done in two or three weeks."
Gröller added: "The allocation is way too slow and the bureaucracy is way too high. Time is of essence, given some start-ups have lost nearly 100% turnover in a second."