Scenes like the recent flash flooding which hit the UK have pushed climate change to the top of the agenda.
Scientists acknowledge that higher temperatures result in more rain, particularly during weather events such as the Ciara and Dennis storms which swept the country on consecutive weekends in February.
The increasingly extreme weather could be tempered by government's target of achieving net zero emissions by 2050. But, other than banning petrol and diesel vehicles, what else can be done to hit that seemingly unlikely benchmark?
Several UK cities are planning to introduce low emission and clean air zones in 2020 and beyond, with the aim of improving air quality by discouraging or restricting polluting vehicles. However making the flow of traffic more efficient could also play a massive role.
"The climate emergency and air quality problems in cities are a global problem," Eman Martin-Vignerte, a director at Bosch, tells BusinessCloud. "If we allow cities to be smarter through dynamic traffic management, that could help.
"First of all, you need to understand the air quality in your city by placing smart sensors everywhere to collect information. The second step is to understand the traffic flow: why you have traffic in the first place; where it is coming from; and when it is happening. You then start to apply 'traffic manoeuvring' in the city to release traffic in the stressed area to other roads, which are less jammed."
Connectivity between all these information points is crucial for this to work. "You need to allow communication between the air quality sensors and the authorities which have the information – such as Transport for London – about the cars coming in and out from your city, and then connect all of this to a clever platform which will give you the best route to take to avoid the air quality hotspots.
"That is a solution Bosch offers. We are looking to collaborate with all of these authorities."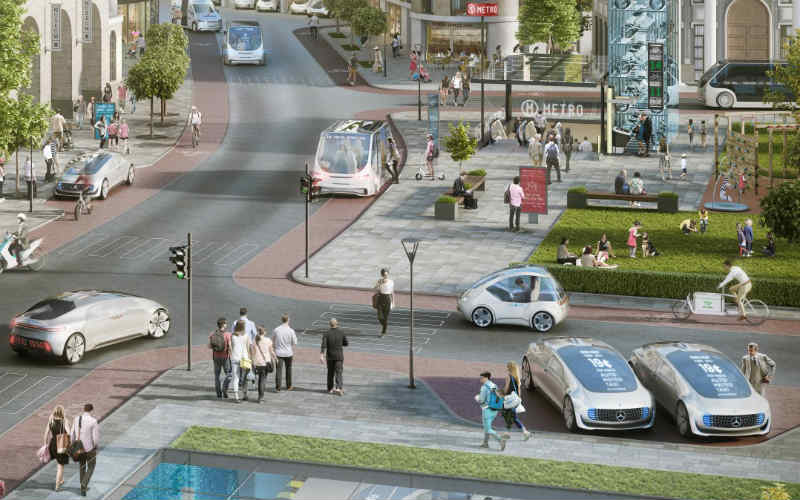 Martin-Vignerte, originally from Qatar, began her 20-year career at the German multinational as a programmer in its automotive division looking at the "engine brain" which controls how a car works. However she moved into sales in order to follow a leadership path which took her to the UK via South Korea. She worked in the firm's energy and healthcare departments before settling into a role looking after political relationships.
"The government's devolution agenda to give more power to the regions was a good move – but the councils had to simultaneously reduce costs. So what happened was they didn't have enough resources to look into these solutions," she explains.
"In my experience, the procurement regime which we have currently in the public sector is [also] not fit for purpose. It needs to be easier and faster – not just to help the corporate companies [introduce new tech] but to help SMEs because many of these companies cannot wait three, four years to actually get a contract."
Martin-Vignerte offers the example of connecting a smart lamp-post, which might mean signing a 10-year contract with a technology provider. "Do the local authorities really need to own the assets?" she asks. "Maybe they can lease them, which would give them more flexibility with suppliers and ensure the lamp-post is not fitted with an old technology which is no longer fit for purpose."
Despite government plans to bring forward the ban on the sale of new petrol and diesel vehicles by five years to 2035, recent Bosch research found that 40 per cent of drivers had not considered buying an electric vehicle so far because of a lack of charging infrastructure.
"Most of the charging points in London, for example, are not effective," says Martin-Vignerte. "They have to be smart and allow people to communicate with them [so they can then make use of them]. If you want to support EV uptake, you need to support the easy usage of charging points otherwise people will not switch."
More careful planning and communication of infrastructure changes is also essential. "When we talk about smart cities, we confuse people. It's definitely a journey. You need to take people with you," she says.
"A few years ago Uber didn't exist in London. When it was introduced people loved it, and the intention to create a modal shift [so people didn't drive or own cars] was good – but the integrated transport mapping didn't work out because you added a layer to the transport system instead of integrating it.
"Incremental change is definitely good; but also learning about that change and adapting better to it."
Martin-Vignerte is especially excited about the potential of 5G to allow faster communication between 'things and things' rather than between 'things and people' and says Singapore is a global connected city leader.
"The government there has a leaner structure which allows a more agile approach in in empowering smart cities," she says. "People also have a different attitude towards connectivity there and share a lot of information online.
"What is inhibiting connectivity in the UK in a big way is that people think 'Big Brother' is watching them – and there's no incentive from the industry for people to share the data they accumulate.
"The UK is actually a pioneer in technology adoption – it has taken to digital payments and FinTech far quicker than Germany, for example – so it should happen."