HealthTech
An ultra-rapid testing company in Worcestershire believes it has developed a unique and highly accurate immunity test which detects the same antibodies that vaccinations produce against COVID-19.
A team of British scientists at Bio-Diagnostics Ltd, led by MD Simon Mico, says its BioCard test kit – already available at the company's test website www.COVID19biocard.co.uk – "is increasingly being seen as the gold standard among immunity tests".
Mico says his research revealed the extraordinary fact that other rapid antibody testing technologies are frequently inaccurate because they are "looking for the wrong antibodies… these are unable to detect the same 'spike' antibodies that can provide immunity".
The company's research also revealed that everyone tested back in March 2020 were still producing 'spike' antibodies when retested.
"This means immunity can last up to nine months, which is ground-breaking," said Mico.  "This is far longer than previously thought by world scientists, predominantly as a result of studies looking for the wrong antibodies with flawed technologies."
The new immunity test, entirely developed and manufactured in the UK, claims to be the only ultra-rapid test in the world with near-100% accuracy. The whole development process, from its conception to full-scale manufacture, has been achieved by experts at Bio-Diagnostics laboratories under UK regulations.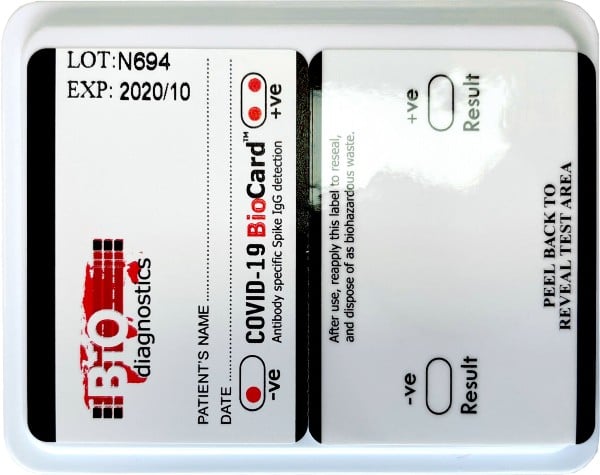 The shortcomings inherent to old 'lateral flow' tests have been apparent to the UK authorities for months. In December 2020, the British Medical Journal reported that the test kits most widely used in UK universities, schools and care homes detected only 48% of COVID-19 infections in asymptomatic people.
A lateral flow tested by US firm Innova failed to detect three-in-10 cases with the highest viral loads in the key pilot scheme in Liverpool. The UK Government has spent £700m buying the Innova kits, which have until now 'formed the lynchpin of its mass testing strategy', reports the BMJ.
Best of all, says Mico, his company's BioCard test kit also confirms whether you have genuinely acquired immunity from a vaccine – as existing vaccines are known to work much less well on older people than the young.
He advised: "It is vital to get tested before visiting family and friends when regulations allow."
To meet increasing demand, the Worcestershire-based company has embarked on the construction of a new R&D hub, costing hundreds of thousands of pounds, as the virus strengthens its grip across much of the UK, and shows no sign of abating.
Coronavirus
COVID-19