FinTech
EnviroTech
MediaTech
The British Isles boasts a number of exciting technology clusters – but the Isle of Man may not immediately spring to mind. 
However, the island has some serious tech credentials and is emerging as a potential future powerhouse in emerging technologies such as blockchain and the Internet of Things. 
As the tech sector has expanded globally in recent decades, tech-based companies in the Isle of Man have followed suit, with the sector accounting for 25% of the island's economy.  
Spanning everything from eSports and eGaming to FinTech, blockchain and space, startups, scaleups and global companies have consistently grown and thrived there, says Lyle Wraxall, CEO of Digital Isle of Man.  
"The island is, and will continue to be, a digital hub for businesses of all sizes across the tech spectrum," he explains. "We will continue cultivating and engaging with a prospering sector… but there are a couple of particularly exciting sectors right now. 
"IoT is a key initiative. Coupling the island environment with our history as a hotbed for trials and testing, the launch of our accelerator programme – a not-for-profit, open-access initiative – last year to promote use across the island was an easy decision.  
"Through the programme, we are providing free access to a government-funded Low Power, Wide Area Network, designed to wirelessly connect battery operated 'things' to the internet that will create opportunities for testing, developing and commercialising IoT solutions.  
"We hope to have 15 different trials running this year underlining the variety of problems this technology can solve, from smart parking and flood prevention to agricultural solutions such as soil quality monitoring, all aimed at retaining our UNESCO biosphere status – the only nation to boast this status."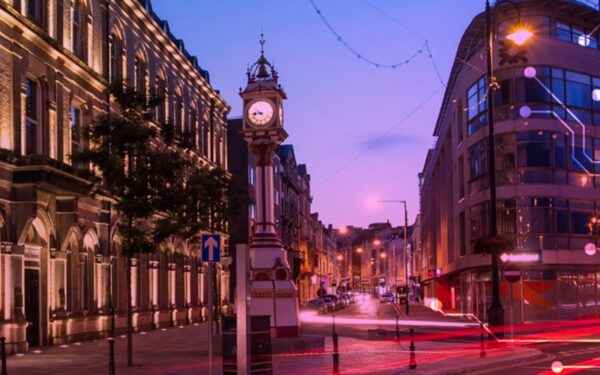 He continues: "Underway or soon to start, we are working to monitor air quality in parliament and in schools and educating students, footfall capture to better support government decisions and flood modelling.  
"We continue to explore opportunities in complementary technologies like autonomous vehicles, CleanTech, and platforms that combine distributed ledger technology (blockchain), privacy preservation, and machine learning, to attract new businesses that see the benefit of using the Isle of Man as their tech trial Isle."  
The Isle of Man launched a blockchain project in 2019 which aimed to guide businesses through regulatory landscapes, focusing on expert-led assistance. Wraxall said the Accelerator Programme has created an active ecosystem of businesses in the blockchain and crypto space – both those already on the island and others looking to relocate. 
"Last September, we finalised and issued Token and CIS guidance notes in conjunction with the Financial Services Authority to give greater clarity to those considering the island as a potential home for their blockchain businesses about the likely regulatory status of crypto assets and tokens they may issue," he explained. 
eGaming is also a stalwart of the digital scene on the island, with The Gambling Supervision Commission established as far back as 1962 to regulate the gaming sector. 
"The pandemic meant swathes of the global industry had to innovate and adapt to offer a diverse choice of services across a range of different locations and innovation continues to make the industry better," says Wraxall. "As a result, business activity did not slow with the last year being one of the busiest to date. In the last 12 months, we have seen 21 licences granted: a 30% increase in demand.  
"There has been a marked increase in companies seeking to increase their staff numbers or set up new operations on the Island, with 150 new jobs expected in the next six months." 
The fast-rising world of eSports also has promise. The heritage of the legendary Isle of Man TT superbike race saw it host a virtual TT race, pairing eight professional motorists with eight gamers, last year. 
"Without giving too much away, we have big plans to build a new legacy for the Isle of Man, highlighted by the launch of the very first Isle of Man professional eSports organisation, X7, in April – and our resident streamer has just signed for LDN UTD.  
"All I can say is watch this space!"