MedTech
A 'world-first' virtual reality social enterprise helping people with disabilities faces bankruptcy after COVID-19 prevented it from opening.
Rebecca Gill, a learning disabilities nurse in Northampton, left her job in nursing to set up VR Therapies after becoming frustrated at the cuts to local services.
Inspired by the amazing advances in VR as a therapy tool, she wanted to make the technology available to those who would benefit the most – yet have the least chance to access it.
After securing financing and refitting the centre, it was due to open in 2020 – then COVID-19 hit. 
"Like many, we struggled for nearly two years, losing all income avenues. Bills and debts built up, with no way to generate finances," she wrote in an email to BusinessCloud.
"Banks refused loans and we were ineligible for government grants as we couldn't demonstrate 'profitability' prior to the lockdown because we never even had a chance to open the doors.
"We are now facing bankruptcy and our last hope is a crowdfunding campaign."
The social enterprise, also based in Northampton, claims to be the first in the world to combine hydrotherapy with underwater VR – allowing everyone to experience swimming with dolphins. The centre was to be open to all but dedicated to children and people with disabilities.
Counting the dolphins! ? I think she found 7 to play with during our session with @AgeUKNorthants. Please help us continue bringing these experiences to the community – we desperately need help to survive. Donate @ https://t.co/8qgnJCSwVr for rewards or good ol'karma ?? pic.twitter.com/mWcix648lK

— VR Therapies (@vrtherapiesltd) September 9, 2021
A range of other immersive and multisensory experiences allows children undergoing chemo to fly through space; racing around Silverstone in wheelchair-adapted driving seats; people with dementia to take a trip down memory lane; and those who are housebound to experience African safaris.
"Traditional therapies are really difficult to access, despite the benefits. With physio, there's a very long waiting list, you've got to go private and it's costly so most people can't afford it," added Gill. 
"But here we can combine physiotherapy with immersive experiences, allowing the community to take control of their health in a fun way."
Health benefits of experiences such as these include reducing chronic pain and alleviating anxiety. "People smile more, breathe easier and feel less pain," Gill, who was invited to speak at the United Nations last year, observes. 
"My background is learning disabilities," she adds. "All of my work has been learning disabilities, brain injuries, autism and everything neurological. Everything is designed in mind for people with disabilities and of all ages and abilities but everyone is welcome. It's for the community and I want everyone to come and have a go."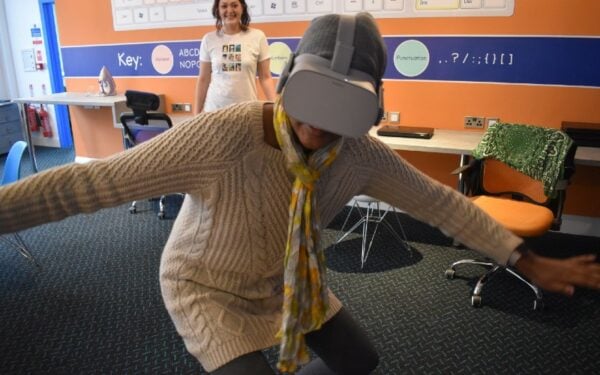 With only two months remaining before they face bankruptcy and making all staff redundant, they are hoping the local community will help save them. 
The campaign, just launched, has already reached £1,500 but needs to reach £65k in the next 24 days. This would cover the salaries for three VR therapists, rent for the centre and provide specialist equipment for children with special needs. 
Donations made will be rewarded with chances to win a range of goodies, from VR headsets to vouchers on sessions at the centre. "And a healthy dose of good karma," Gill adds.
There are also sponsorship deals available for businesses and free advertisement via the enterprise's 'Hall of Fame'.
"We will no longer be able to help people with VR therapy and very soon we'll be forced to go bankrupt. We never had a chance to open the doors or even fill the pools," says Gill. 
You can donate to help save VR Therapies here.
VR