MediaTech
Investment
A 3D tool revolutionising the design process for companies including Adidas, Nissan, Volkswagen, Ford and Reebok has been backed by a leading Silicon Valley VC.
London-based Gravity Sketch has built a cross-platform tool which enables teams to think and create in 3D, while collaborating in real-time.
Everything we interact with — from cars and shoes to furniture, movies and games — starts out as a 2D sketch and goes through a digital-to-physical design process which is incredibly complex and time-consuming. This includes back-and-forth between design, engineering and manufacturing teams, while pen-and-paper sketches have to be visualised and rendered in 3D before production. 
Often, 2D/3D switching is required for every iteration cycle. Sharing and reviewing designs frequently takes place via video tools or collaboration platforms and poor hand-offs between teams results in miscommunication and wasted time, as well as design cycles that can take up to 24 months. 
These challenges were experienced firsthand by veteran industrial designers and Gravity Sketch co-founders Oluwaseyi Sosanya (CEO) and Daniela Paredes Fuentes (CXO).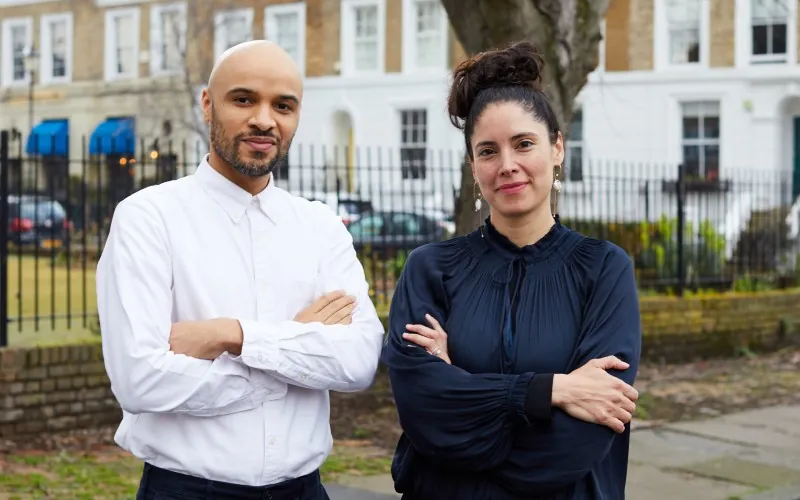 Launching Gravity Sketch in 2014, Sosanya and Paredes set out to disrupt and democratise the 3D design process and transform the inefficient processes that have been used for decades. The platform enables users to think and create in 3D while also bringing real-time collaboration to the front of the design process. 
It has now raised a £25 million Series A funding round led by Accel, with participation from GV (formerly Google Ventures) and existing investors Kindred Capital, Point Nine and Forward Partners. 
A number of high-profile angel investors also participated in the round into a firm with more than one million downloads and a community of 100,000+ monthly users.
"3D design is the backbone of our consumer economy; integral to the production of every car we drive, every shoe we wear, every film we watch, and every video game we play," said Sosanya. 
"Yet the modern design process remains inefficient, convoluted and costly, with teams forced to alternate between 2D and 3D tools not fit for purpose in our hyper-collaborative, remote-working era. 
"At Gravity Sketch, our aim is to combat these challenges by empowering teams to create and communicate their 3D ideas in the quickest and most intuitive ways possible — whether they're designers or otherwise. We're excited to continue disrupting 3D design with this new investment round."
The company has recorded 4x revenue growth in the last 12 months and now has a 40-strong team across the UK, US and Germany.
The investment will be used to continue developing Gravity Sketch's LandingPad collaboration features to better support the non-designer stakeholders essential to the design process.
Harry Nelis, partner at Accel, said: "In today's climate, online collaboration tools have emerged as a necessity for businesses that want to stay agile and connect their teams in the most interactive, authentic and productive way possible. 
"Design is no different, and we've been blown away by Gravity Sketch's innovative, forward-looking suite of collaboration design tools that are already revolutionising workflows across numerous industries. 
"Moreover, we expect that 3D design – coupled with the advent of virtual reality – will only grow in importance as brands race to build the emerging metaverse."