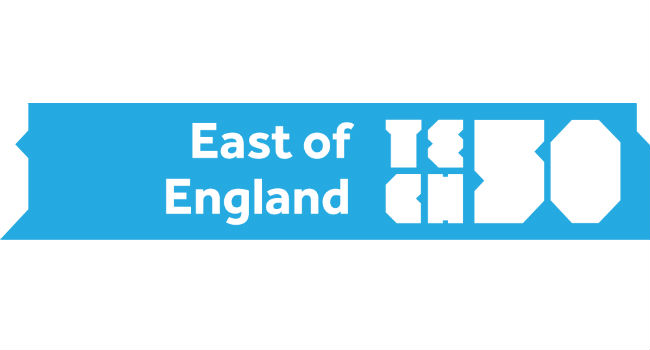 It's time to help select BusinessCloud's East of England Tech 50 for 2020.
The annual ranking profiles the region's most innovative start-ups, scale-ups and established companies creating original technology. We have shortlisted 109 firms for potential inclusion.
This year's final 50 ranking will be determined by a combination of reader votes and selections from an independent judging panel.
You have all this week to cast your vote. Voting closes at 23:59 on Sunday October 18th. The final East of England Tech 50 ranking will be published on November 2nd.
Your vote
Voting has now closed 
East of England Tech 50 shortlist
Above
Colchester – Energy

Combining drone technology with AI to monitor solar farms
Achilles Therapeutics
Stevenage – Health

Develops personalised cancer immunotherapies
Arcus Global
Cambridge – Business services

Cloud-based software for public sector services
Arete Medical Technologies
Cambridge – Health

Hardware and software for management of chronic diseases
Arm
Cambridge – Manufacturing/industrial

Tech giant which designs chips for smartphones
Artios Pharma
Cambridge – Health

Cancer-fighting DNA tech
Audio Analytic
Cambridge – Entertainment

Sound recognition software
Autorama Group
Hemel Hempstead – Transport & travel

Leasing price comparison sites for cars (Motorama) and vans (Vanarama)
Awaken Intelligence
Ipswich – Business services

Call centre analysis software
Bango
Cambridge – Finance/insurance

Mobile payments firm
Bicycle Therapeutics
Cambridge – Health

Clinical-stage cancer-fighting biotech
Biofidelity
Cambridge – Health

Identifying low-frequency genetic mutations
BIOS
Cambridge – Health

Creating open standard hardware and software interface between human nervous system and AI
Blue Tap
Cambridge – Manufacturing/industrial

Chlorine injectors to improve water quality of developing world
Cambridge Cancer Genomics
Cambridge – Health

Precision oncology solutions to transform cancer treatment
Cambridge Intelligence
Cambridge – Business services

Builds data visualisation tools for law enforcement, cyber security and fraud detection
Cambridge Spark
Cambridge – EdTech

Developed AI platform for data science engineer training
Cambridge Touch Technologies
Cambridge – Manufacturing/industrial

AI-powered touchscreen tech
Camnexus
Cambridge – Other

IoT for sustainable development
Catalina Software
Downham Market – Transport & travel

Logistics software for transport companies
CGEye
White Colne – Property

CGI developer behind new augmented reality toolkit for commercial apps
Chorus Intelligence
Woodbridge – Business services

Data cleansing and analysis software
Chronicle Digital Storytelling
Ipswich – Entertainment

Creates tech tools for digital storytelling
CircuitBuilder
Ipswich – Manufacturing/industrial

Creates customised circuit boards
Closed Loop Medicine
Cambridge – Health

Drug treatment analytics
CloudFM
Colchester – Property

Tech-driven facilities management
CMR Surgical
Cambridge – Health

Medical robotics firm
Congenica
Cambridge – Health

Software for analysis of genomic data
CorrosionRADAR
Cambridge – Manufacturing/industrial

Corrosion detection tech
Criteria Hub
Woodbridge – Property

Provides lender criteria to mortgage brokers
CyanConnode
Cambridge – Manufacturing/industrial

Designs and builds networks for IoT communications
Darktrace
Cambridge – Security

AI-enabled cyber security
Developing Experts
Norwich – EdTech

Interactive online science lessons
Eagle Genomics
Cambridge – Health

Enterprise platform solutions for microbiomics and genomics
EHAB
Norwich – Property

Weather-related risk management and compensation handling
enLight
Norwich – Energy

Smart, energy-efficient lighting solutions
EO Charging
Stowmarket – Energy

Smart electric vehicle chargers and software
Epos Now
Norwich – Finance/insurance

Cloud-connected point-of-sale systems
Equivital
Cambridge – Health

Wearable tech products
Evoke Systems
Norwich – Transport & travel

Software for aviation industry
Evonetix
Cambridge – Health

Synthetic biology 'to put DNA on a chip'
Featurespace
Cambridge – Security

Behavioural analytics tech for fraud and financial crime management
Feedback Medical
Cambridge – Health

Medical imaging tech
FiveAI
Cambridge – Transport & travel

Autonomous vehicle software
Fleximize
Ipswich – Finance/insurance

Alternative finance provider
Focal Point Positioning
Cambridge – Manufacturing/industrial

Geographical positioning software
Foundries.io
Cambridge – Business services

Secure embedded Linux platforms for IoT and Edge devices
Frontier Developments
Cambridge – Entertainment

Games studio behind Zoo Tycoon and Jurassic World Evolution
FXhome
Norwich – Media/social media

Creative software for filmmakers
geo
Cambridge – Energy

Smart energy products
Geospock
Cambridge – Manufacturing/industrial

Spatial Big Data platform that brings sensor data to life
HaloITSM
Stowmarket – Business services

Software used to keep track of workload
Healthera
Cambridge – Health

App that connects patients to pharmacies and GPs
Healx
Cambridge – Health

AI tech accelerating treatments for rare diseases
Hood Group
Southend-on-Sea – Finance/insurance

Data and technology-driven insurance specialist
Horizon Discovery
Waterbeach – Health

Gene editing specialist
HTK
Ipswich – Business services

Personalised loyalty marketing software
Ieso Digital Health
Cambridge – Health

Online cognitive behavioral therapy
Inawisdom
Ipswich – Business services

Machine learning business services
Inform Direct
Ipswich – Business services

Cloud-based secretarial software
Inotec
Cambridge – Health

Behind Natrox device which heals wounds with humidified oxygen
Jagex
Cambridge – Entertainment

Games studio behind Runescape open-world epic
KisanHub
Cambridge – Other

Agriculture tech
Kymab
Cambridge – Health

Antibody discovery technologies
Liftshare
Norwich – Transport & travel

Car-sharing platform and carbon reduction solutions
Metail
Cambridge – Commerce

3D body modelling and digital garment visualisation for apparel
Mogrify
Cambridge – Health

Transforming development of cell therapies
Muhdo
Ipswich – Health

Personalised DNA reports
Multifreight
Ipswich – Transport & travel

Freight management software
Nanna Therapeutics
Cambridge – Health

Develops novel drugs to combat age-related diseases
Nesspoint
Norwich – Energy

Monitoring systems for offshore energy and defence facilities
Ninja Theory
Cambridge – Entertainment

Games studio behind games which explore mental health
Orbital Media
Stowmarket – Other

Agency behind projects including asthma training app
Pavegen
Cambridge – Energy

Pavement tech converting footsteps into energy, data and rewards
PhoreMost
Cambridge – Health

Drugging 'undruggable' disease targets
Pickr
Norwich – Recruitment

Digital staffing solution for industrial sectors
Pikl
Norwich – Finance/insurance

Sharing economy insurance firm
PitPat
Cambridge – Health

Dog activity monitor
Playphysio
Cambridge – Health

Tech for good app helping people with cystic fibrosis
PredictImmune
Cambridge – Health

Tools to help with Crohn's and IBD
Priority Digital Health
Cambridge – Health

Digital platforms for healthcare
Rainbird AI
Norwich – Business services

AI platform for decision-making
Roveel
Norwich – Finance/insurance

Cloud-based reporting for Sage 50cloud
Safepoint
Norwich – Health

Safety app for workers
Samuel & Co. Trading
Watford – Finance/insurance

Artificial intelligence for market trading
Sano Genetics
Cambridge – Health

DNA testing for health and genetics research
Secondmind
Cambridge – Business services

AI platform for decision-making
SessionCam
Norwich – Commerce

Website behaviour visualisation solutions
Smart Networked Environments
Colchester – Transport & travel

Indoor/outdoor mapping, positioning and wayfinding
SNAP Account
Norwich – Transport & travel

Smart, cashless HGV payments
Snoop
Norwich – Finance/insurance

Free app offering financial advice
Spark EV
Newmarket – Transport & travel

Intelligent range prediction for electric vehicles
Speechmatics
Cambridge – Business services

Machine learning and automatic speech recognition
Spicule
Norwich – Business services

Data analytics across multiple industries
Spotta
Cambridge – Other

Smart systems to combat bed bugs
StarLeaf
Watford – Business services

Video conferencing in the cloud
Strike
Colchester – Property

Online estate agent formerly known as Housesimple
SupaPass
Norwich – Media/social media

All-in-one website and app creation platform
Sure Petcare
Cambridge – Other

Microchip catflap and feeding solutions
Sutrue Limited
Colchester – Health

Automatic stitching device for safer, better medical and veterinary stitching
Syndicate Room
Cambridge – Finance/insurance

Crowdfunding website for 'highly-vetted' start-ups
Teledyne e2v
Chelmsford – Manufacturing/industrial

Imaging solutions for medical and other sectors
Telensa
Cambridge – Manufacturing/industrial

Connected street lighting and smart city applications
Thyngs
Norwich – Finance/insurance

NFC technology for cashless payments
Trainasone
Norwich – Health

AI-powered fitness training app
ubisend
Norwich – Business services

Chatbots for enterprise
Ubisense
Cambridge – Manufacturing/industrial

Enterprise location intelligence solutions
VividQ
Cambridge – Other

3D holograph technology
Wonde
Newmarket – EdTech

Connects educational apps into one single login