Xploro is a clinically proven Digital Therapeutics application that uses augmented reality, gameplay and artificial intelligence to deliver health information to young patients, reducing the anxiety associated with hospitalisation, improving health literacy and fostering better engagement with health services. 
Xploro consists of a mobile application for patients, a web application for parents and a management portal for clinicians. 
The Xploro mobile app uses 3D augmented reality interactive models, an artificially intelligent Avatar Guide and a series of multi-player games to introduce patients to hospital environments, staff and processes. 
The child creates and customizes an avatar that becomes their friend and ally through their healthcare journey. They can even see their avatar in the real world using augmented reality.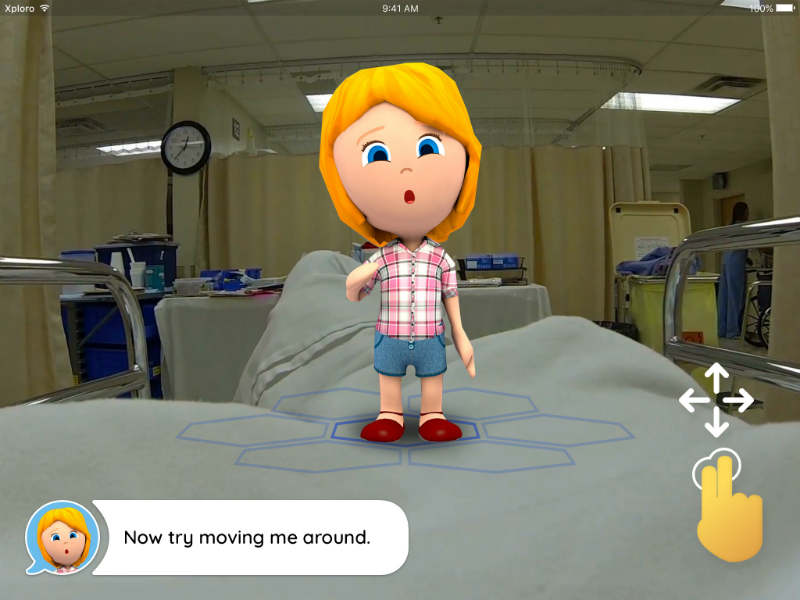 The avatar guide introduces the child to each of the staff roles they will encounter and the patient can customize and name these so that they represent their own medical team. 
No visit to hospital is complete without coming into contact with complex and often scary technology. In Xploro technologies such as MRI, ultrasound, proton beam therapy and CT scans are introduced using interactive experiences that explain the full treatment pathway. 
Hospital environments such as wards and operating theatres can be explored using interactive 3D augmented reality models, and provides an experience much like playing with The Sims. 
We're also using games to familiarise children with medical concepts, such as how Leukemia is treated or how an x-ray works. Multi-player gaming allows children to form new bonds with other children in the hospital and keep in touch with friends at home.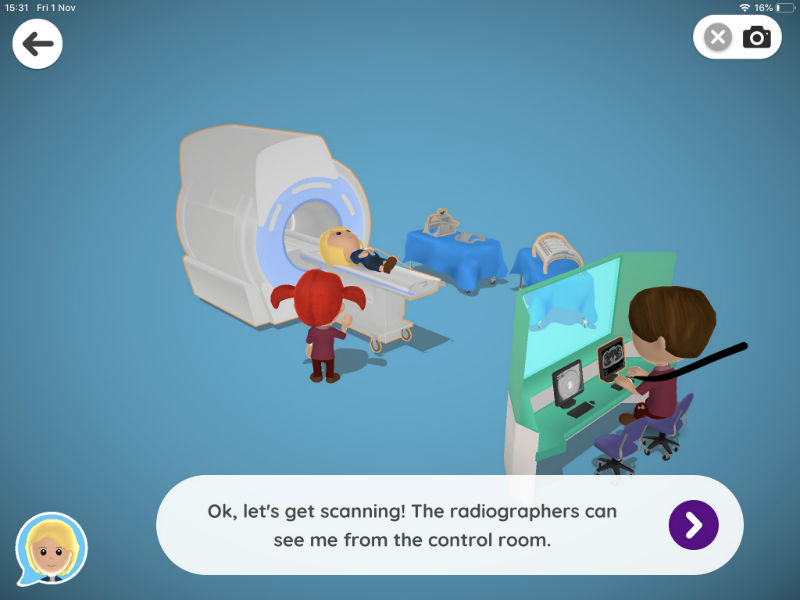 Having a sense of what's going to happen during the day is also really important in hospital so we've built a child-friendly calendar that integrates with our parent app and management portal and also with hospital systems. The child can record how they feel about events using a 16-point emoji system. Their emotional response to each calendar event can be viewed by healthcare professionals in our management portal or sent directly to the patient record. 
The Avatar Guide can also answer a wide range of questions, ranging from medical questions like 'what's a physiotherapist?' through to more functional questions like 'when's my next visitor coming?' or 'what's the wifi code'. To do this we've built our own patent-pending AI chatbot system, specifically with the needs of young patients in mind. 
Our management system also allows clinicians to ask questions of their patients, eliciting invaluable patient-reported experiences and outcomes (PREMs and PROMs). 
By putting health information in the hands of children, using language they understand and interaction paradigms they are familiar with, Xploro aims to reduce their anxiety and improve their clinical outcomes. By reducing the fear associated with procedures Xploro aims to reduce repeat procedures and shorten treatment times. By encouraging patients to keep a mood diary Xploro aims to gather meaningful feedback for clinicians (PROMS). Finally, by improving child health literacy Xploro provides the foundations for a generation of patients better able to self-manage their healthcare (patient activation). 
We're starting with children with cancer but we're building a health information platform for any patient, any age, any condition, anywhere.