Wealth Wizards was founded in 2009 with one aim: to use technology to make expert financial advice affordable and accessible to everyone. Our software-as-a-service (SAAS) platform, Turo, is pioneering hybrid financial advice in the UK, establishing a reputation in the corporate and workplace markets. Our clients include a top tier bank and one of the largest pension providers in the UK.
Our financial wellbeing solution; MyEva is the UK's leading digital adviser in the employer market. A web-based application, MyEva is fully FCA regulated and uses a combination of cloud-based AI and human Financial Adviser interaction to help employers support and improve the financial wellbeing of their employees, through the provision of expert, plain English financial advice and guidance. Please scroll down the page to learn more about MyEva.

The Advice Engine Inside Your Business
Turo (SaaS) helps financial advisers deliver regulated, hybrid financial advice to more clients with 100% compliance.
Fully configurable to your in-house advice policy, Turo has a wide range of capabilities. At its entry level, Turo offers an automated, chat-bot powered financial health check that determines how much the user needs to save per month to reach their savings and retirement income goals. 
At its advanced level, Turo can automate key parts of the whole advice process from fact finds and suitability reports to consolidation and fund allocation.
Turo is helping advice firms build strong, digital, and automated infrastructures, capable of delivering more advice to more people, future-proofing their business models.
We were recently selected to participate in the Salesforce Accelerate Build Cohort 12 – one of only 23 organisations worldwide chosen for this particular cohort.
Five ways hybrid advice can increase adviser revenues and client numbers
Proven Turo business benefits: 
– Advice process time savings of up to 68%
– Increased revenues of circa 200% per adviser
– 100% compliance trail 
– Simple digital onboarding for new clients
– 24/7 client access via automated chatbot
– Multi-channel, hybrid approach – the adviser retains control of the process
– Fully aligned to your in-house advice policy for 100% consistency
100% Modular 
Turo has flexibility and agility at its core. You can select any number of modules, at any given time, to suit the needs of your advice business as it evolves. 
You can access Turo from your inhouse UI and even have your own tech team install it. Alternatively, you can opt for the Turo branded UI, and our tech team can take care of the implementation for you – the choice is yours. 
As well as enabling a more efficient and accurate advice process, Turo can improve integration between your existing systems. 
Turo's APIs integrate with your existing technologies such as CRM solutions, provider platforms and cashflow modelling solutions, improving the communication and productivity between systems. This helps to generate more value from your entire technology ecosystem.
This means less time-consuming tasks, such as re-keying data into multiple systems and time-consuming data exporting processes. 
Digital Self-serve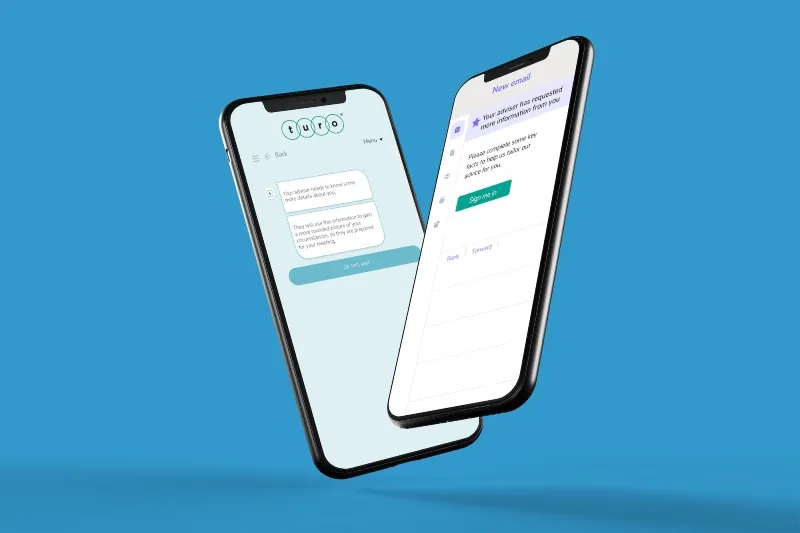 Turo's digital self-serve capabilities provide an effective way of attracting new, lower net worth clients by providing them with more affordable guidance and advice. 
It can be installed on your external and / or internal web platforms as a gateway for clients to take their first steps towards improved financial wellbeing. 
The role of digital trust in wealth management – Corporate Adviser article
Key features:
Free financial health check via automated chatbot

Human adviser on-hand to manage more complex areas

Pension and retirement guidance

Recommended monthly pension payments to meet desired retirement income

Pension Income Options Report available to user / client as download

Developed in line with PLSA's Retirement Living Standards 
Benefits to your firm:
Attract new, LNW clients with lower cost guidance and advice

Nurture new clients for upsell and cross-sell of advice and products

Use self-serve as a key marketing and business development tactic

Increase client revenues by increasing scale while reducing time investment
Hybrid guidance and advice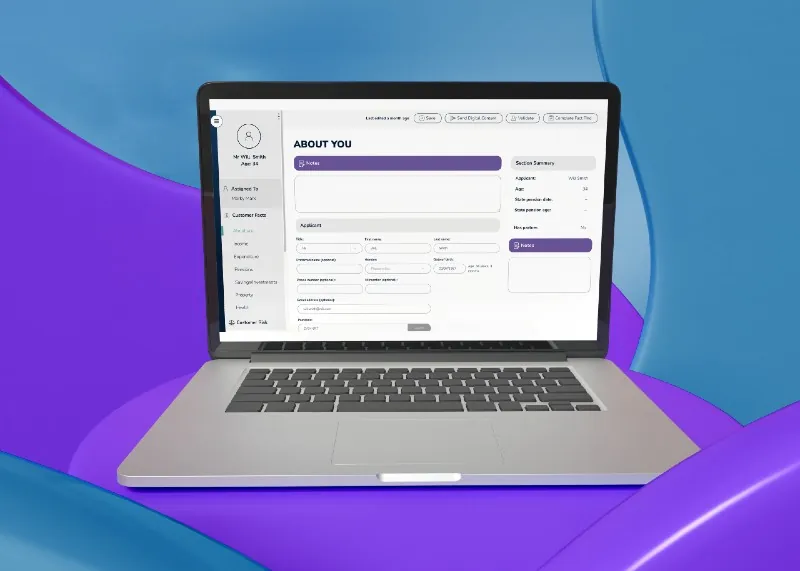 Turo takes the 'heavy lifting' out of the advice process by keeping the adviser at the heart of the client experience but freeing them up to spend more time on more productive areas, such as helping clients make long-term plans and realise their ambitions.
For example, just consider what you could do if fact-finding wasn't so time-consuming. Turo's client data reveals that 95% of clients who have been sent fact-finding elements digitally to pre-complete, prior to a planned meeting, do so in time. This saves between 30-45 minutes of adviser facing time, which is better spent focused on understanding client objectives.
91% of advisers likely to implement hybrid advice in the next 3-5 years  (London Institute of Banking & Finance poll October 2021)
Turo automates the following advice areas:
Preparation of the advice strategy
Reviewing and validation of data
Issuing of reports to the adviser
Integration with other systems to retrieve data and graphs e.g., stochastic modelling
Once fully implemented, Turo can reduce a typical advice process by up to 68% while improving compliance and consistency
From attracting millennials with digital onboarding to servicing more high net worth clients in less time, Turo ensures your firm is ready to serve the digital-first marketplace.
IFA Magazine interview with Wealth Wizards' CEO Andrew Firth
If you would like to learn more about Turo or hybrid financial advice, please contact Phil Elwell, Marketing Manager at Wealth Wizards at [email protected]
Social media:

Introducing MyEva from Wealth Wizards
A digital financial expert for every employee that helps address the financial advice gap.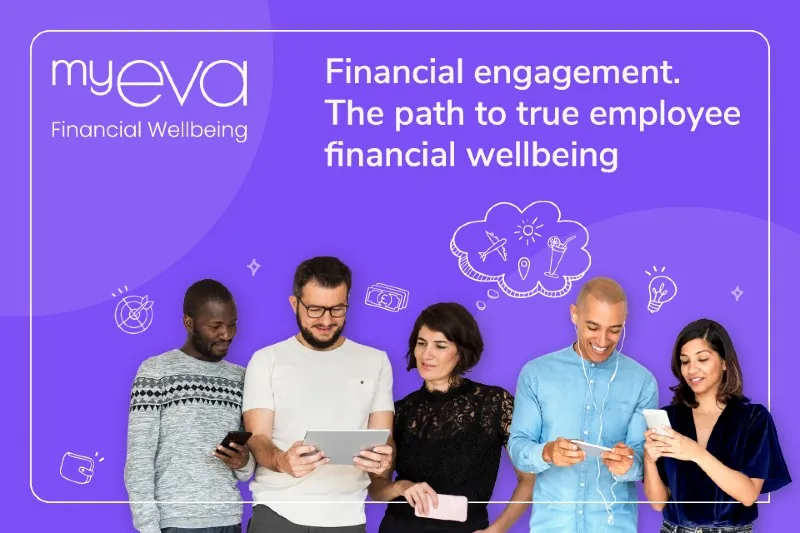 Financial Wellbeing
It's widely recognised that financial wellbeing can have a serious impact on the mental health of employees, caused by factors such as a lack of financial understanding, debt, a decrease in income, unexpected expenditure and much more. 
MyEva helps employees to understand their personal financial wellness and then professionally guides and supports them to take control of their financial wellbeing and develop a mindset geared towards achieving their own personal life goals.
Expert Digital Financial Guidance – The MyEva vision 
The vision powering MyEva is simple yet radical: Bridge the recognised financial advice gap affecting a significant portion of the UK adult population, while enabling employers to deliver the support their employees really need.
Simple, because the aim is clear; make financial advice affordable and accessible to everyone. Radical, because according to the FCA's Financial Lives 2020 survey, there are 38m adults in the UK not receiving any formal support with their finances while there are fewer than 30,000 financial advisers operating in the UK today. 
Despite the enormous challenge ahead, MyEva holds a unique proposition that sets it apart in a crowded field of personal finance applications – it is FCA regulated, meaning it provides personalised, explicit, and expert advice. 
Led by industry pioneers, engineered using the latest technologies, regulated by the FCA, and on a mission to make expert financial advice and guidance affordable and accessible to everyone.
Help employees to access Plain English financial advice and boost their financial wellbeing today. Follow the links below to learn more about MyEva.
Website: www.myeva.com
Download MyEva Information Pack: https://www.myeva.com/download-info-pack
Follow MyEva on LinkedIn: https://www.linkedin.com/company/14010502/
Follow MyEva on Twitter: https://twitter.com/MyEva_app