In the 20 years since Rightmove was established, the property portal model hasn't evolved – but consumer trends and expectations have, influenced by platforms like Facebook, WhatsApp, YouTube and Amazon.
Today's home mover is 24/7 mobile & digital, preferring the ease and informality of chat platforms to less reliable and impersonal email.
As a mobile-first platform, Moovshack provides consumers and agents with a powerful app to directly connect, engage and transact 24/7, in a way that the major portals and agent CRMs simply cannot do.
Moovshack fills the huge void left by these portals in the home mover journey from initial 'property search' to real home-moving transactions.
Why is Moovshack a better way?
With the current market leaders, home movers have no single end-to-end property platform for their full buying, selling or renting journey – processes are over reliant on multi-channel human contact, with no seamless tech options.
Market engagement for consumers is disjointed and frustrating with no consistency from agent to agent – and with the advent of COVID, consumers now demand the option of safer 'virtual engagement'. Moovshack provides all this and more in a single seamless mobile app.

Agents are also demanding more value from search-only portals. With the trend moving increasingly towards remote home-based working, Moovshack's unique end-to-end home moving platform automates low-level or time-consuming tasks for agents and helps them monetise more of the customers they engage with.
Moovshack's features
Moovshack provides direct access to Rightmove, Zoopla and other major portals – plus Google – so its users can access any property or content available online and share it into Moovshack for easy instant access.
In less than a minute, sellers and landlords can request valuations from multiple local agents. Replies arrive back in-app in a standard format for easy comparison. Users can then decline, invite round or appoint agents, all with a few taps of their app.
Its chat feature allows home movers to connect to any agent, anytime. Faster and easier to use than email, all messages are stored in one place for convenience. Users can even send a chat message to a contact's email addresses – and their emailed replies will arrive safely back in-app.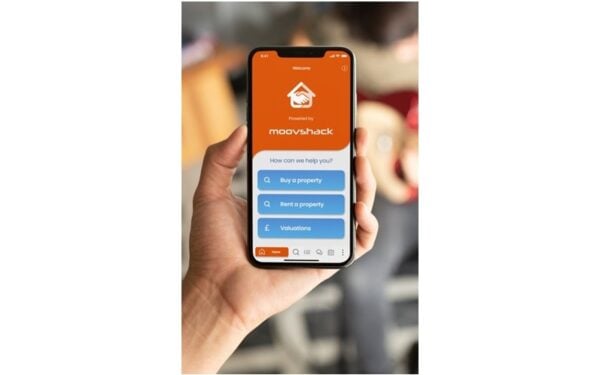 Agents can also send contracts and property details via the app, with home movers able to eSign and approve them with a few taps. No more printing, scanning, copying, posting or filing.
The multifunctional app also has video chat built-in, so users can arrange live virtual viewings and valuations for safer socially distanced transacting. When an agent accepts a virtual viewing request, all calendars are updated. All viewing history is automatically stored so it can be reviewed at any time.
Buyers and renters can also make offers on any property listed in the app. To help reduce protracted sales processes, Moovshack syncs the buyer, seller and agent once an offer has been accepted, so everyone has full transparency on the completion process.
The future is here
A mobile-first, all-in-one property, communication and lifestyle app, Moovshack delivers an unrivalled customer experience and unique customer engagement platform for agents which doubles as a brandable interactive estate agency app.
The future of property transacting is mobile, interactive and here now.
Email us: [email protected]
Follow us on Twitter and LinkedIn