Hy-genie is a Northwest based early stage company that was founded to improve hand washing and thus reduce healthcare-associated infections.
It was founded in 2017 by Dr Richard Cooke, a retired Consultant Medical Microbiologist and Director of Infection Prevention and Control at Alder Hey Children's Hospital, through a collaborative venture between Nova, Deepbridge Capital and Alder Hey Innovation.
Hy-genie is a novel and innovative automated hand hygiene monitoring system that measures the usage, in real time, of hand hygiene stations within the hospital setting. It collates real time data on the frequency of usage of these stations.
This data can then be plotted and displayed against base metrics to further improve staff hand hygiene compliance by way of individualised feedback to healthcare users.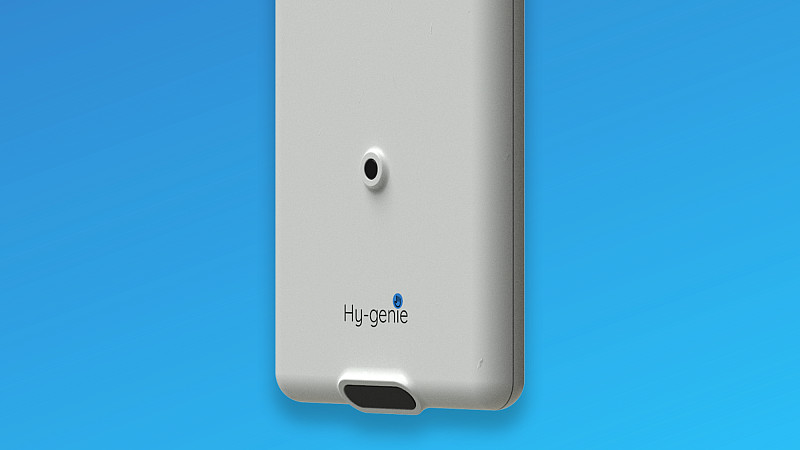 Hand washing is crucial to preventing healthcare-associated infections and monitoring hand hygiene behaviour is at the core of a hospital's strategy to keeping compliance high. Unfortunately the traditional method of auditing hand hygiene is manual, time consuming and inaccurate.
Hy-genie's innovative sensor-based system is proven to automatically track hand hygiene with 99% accuracy. It gives plentiful high-quality data to the individual healthcare worker to empower them to improve their practice, and also to managers to focus quality improvement and education to the right areas.
In response to the COVID-19 pandemic, the team launched Hy-genie Lite, a scaled back version of the full system to allow for rapid installation into healthcare settings. A pilot study at Alder Hey Children's Hospital demonstrated a 15% improvement in hand hygiene when using Hy-genie Lite.
Evidence shows that a 30% improvement of hand hygiene compliance can lead to cost savings of £537 million per year [1]. The team at Hy-genie are piloting the full system including the mechanism for delivering personalised feedback to healthcare workers in the Intensive Care Unit at Alder Hey to further drive up hand hygiene compliance.
In the last year, Hy-genie have formed an academic team that are committed to evidencing the accuracy and effectiveness of the system. Since the start of 2020, they have published seven articles in peer-reviewed journals describing the current evidence base for automated hand hygiene monitoring systems.
In order for these systems to be adopted by healthcare organisations there must be evidence on their ability to reduce infections [2]. In order to evidence this the Hy-genie team has developed the current pilots to ensure that robust research demonstrates both its ability to accurately collect data as well as being effective at reducing healthcare-associated infections.
Outside of healthcare, Hy-genie is equally applicable to other services where staff hand hygiene is critical, such as pharmaceutical and catering practices.
For more information, follow Hy-genie on Twitter @Hy_genie_io, visit https://hygenie.io/ or email [email protected].
References:
Cawthorne K-R, Dean J, Cooke RPD. The financial impact of improved hand hygiene on healthcare-associated infections in the UK. Can J Infect Control 2020; 35:117–122.
Cawthorne K-R., Cooke RPD. A survey of commercially available electronic hand hygiene monitoring systems and their impact on reducing healthcare-associated infections. J Hosp Infect 2021. Doi: 10.1016/j.jhin.2021.03.009.