GripAble is a UK start-up digitising rehabilitation from hospital to home.
Through its digital platform, including bespoke hand-held sensors, software and data services, GripAble is enabling home-based rehabilitation, allowing more patients to access gold standard care from professional therapists for longer periods, on a mission to drive improved outcomes while decreasing the burden on healthcare systems.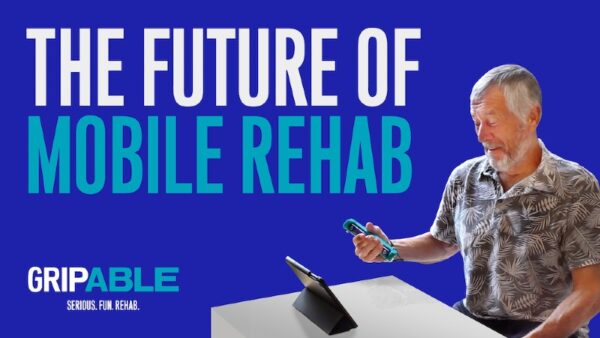 The technology was pioneered by GripAble co-founders Dr Paul Rinne (CEO) and Dr Mike Mace (CTO), who identified the need for an accessible mobile opportunity for patients undergoing physical and occupational therapy. Within the clinical environment, traditional therapy equipment wasn't cutting it and couldn't provide real-time motivation, feedback or data for tracking progress, leading patients to become disengaged in their rehab regimes once unsupervised.
A mobile sensor that connects to an app, GripAble has in-built gamification, enabling people with upper limb movement impairment to train important movements and grip strength in a fun and engaging way. It also has a unique handgrip, which captures data that allows highly accurate monitoring for therapists when compared to more traditional devices such as dynamometers, sponge or foam balls and putty.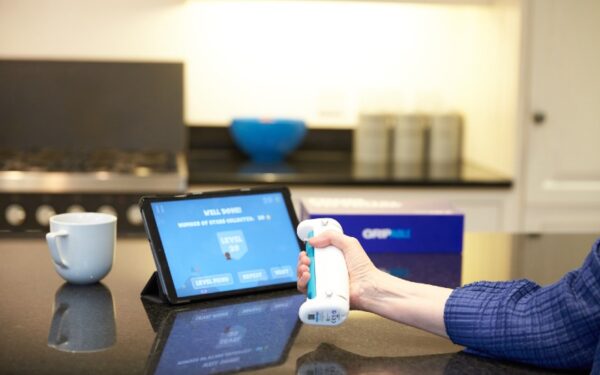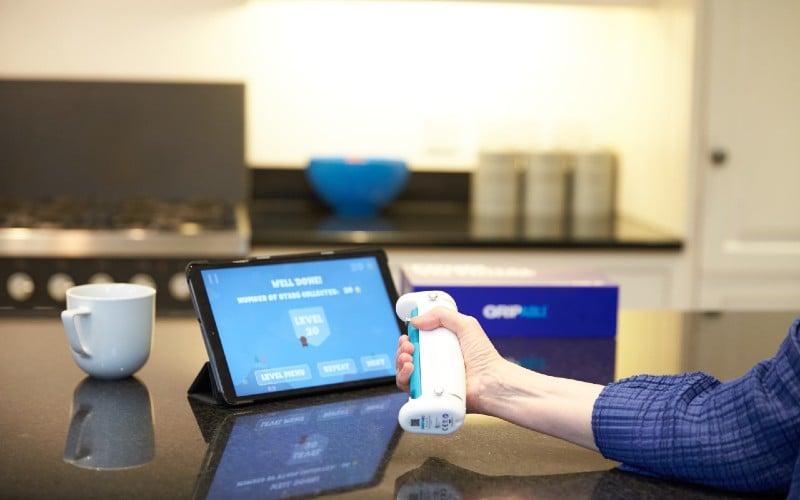 GripAble has been tested and developed over the last eight years in partnership with thousands of occupational and physical therapists and patients across multiple clinical conditions and leading academic institutions including Imperial College London.
With over 1,000 GripAble units deployed over the last 9 months, and more than 4,500 individual users, GripAble has established itself as the leading technology in the upper limb remote-rehab space in the UK.
In excess of 65,000 activity sessions have been completed on the platform to date, registering over 15 million movement repetitions and counting, highlighting a richness of data through which GripAble can provide a level of insight into patient engagement and outcomes that's never before been achieved, with therapy programmes and increased adherence to prescribed care.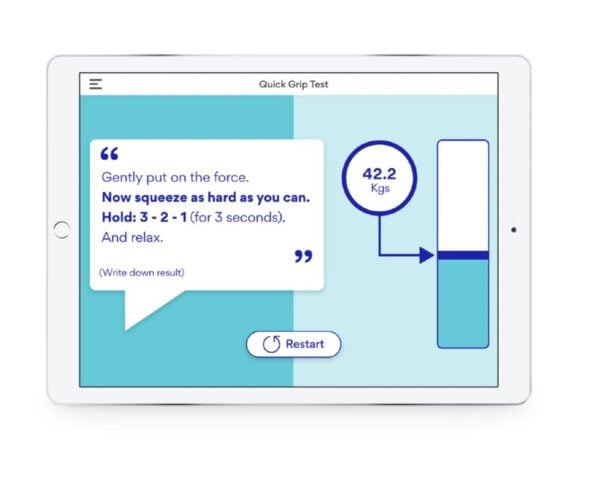 Used in more than 350 locations, GripAble has already achieved considerable provider adoption across the UK, with neurological, musculoskeletal, and paediatric care providers utilising its digital solution. GripAble's goal is to build on these foundations, creating an end-to-end technology led platform to enable every therapist to deliver further gold standard, evidence-based, care remotely, and then drive and support patient self-management. GripAble's 24-hour delivery, rapid set-up and ongoing virtual support are also key drivers for adoption.
Following the successful close of a £1.6m pre-series A funding round at the beginning of the year, GripAble is kicking off its Series A fundraise, which will help to further scale its industry leading technology throughout the UK and Europe ahead of its upcoming US market launch. The funding will also facilitate the delivery of its digitally led, remote patient engagement platform which collects empirical data on adherence and persistence, as well as objective data on rehabilitation outcomes to support therapists and users.
The GripAble platform provides the opportunity for further home-based technological advances with current development work seeking to tackle finger dexterity through to elbow and whole arm training, with the aim of looking beyond the horizons of upper limb therapy in the future.
GripAble's development was focused on accessibility and scalability to ensure that the majority of people could interact with it, including those who might not have ready access to rehab services, or be able to afford more complex rehab systems. This is why the company's vision is to onboard everyone who needs rehab support onto their platform, wherever they are in the world and wherever they are in their recovery journey.
For more information about GripAble, visit: www.gripable.co; email: [email protected]; or call: 0207 661 4018.