Leeds based Force24 is the UK's fastest-growing, GDPR compliant, marketing automation platform.
Since 2010, Force24 have been on a mission to liberate the modern-day marketer by disconnecting them from the daily grind and allowing them to think – and act – more strategically.
Force24 compete head to head with the likes of HubSpot and Mailchimp day-in, day-out – and are winning.
Why? Because Force24 actually enables marketers to achieve what they set out to. Force24 offer free training and support on a 2minute SLA to all their clients – for life. Force24 are in the trenches with their clients and ready to help – never throwing in the towel. The level of support Force24 shows for its clients is disrupting the industry.
Founded in Leeds in 2010 by MD Adam Oldfield, Force24 is the product of Adam's vision to bring intelligent, easy-to-use marketing technology within reach of every marketer, regardless of team size, skill and budget.
Force24 is underpinned by constantly evolving technology combined with unparalleled customer service. Each day, Force24 supports over 4,500 marketers and global clients including JML, Worldpay, Hitachi, BBC Children in Need, Aviva, Michelin, and Npower alongside smaller, emerging brands.
The work Force24 puts into building its relationships with clients is reflected in its industry-leading 98.2% client retention rate. Marketers are happy with Force24 as they actually achieve what they set out to!
The Force24 platform is reported to save the average marketer 8 hours a week. And what's more, 1 in 4 people who see the power of the marketing automation platform go on to buy it!
If you're interested to take a closer look at the platform, book in for a no-obligation, personalised web demo here.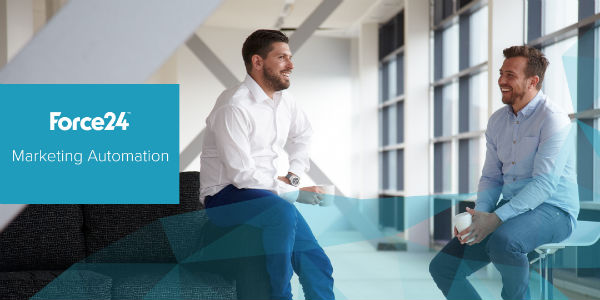 Force24 is all about building relationships with their clients, and as a result, produce a lot of invaluable thought leadership marketing content for them to enjoy and learn from. This is all widely available in their content lab.
Head on over and see how you can 12x your marketing ROI or learn about what the abolition of the EU-US Privacy Shield means for marketers – it's all completely free!
Whether you're completely new to marketing automation and have no knowledge of what it is or how it can help your business, or if you're looking to move to a UK based alternative you can trust, have a look at some of our client success stories and see if anything resonates.
We'd be more than happy to hold a short discovery call if you have any further questions!