It's well known that eating a healthy, balanced diet plays a key role in maintaining good health and wellbeing. Yet poor diet has now overtaken smoking as the number 1 risk factor for deaths worldwide, accounting for 1 in 5 deaths. Evidence shows that dietary improvements can prevent, treat and in some cases reverse diseases linked with poor nutrition. However, without the ability to accurately measure someone's diet and nutritional intake, how can this be managed and improved effectively?
That's where Dietary Assessment Ltd, a spin-out from the University of Leeds, can make a real impact with their innovative solution, myfood24. Founded by Professor Janet Cade in 2017, it specialises in providing high-quality nutritional analysis software – myfood24® – to researchers, educators and healthcare professionals both in the UK and Internationally.
myfood24 is a pioneering eHealth platform, including a web-portal and mobile apps, giving users the ability to accurately monitor diet and nutritional intake at the click of a button. The easy-to-use digital food diary allows users to quickly self-complete diet entries with smart features making completion fast and accurate.  The corresponding nutrient values are instantly calculated by myfood24, producing a series of engaging and insightful reports on over 100 nutrients, vitamins and minerals to support a wide range of use cases.
The automated approach to diet tracking and analysis, saves users time and effort without compromising on accuracy.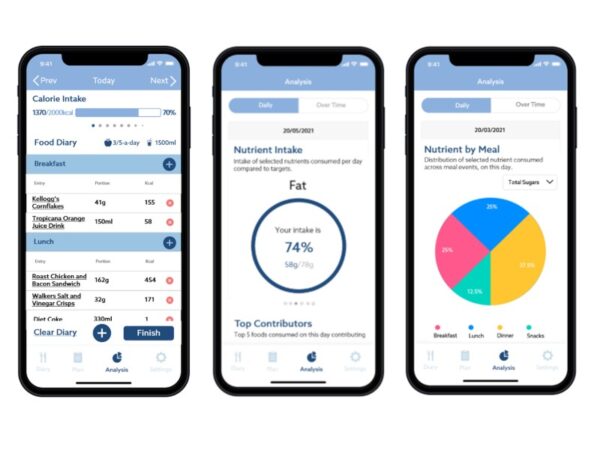 An evidence-based approach to dietary management
Developed using robust methodologies, myfood24 has been validated against a series of independent nutrient biomarkers, shown to be just as effective as a more costly and time consuming alternative – requiring a trained interviewer – meaning it provides trusted results that stand up to the rigour demanded by healthcare and research markets.
Underpinning the robust dietary monitoring platform is a unique and comprehensive food and nutrition dataset reflective of the vast range of food products available to consumers and includes thousands of products available from supermarkets, coffee shops, fast food outlets and restaurant chains. Unlike many other online tools, this information has not been crowd-sourced or focussed on limited nutrients, instead it has been meticulously created, enhanced and quality checked by a team of nutrition experts for all 126 nutrients to ensure accuracy.
Going from strength to strength
myfood24 was originally developed at the University of Leeds with a ~£1million Medical Research Council grant to help UK researchers better understand the links between diet and health. The market leading software has since been used extensively for research into a range of health conditions including obesity, diabetes, some cancers, and motor neurone disease by world-class research organisations.
In response to the growing demand for myfood24 around the world, the system has been translated into an additional 5 languages including Arabic, French and German, each underpinned by a local food and nutrient database, with more currently under development.
After it's successful launch, myfood24 has also been tailored for use in education, helping students to develop key skills in nutrition, a solid understanding of dietary assessment methods and the important role they play within research and healthcare.
Now, building on their success within academic and higher education markets, Dietary Assessment have developed a solution for use within the healthcare sector, including the NHS, private healthcare and corporate wellbeing programmes.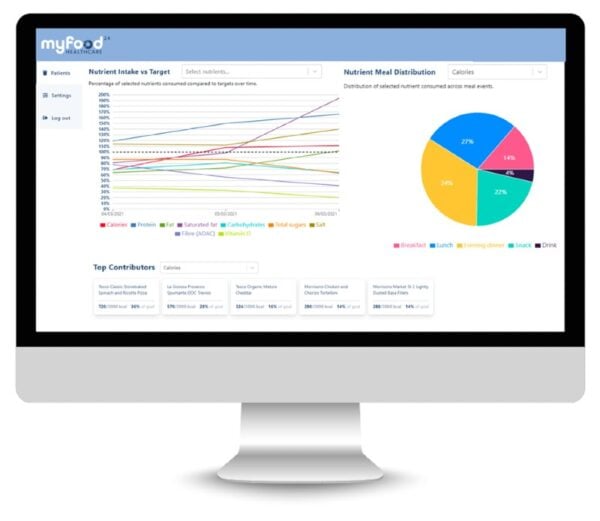 Saving clinical time and improving patients' diets
myfood24 has been designed to save healthcare professionals time, facilitate remote consultations and help them better manage their patients with diet-related diseases such as obesity, diabetes and cancer. The patient-specific mobile app aims to empower patients to make better dietary choices that can help improve their health and quality of life. The Dietary Assessment team are currently piloting myfood24 within clinical settings and look forward to publishing these results later this year.
Eating well for wellbeing
Dietary Assessment are also keen to support and partner with businesses and healthcare providers who would like to implement healthy eating and wellbeing initiatives.
If you are interested in finding out more about myfood24 and the different solutions on offer you can try a free demo, head to the myfood24 website or get in touch via the contact form.