Believe it or not, 60% of the adult UK population don't have Life Insurance. DeadHappy is a digital-first life insurance provider, hell-bent on reducing this percentage considerably, while bringing a touch of humour to a seriously dry industry.  
Not only is DeadHappy disrupting the existing £3.7bn life insurance market but also expanding the overall market to include those of us that don't have life insurance (but probably should…). 
DeadHappy's mission is to "Change Attitudes to Death". They want to change peoples' attitudes towards death by encouraging them to think, talk about and, most importantly, plan for the lives of their family after they have died. 
DeadHappy believe part of the reason so many people in the UK aren't covered is because traditional life insurance is painfully outdated, boring and slow. Co-founder, Phil Zeidler, said: "It takes far too long and ends up being too expensive. So, we changed it – making it quicker and cheaper."   
How is it quicker and cheaper? It's simple: they're putting the customer at the heart of everything they do and have streamlined its online process – optimised for smart phones and tablets – beginning with just four simple questions based on who you are now, not who you might be in 20 years' time. 
Their proprietary Deathwish Platform inspires customers to personalise their life insurance by creating "deathwishes", which helps them to identify their life insurance needs and gives their life insurance plan some real, tangible meaning.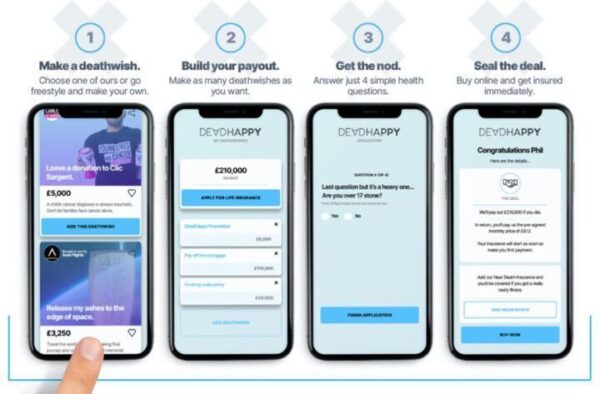 DeadHappy have also come up with a way of sharing plans with your friends and family, as they believe the involvement of loved ones during the entire process is crucial. As soon as you've completed your sign-up, you can share your Deathwishes at the touch of a button via email, Whatsapp, Facebook and Twitter. 
They've had a busy couple of years, what with increasing the team in size from 6 to 26, and also: been recognised by Forbes as one of the top 14 social marketing campaigns of 2019 
reached 200,000+ total

Deathwishes

 (and counting)

 

saw its revenue grow by 120% in the first half of 2021
achieved triple-digit growth over the past 12 months
been rated 4.9 star (out of 5) on Trustpilot, with over one thousand 5-star reviews
gained a Net Promoter Score of 83 (vs. industry average of 11)
been runner up in Global Insurtech New York 2020 competition
been recognised by Tech Nation as one of the top 15 fintechs to watch in 2020
won the Protection Review award for 'Innovation' in 2020
and of course secured the number 4 slot in

 

BusinessCloud's

 Midlands Tech 50

!