Cybertonica is an award-winning platform managing risk, AML, compliance and fraud detection.
Our vision is to enable businesses and their customers to work and transact fluidly together in both real-life and digital environments of the future without fear of being compromised or disrupted by concerns about trust and fraud.
No more compromises with the rules and tools of fraud and risk management: get the best
Outdated risk systems and binary fraud rules are holding back the growth of your business.
Cybertonica provides an uncompromising environment for controlling fraud and risk, meeting compliance requirements while also benefiting the conversion, satisfaction and cost structure of businesses and FI's dealing with online risk, authentication and payment.
Our intelligent risk and fraud management platform offers advanced behavioural authentication that creates frictionless user journeys and increases your profitability. Cybertonica means no compromises on inclusion, risk, privacy or security.
Our products
• AnomalyticsTM – Large scale fraud protection, AML and compliance across all channels for financial institutions and fintechs.
• GoFrictionlessTM – Customer, merchant and paytech monitoring solution increasing the efficiency of Fraud & Risk teams, enabling higher conversion and profits for gateways, acquirers, merchants.
• ScreenWiZeTM – Fraud and cyber threat detection through continuous behavioural authentication across all channels for merchants and financial institutions.
–       Behaviour IDTM (Powered by ScreenWiZeTM) develops an understanding of a customer's behaviour and profile and dramatically reduces risk at device level while satisfying Strong Customer Authentication (SCA).
Omnichannel Future-proofed and cyber threat protection all in one
Cybertonica's unique Temporal Data engine monitors and measures risk in real-time while on your site or app, so you can:
Detect fraud and receive alerts as suspicious events occur
Receive AML alerts in less than one second
Predict threats and chargebacks before they arise
Expose compliance risks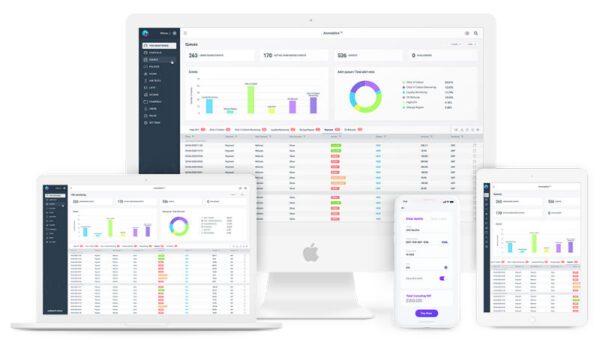 Cybertonica is fully compliant with regulation including GDPR, 3D Secure 2.2, PSD2, SCA, 5MLD, FATCHA, PCI DSS and CTF.
Benefits for our customers
Cybertonica enables you to eliminate friction and compromise from your customer experience while satisfying PSD2 and SCA regulations. With Cybertonica you can:
Increase sales by up to 15% by reducing cart drop-off
Improve user experience and conversion by eliminating the need for 70 – 90% of high-friction secondary authentication (3DS, One-Time Passwords (OTPs) or forms of Strong Customer Authentication (SCA)
Cut false positives by up to 80%
Lower operational costs by automating the majority of fraud management tasks
Decrease fraud and chargebacks by up to 70% through greater accuracy of risk measurement
Save up to 80% on fraud losses
Cut down risk-related OPEX by up to 40%
Remove business from Visa and Mastercard high-risk monitoring programs
100% customer privacy as no personal data is captured
You can implement Cybertonica rapidly and quickly test and modify rules in real-time. Cybertonica is a modular platform so it meets your needs now, removes the need to build in-house while future-proofing your risk and fraud prevention. All this without investing in any hardware.
Choosing Cybertonica means:
No compromise on security or profitability
No compromise on customer experience or privacy
No compromise on our collective need for financial inclusion
Get in touch with our expert fraud team to find out more: [email protected]