CitizenMe exists to empower people to take ownership of their data and choose how to use it to build a better digital society for everyone.
The mission
In 2014, StJohn Deakins decided to take on the biggest challenge in the Information Age: helping Digital Citizens gain control of their digital identity. To combat this, he created the only functioning Zero-Party Data platform on the market – CitizenMe.
CitizenMe is a consumer research and user-testing platform. We've already worked with some of the biggest global brands: Barclays, Sainsbury's, Unilever, GSK, BBC, amongst many others. Our platform is the first choice for these brands because we focus on data ethics, transparency, and higher quality data. We are blazing the trail away from third-party data brokers and traditional research companies. 
Our Marketplace market research platform has deeper data sets than anywhere else with ethical, accurate data from Citizens and trusted partner panels via a self-service or managed service system. Researchers have access to an always-on digital world. 
Our app increasingly provides a 360 view of people's digital selves and provide insights into lifestyle choices such as health and finances. By helping people to understand themselves better, companies can better understand their customers. Everyone benefits.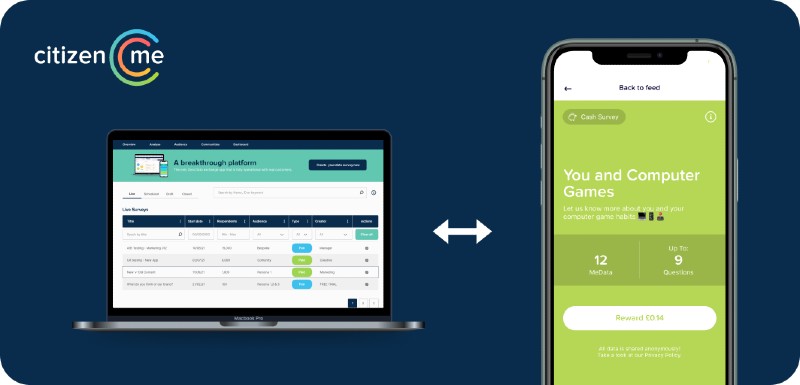 One small step to take back control of your data 
We're all Citizens in a global digital society. Our personal data already powers the biggest businesses in the world and influences policy decisions. Everyone produces data, but very few actually control it or see the benefit of that information. We know that needs to change and we're not alone.
Legislation, business practices, and individual habits are all changing. It's just a matter of how fast and what we want from that change. CitizenMe brings together a community of individuals, businesses, and organisations to make those choices together.
We believe that Citizens should own their data, control when and how they share it, and see the benefits of doing so. They receive value for their data that could be through personal insight, monetary value, data donations contributing to the causes they care about, and more. 
We believe that a healthy information economy produces sustainable growth and more accurate, more valuable data for businesses. Real people, real data, shared ethically and honestly, creates less liability and more opportunity.
We believe that personal information ownership and ethical data uses can transform our society – the digital and the everyday – for the better. It can create change, inform policy making, and create better health and life outcomes for all.
Your digital future held in the palm of your hand 
Our platform holds Citizen's data on their smartphones through processing on-the-edge. That's why we call it Zero-Party Data. A Citizen-first approach is the core of everything we do. It's a new ethical standard that goes beyond compliance. And since its inception, our app has helped 420,000 digital Citizens take control of their data and gain value from it with 10 million completed zero-party data transactions (and counting).

2022 progression
We ended 2021 with an investment of $2 million in a round led by the North East Venture Fund (NEVF) supported by the European Regional Development Fund and managed by Mercia, with participation from 1818 Venture Capital. This is being used to enhance our edge computing AI capabilities.
This year is an exciting time for us as we are moving to re-launch both our app and market research platform. We are making the transition into a SaaS platform that will help benefit all parties as we focus on the growing UK and U.S. markets. We've received the MyData Global Operator Award again for 2022 and are in the top 10% of European start-ups rated by Early Metrics. 
Our plans to bring added gamified life insights, personalisation, more rewards and referral perks to Citizens. We are further developing our 'Collectives' function which will enable Citizens to connect over shared commonalities, be it health, environmental or neurodiversity, for example. We will be a platform where Citizen's can come together and share their data with others like them and in turn understand more about themselves and the world they live in. The sharing of data within Collectives offers exciting opportunities for the advancement of research which would be of huge benefit to both charities and scientists alike. 
StJohn Deakins, CEO says:
"We're all delighted to have been rated as the number one Marketing Technology platform in the MarTech Top 50. It validates our ethos that digital marketing should always be designed human-first, and we've built the technology to finally make that possible. We're also proud to be in such great company around so many other leading players." 
To build a greater understanding of your customers with the deep, insightful data they willingly share, you can sign up for free to the Marketplace today. Or, if you would like us to advise on a current insight or research requirement, just click here for an appointment.
Social media
Follow us on LinkedIn
Follow us on Twitter