CareLineLive is an award-winning, all-in-one cloud-based home care management software. For home care providers, it improves efficiency, capacity and compliance by digitising their workflows and automating processes such as rostering and payroll.
The company was set up by Josh Hough after being frustrated at the lack of information about his grandfather's care from his care agency. Working closely with a number of home care agencies, CareLineLive has developed an innovative, purpose-built home care management system.
How we help home care agencies
CareLineLive works across three integrated easy-to-use systems, the Management Portal, the Carer Companion App, and the Care Circle Portal. 
Managers and coordinators use the Management Portal to roster client visits, manage client and carer information/availability, manage care planning, run management reports and generate client invoices and carer payroll. They are also able to monitor when carers have checked in and out of client visits in real-time. 
Thousands of carers use the Carer Companion app to stay informed about their rotas, clients and their care needs. It provides tasks that need to be completed and confirms what medication needs to be administered and how. On the app, carers are also able to record observations about a client's health and mental wellbeing. For example, meals and fluid intake and blood pressure readings. Additionally, they can leave notes for future carers, upload photos or raise a concern. If a client has had a fall, for example, carers can update their notes immediately to ensure the correct procedures are followed.
CareLineLive is also a DSCR / NHSX Assured Supplier which means that home care agencies can save up to half their first year costs when moving from paper based records to a digital social care records system like CareLineLive.
Completing the circle of care
On top of helping agency managers and carers, CareLineLive also benefits the client and their family. This includes instant access to visit details, carers' notes and client observations via the Care Circle Portal, which provides peace of mind and ensures they are kept up to date with the latest information. Recent developments have extended this service to other key stakeholders such as community health professionals and emergency services, who gain greater visibility on individual client needs. 
A QR code in a client's home allows the emergency services one-off access to view a client's care details including a client's medication and observations, empowering quick and efficient treatment.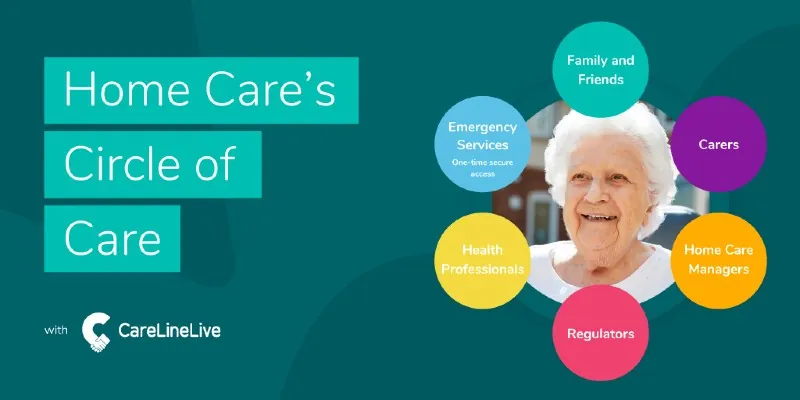 Innovative approach
CareLineLive's continuous innovation has been driven by customer insight and the changing requirements and pressures of the home care industry. Through an understanding of the legislative and service delivery needs, CareLineLive's mission is to give more time to care. The company works closely with customers to identify specific needs to ensure CareLineLive is fit for purpose, and the easiest system to use. 
Since the start of the COVID-19 pandemic, software within home care has become increasingly important as agency staff work remotely. In particular, real-time communication and the onus on carers and agency managers to provide detailed up-to-date information to family of their loved ones has increased. CareLinelive has worked to accommodate these needs with new features that have widened the circle of care to external stakeholders, such as community health professionals and the emergency services. The research and development for these new product features was partly funded by a UK government grant from Innovate UK that was won in October 2020.
CareLineLive delivers the following features and benefits for home care agencies:
Quick and easy rostering saves time and reduces errors

Improves efficiency through automating administrative processes such as invoicing and payroll

Care planning, reporting and compliance tools, including  incident reporting, helping improve quality and compliance

Client assessments, for example food and drink preferences, facilitate home care agencies to deliver person-centred care       

Real-time electronic call monitoring records carers' attendance and completed activities at client visits

Carer Companion mobile app enables paperless documentation, helps to reduce errors and ensures carers spend less time on paper administration

Enhanced communication and instant client updates assist the management of day-to-day challenges and makes sure carers can be more responsive in the care delivered

Improve productivity and roster more accurately with estimates of travel times between consecutive carer visits
For more information about CareLineLive, please visit the below: 
What is CareLineLive? Explainer video:
How CareLineLive has improved communication – A customer's testimonial: