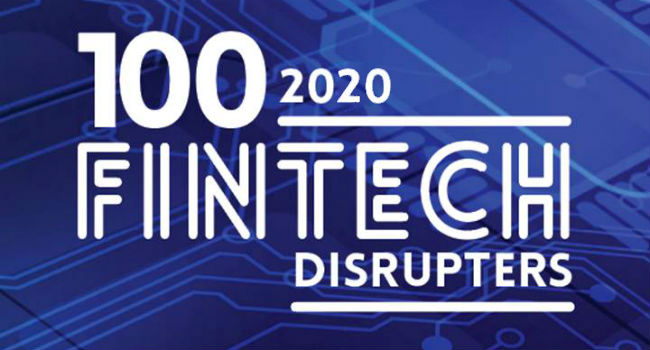 It's time to help decide BusinessCloud's 100 FinTech Disrupters ranking for 2020.
The annual ranking profiles the UK's most innovative FinTech start-ups, scale-ups and established companies.
We have shortlisted around 250 firms for potential inclusion. The nation's 100 FinTech Disrupters will be determined by a combination of reader votes and selections from an expert judging panel (available here).
You can cast your vote  until 23:59 on Sunday 6th September. Browse the shortlist below and vote for the company you believe to be the most innovative. 
The final 100 FinTech Disrupters ranking will be published online on September 28th and in the Q3 edition of our magazine in early October. Subscribe to our daily email tech innovation newsletter (just tick the checkbox when you vote) to be among the first to see the results.
Your vote
Voting has now closed
100 FinTech Disrupters shortlist
10x Future Technologies
London

Develops tech platforms underpinning digital banking
AccessPay
Manchester

Integration platform connecting businesses to financial systems
Aire
London

Credit assessment service that 'reveals the bigger picture'
Airtime Rewards
Manchester

Rewards shoppers with mobile credit or data
Akoni
London

Automates the process of finding banks for SMEs
Algodynamix
London

Risk analytics platform for financial sector
ANNA Money
Cardiff

Business account and tax app for SMEs
Applied Blockchain
London

Builds distributed ledger applications and products
Arkera
London

Uses AI to extract local intelligence for hedge funds and banks
Atom Bank
Durham

Digital challenger bank
Azimo
London

Money transfer service
Bango
Cambridge

Mobile payments firm
Bankable
London

Banking as a Service for financial institutions, corporates and FinTechs
Bankifi
Manchester

Supplies services such as invoicing and accounting which banks can pass on to customers
BCRemit
London

Disruptive online money transfer platform
Bink
Ascot

Links payment cards to loyalty programmes
Blackbullion
London

EdTech for universities to streamline fund applications
Blue Motor Finance
Sundridge

Car finance company which transformed into a FinTech
Bought By Many
London

Helps people find insurance for the things they care about most
Broker Insights
Dundee

InsurTech connecting local independent brokers and insurers
Bud
London

APIs for high street banks
By Miles
London

Vehicle insurance based on how much they are driven
Capdesk
London

Digital tools for equity management and reporting
Capital On Tap
London

Tech platform and lender for businesses
Capitalise
London

Finance comparison platform for accountants
Cardstream
Taunton

Payment gateway offering tailored white-label solutions
Cascade50 – Sage Dashboards
Norwich

Cloud-based reporting for Sage 50cloud
Caspian
Newcastle

Automated risk investigation for financial services firms
Castlight Financial
Glasgow

Predicts customers' future payment performance
CDL Group
Stockport

Insurance software house
Checkout.com
London

Online payment solutions
Chetwood Financial
Wrexham

Digital challenger bank
Chip
London

Automated savings app
ClauseMatch
London

Smart document management
ClearBank
London

Tech-enabled clearing bank
ClearGlass
London

Digital intermediary between asset managers and pension funds
ClearScore
London

Credit scores and reports
Cleo
London

AI chatbot which looks after consumers' money
Cobalt
London

Tech for foreign exchange trades
CoinCover
Cardiff

Cryptocurrency protection firm
Coinfirm
London

Anti-money laundering for cryptocurrencies and blockchain
CoInvestor
Canterbury

Cloud solutions to digitise investment process
ComplyAdvantage
London

Data intelligence firm fighting financial crime
Countingup
London

Banking and accounting app for freelancers and SMEs
Cover.Net
Coleraine

Innovative insurance software
Credit Kudos
London

Challenger credit referencing agency
CreditLadder
London

Helps tenants add rent to their credit history
Crowdcube
Exeter

Crowdfunding platform
CUBE
London

Digital regulation platform
Currencycloud
London

Global payments platform
Currensea
London

Debit card for overseas payments
Curve
London

All-your-cards-in-one banking app
Cybertonica
London

Compliance and fraud detection tech
Cytora
London

AI-powered solution for commercial insurance underwriting
Dealtrak
Leeds

Connects automotive finance and insurance sector
Delio
Cardiff

Private asset platforms for leading financial institutions
DirectID
Edinburgh

Financial data insights
Disberse
Cardiff

Fund management platform for humanitarian aid and development
Donr
Newcastle

Text giving platform for charities
Dozens
London

Current account with savings tools and investments
Duesday
Liskeard

Payment collection solutions
EdAid
London

P2P lending and crowdfunding platform for higher education
Eigen Technologies
London

Unlocks value of qualitative data
Emma
London

Money management app
Encompass
Glasgow

Due diligence software
Epos Now
Norwich

Cloud-connected point-of-sale systems
Equiniti
Leeds

API-led consumer credit services
Essentia Analytics
London

Investment behaviour analytics software that helps investors ignore internal biases
ESTHER
Belfast

Pocket-to-pocket giving app
Everledger
London

Tracks diamonds throughout supply chain using blockchain
Evolution Funding
Chesterfield

Technology-led motor finance broker
Featurespace
Cambridge

Behavioural analytics tech for fraud and financial crime management
FibreCRM
Truro

CRM system for accountants
Fidel
London

API for linking bank cards to digital applications
Fidessa
London

Provides software to top financial institutions
Financial Software Ltd
London

Tech solutions for investment tax management
Finastra
London

Software for financial institutions
Fingopay
London

Biometric finger payment tech
First Derivatives
Newry

Analytics software
Fisc
Sheffield

Motor industry finance and insurance software provider
Fiskl
London

Mobile-first financial management platform
Flagstone
London

Cash deposit platform provider to UK wealth managers
Fleximize
Ipswich

Alternative finance provider
Float
Edinburgh

Cashflow software that automatically updates from accounting platforms
FloodFlash
London

Tech-enabled flood insurance provider
Fluidly
London

AI-driven cashflow management software
Flux
London

Receipts, rewards and loyalty that live inside banking apps
Form3
London

'Payments As A Service' technology provider
Fractal Labs
London

AI and cloud native financial services consultancy
FreeAgent
Edinburgh

Cloud-based accounting software
Freemarket
London

Platform for cross-border payments and currency exchange
Freetrade
London

Commission-free stock trading app
Friendlyscore
London

Empowers people to use digital data to improve their credit rating
Funderbeam
London

Funding and trading platform for start-ups
Funding Circle
London

P2P lender
Funding Options
London

Comparison site for business financing
Futrli
Brighton

Cash flow software for small businesses and advisers
Gala Technology
Wath-upon-Dearne

Behind SOTpay payment solution
GoCardless
London

Platform enabling businesses to take online direct debit payments
GoCompare
Newport

Financial services comparison website
GoHenry
Lymington

Children's bank account and credit card
Gold-i
Guildford

Trading technology
GoodBox
Manchester

Tech for collecting contactless donations
Habito
London

Free online mortgage broker
Heliocor
London

RegTech solutions to fight fraud
Hello Soda
Manchester

Identity verification and fraud protection software
honcho
Durham

Reverse insurance auction site where insurers bid for your custom
Hood Group
Southend-on-Sea

Data and technology-driven insurance specialist
Infinox
London

Currency trading platform
Invstr
London

App for inspiring investors
iwoca
London

Automated credit lending facilities
Kalgera
London

Helping protect vulnerable people from financial scams
Kani Payments
Newcastle

SaaS platform for financial services businesses
Laka
London

Bike insurance that works around a community of users
Landbay
London

Buy-to-let mortgage lender
Lendable
London

Quick and easy access to loans
LendingCrowd
Edinburgh

FinTech lending platform
LendInvest
London

Mortgage lending disrupter
Lifecycle Software
Newbury

Billing, CRM and reporting software
Lifetise
London

Financial planning platform for big life events and COVID-19
Lightyear
Belfast

Accounts payable automation
LOQBOX
Bristol

Helps users save their way to a better credit score
Lower My Charges
Caerphilly

Low-cost financial advice including AllMyWealth tool
Lumio
London

Personal finance app
MarketFinance
London

Europe's largest online invoice finance platform
Mishipay
London

Mobile self-checkout solution for physical retail stores
Modulr
London

Business payments tech
Mojo Mortgages
Macclesfield

Online mortgage broker
Monese
London

Digital challenger bank
Money Dashboard
Edinburgh

Money saving app
Moneybox
London

App which rounds up spare change from purchases and invests it
Moneyfarm
London

Online investment adviser
MoneySavingExpert
London

Free website helping consumers save on financial-related products
Moneyshake
Newcastle-under-Lyme

Car leasing comparison site
Moneysupermarket
Ewloe

Price comparison business specialising in financial services
Monzo
London

Digital challenger bank
My Digital Accounts
Wilmslow

Cloud-based contractor payroll and accounting software
Neotas
London

Due diligence for the financial services sector
Nimbla
London

Insurance platform protecting SMEs against insolvent customers
Nivaura
London

Automates issuance of financial instruments
Nivo
Manchester

Instant messaging and identity verification platform
NorthRow
Thame

Automates compliance checks
Nucoro
London

AI wealth management platforms
Nuggets
London

Login, payment and verification ID tech without sharing data
Nutmeg
London

Robo-advisor
Oakbrook
Nottingham

AI tech helping borrowers to access loans
OakNorth
London

Bank providing debt finance to SMEs
Omnio
London

Smart financial services
One Utility Bill
Newcastle

Consolidates household bills and enables payment to be split
Onfido
London

Document verification and facial biometrics technology
Opal Transfer
London

Money transfer service
Open GI
Worcester

Advanced insurance software
OpenGamma
London

Leader in derivatives analytics
OpenMoney
Manchester

Tech services including robo-investment
Openpayd
London

API-led banking and payment services
OpenWrks
Nottingham

Open banking technology
Opportunity Network
London

Deal sourcing network
Options Technology
London

Financial services and markets analytics
Ordo
London

Real-time bank transfers and invoice tracking
Oval Money
London

App to track spending and saving
Oxygen Finance
Birmingham

Early payment provider
Paid
Darlington

Automated procurement and payment services
Paybase
London

End-to-end solution for payments, compliance and risk
PayHere
Belfast

Toolkit for business payments
PaySend
London

International money transfer platform
Pebble
Newcastle

Cloud-based school fund software
Pennies
London

Digital charity box enabling shoppers to donate pennies
PensionBee
London

Online pension manager
Pikl
Norwich

Sharing economy insurance firm
Planixs
Manchester

Cloud-enabled solutions powering treasuries
Pledjar
Milton Keynes

App for donating spare change to charities
Plum
London

AI assistant which analyses your transactions
Plumerai
London

Behind Larq neural networks for efficient deep learning
Pockit
London

App-based banking solution
PremFina
London

Finance software for brokers
Prepaid Financial Services
London

Payment solutions including eMoney and wearables
Previse
London

AI platform enabling corporate buyers to pay suppliers instantly
Prodigy Finance
London

Student finance provider which assesses on future earning potential
Quantexa
London

Analytics technology to detect fraud
QuoteOnSite
Swansea

Quote and proposal management software
Radius Payment Solutions
Cheshire

Payment and fleet services company
Rapyd
London

Cardless financial network
Rebuilding Society
Leeds

Peer-to-peer lending platform for SMEs
Receipt Bank
London

Automated bookkeeping
Revolut
London

Digital challenger bank
Right Revenue
Saintfield

Forecasting and business analytics software
Ripe Thinking
Manchester

Niche insurance powered by real-time analytics
RoosterMoney
London

Pocket money app
Sage
Newcastle

Accounting software giant
Salary Finance
London

Improves wellbeing by helping employees out of debt and into saving
Samuel & Co. Trading
Watford

Artificial intelligence for market trading
Satago Financial Solutions
London

Online platform facilitating provision of invoice financing
Seedrs
London

Crowdfunding website
Senta
Bristol

Cloud software for accountants
Seopa
Belfast

Intelligent comparison solutions
ShareIn
Edinburgh

White-labelled crowdfunding solution
Skrill
London

Money-sending platform similar to PayPal
Snoop
London

Free app offering financial advice
Soar
Glasgow

Helps financial services companies join mobile revolution
Soldo
London

Prepaid business cards
Starling Bank
London

Digital challenger bank
SteelEye
London

Compliance technology and data analytics
StepLadder
London

P2P saving platform helping people get on property ladder
Suade Labs
London

RegTech platform used by major financial institutions
SumUp
London

Mobile payments tech
Sustainably
Edinburgh

Enables rounding up of purchases to benefit charities
Streeva
Guildford

Automates everyday processes by making transactions smarter
Syndicate Room
Cambridge

Crowdfunding website for 'highly-vetted' start-ups
TAINA Technology
London

RegTech for financial institutions
takepayments
Stockport

Card payment solutions
Tandem
London

Digital challenger bank
The House Crowd
Hale

P2P lending platform for developers and property owners
ThinCats
Ashby-de-la-Zouch, Leicestershire

FinTech lender for SMEs
Thought Machine
London

Building technology to revolutionise banking
Thyngs
Norwich

NFC technology for cashless payments
Ticketer
Hungerford

Technology-driven ticketing machines
Tickr
London

Investment app allowing users to back causes for social good
Tide
London

Mobile-first business banking
Touco
London

App to help people manage money with the help of carer or family member
Tractable
London

Automates damage assessment in insurance
Transferwise
London

P2P money transfer platform
TransFICC
London

eTrading solutions for fixed income and derivatives markets
True Potential
Newcastle

Investor and wealth management platform
TrueLayer
London

Open banking APIs
TruNarrative
Leeds

Financial crime detection and response
Trussle
London

Free online mortgage broker
UInsure
Manchester

InsurTech platform
Vestd
London

Employee share scheme platform
VibePay
London

eCommerce payment solution using open banking technology
Vizolution
Swansea

Remote video tech for financial services
Voxsmart
London

Compliance on corporate-issued mobile devices
W2 Global Data
Newport

RegTech behind compliance API for mobile and digital transactions
Wagestream
London

Offers employees access to their next wage
Waymark Tech
Thame

AI for regulatory analysis and compliance
Wealth Dynamix
London

Client management solutions for financial firms
Wealth Wizards
Leamington Spa

Makes financial advice affordable
Wealthify
Penarth

Online investment service
WeSwap
London

P2P foreign currency exchange
Whitehall Finance
Reading

Supply chain finance software provider
WorldRemit
London

Money transfer service for migrants
Yapily
London

Platform to better connect business and banks
Yielders
London

Islamic property crowdfunding platform
Yorkshire Payments
Brighouse

Payment tech solutions
Yoyo
London

Platform combining payment, loyalty and marketing
Zego
London

Provides insurance to gig economy workers
Zopa
London

P2P lender now moving into digital banking
Zuto
Macclesfield and Manchester

Online car finance and loans