MediaTech
A 'LinkedIn for creatives' which seeks to coordinate the chaos of networking in the music industry has surpassed a million users and is planning a Series A funding round.
Vampr was founded in 2015 and experienced hypergrowth but found itself put "on ice" for nine months in 2019 after a key investor pulled out.
CEO Josh Simons explains in an interview with our sister publication TechBlast how, after securing new investment, it was able to woo back many of its staff and is now flying again with a sustainable business model thanks to the 'blueprint' created by the first iteration of the business.
It has surpassed a million users following relaunch, onboarding an impressive 400,000 new users in the last 12 months alone. The platform now enables over 6.5 million connections across 190+ countries to create over 220,000 original musical compositions.
England-born, Australia-bred and now based in Los Angeles, Simons says Vampr is Myspace for the modern age – a platform which is sorely needed as LinkedIn simply doesn't cater to the networking needs of the creative industries.
"Only about 30% of people who work in those fields are represented on LinkedIn, which is very much a resumé (CV) platform. In the creative industries we're not really judged by how many projects we've done, but by their quality," he explains.
"No one has nailed this since Myspace. Myspace was a weird time for the internet: it was still very much Web 1.0 in some respects, before the rise of social media and smartphones. 
"It was the only platform prior to Vampr that served this role in a big way with millions of people. That's what we're trying to recreate – but we're doing it in a much more modern way, with a slick mobile-first user experience."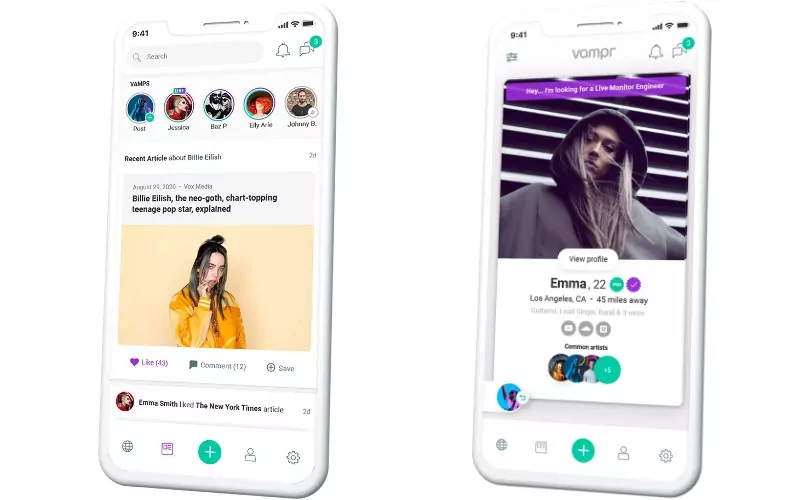 Vampr followed that life-saving investment, led by Kentucky-based venture firm RZN8 Capital, with an oversubscribed crowdfunding round which saw more than 2,000 investors pledge a total of £1.9m. A new Series A round is in progress.
Simons had the original idea for the business when struggling to grow his band outside its home market of Australia.
"In music and probably any creative field, your outcomes will change depending on people – who you know and their competency," he says. "That's one of the biggest problems that faces young, talented creatives.
"All creative verticals are very much joined at the hip: what they have in common is this serendipity in chaos which leads to the end product – the chaos of the process, the chaos of the business, the ridiculousness of the structures and how it's all set up… all somehow lends itself to these pieces of work that we enjoy consuming.
"How do you coordinate that chaos? That's what Vampr is all about."
At its current growth rate, Vampr is on track to hit 2.8m users by December 2022 and add a further 50m users in the next five years.
Read the full story of how Vampr "should be dead", the advantages of its unexpected stealth mode and huge plans for growth in TechBlast.